Hatton Gallery to reopen with Pioneers of Pop exhibition
Published on: 9 August 2017
The Hatton Gallery at Newcastle University will re-open on 7 October 2017 with a ground-breaking exhibition that will firmly – and correctly - position Newcastle as the birthplace of Pop Art.
Richard Hamilton
The gallery has played a unique role in the development of British Art. Its history is intimately entwined with some of the most influential artists of the 20th century. The exhibition Pioneers of Pop revolves around the numerous artists and writers, activities, projects and ideas which had at their centre, artist Richard Hamilton, during his time teaching at Newcastle University (1953-1966).
Hamilton's significant achievements in the North East included the ground-breaking exhibitions Man, Machine & Motion and an Exhibit, the development of a new Basic Design course of art teaching alongside Victor Pasmore, arranging the rescue of Kurt Schwitters' Merz Barn Wall and the re-creation of Marcel Duchamp's iconic sculpture Large Glass. The high ceilings and spacious dimensions of the Hatton Gallery offered Hamilton the chance to explore the innovative exhibition practice which he was developing with his colleagues in the Independent Group at the newly formed Institute of Contemporary Arts (ICA) in London.
Pioneers of Pop includes around 100 works by some of the leading British artists associated with both Pop and abstract art - Eduardo Paolozzi, David Hockney, Richard Smith, Ian Stephenson, R.B Kitaj, Joe Tilson and, of course, Hamilton himself. The exhibition will include works created in a wide range of media, including paintings, prints, collages, magazines and photographs – from lenders across the UK, such as Tate, V&A, Scottish National Gallery of Modern Art, Abbot Hall, Pallant House, and Arts Council England. Many of the works are coming from private collections and have rarely been seen in public.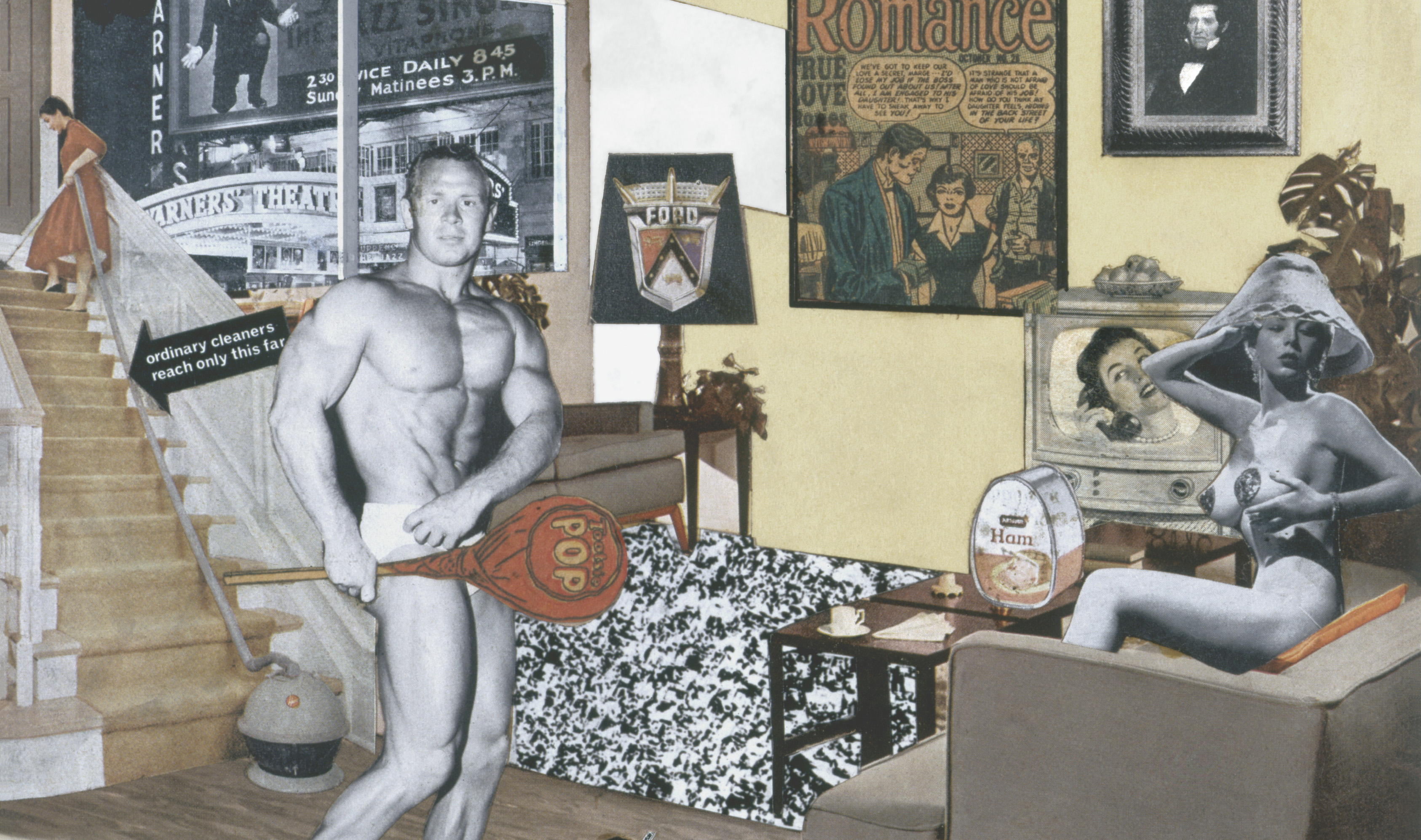 Excitement, experimentation and opportunity
Pre-dating Andy Warhol's first – and much-celebrated – forays into the genre with his iconic Campbell's soup can and Marilyn Monroe diptych by five years, Hamilton said in 1957: "Pop Art is: popular, transient, expendable, low-cost, mass-produced, young, witty, sexy, gimmicky, glamorous, and Big Business". Pioneers of Pop aims to capture the excitement, experimentation and opportunity of that time through the prism of Newcastle and its progressive, stimulating art school - where Hamilton and his colleagues sought to widen the basis of art's visual language.
Eric Cross, Dean of Cultural Affairs, Newcastle University said: "For almost one hundred years, the Hatton has been a major cultural resource, important not only for the North East but also nationally and internationally. Unfortunately, the gallery had become tired and no longer fit for purpose; this welcome redevelopment now allows it to resume its rightful place as a significant gallery of modern and contemporary art."
A new era
When the Hatton Gallery reopens on 7 October 2017, after 20 months following a £3.8m redevelopment made possible by National Lottery players through the Heritage Lottery Fund (HLF), it will have been transformed into a vibrant and modern exhibition space bringing about a new era for art and learning in the city, and beyond.
Key redevelopments have included conserving the architectural and historical elements of the building, whilst modernising the gallery to allow for flexible exhibition facilities, a dedicated multi-purpose learning space, improved lighting, a new picture store, plus the conservation and reinterpretation of Kurt Schwitters' culturally important Merz Barn Wall.
Julie Milne, Chief Curator of Art Galleries said: "Many people think Pop Art started in the USA with Andy Warhol – but in reality, a lot of the thinking and work behind it was happening in the UK, and not just in London but also Newcastle. With the important redevelopment of the Hatton and Richard Hamilton's strong association with the gallery 'Pioneers of Pop' presents the opportunity to explore Newcastle's role in the origin of this pivotal art movement."
Press release adapted with thanks from Tyne and Wear Archives and Museums
---
Latest News