teaching resources bring Dr King's legacy to life
New resources bring Dr King's legacy to life for schoolchildren
Published on: 9 August 2017
A set of teaching resources inspired by Dr Martin Luther King Jr. has been created to help young people today think about the issues of racism, poverty and war.
Bringing a legacy to life for a new generation
Aimed at students aged 7 – 16 (Key Stages 2, 3 & 4), the free pack contains lesson activities and ideas to help them explore the legacy of Martin Luther King and the civil rights movement.
It has been created by researchers at Newcastle University, working with colleagues at Northumbria University, staff and students at Archbishop Runcie C of E First School, Newcastle, Gosforth Central School, Newcastle, Ovingham First School, Northumberland and the Newcastle University-based Martin Luther King Peace Committee.
The materials include lesson plans, hand-outs, worksheets, music recordings and presentation slides for lessons covering a wide range of subjects including history, RE, geography, English, PSHE, music, drama, art and even chemistry. It also includes material for assemblies and ideas for themed weeks.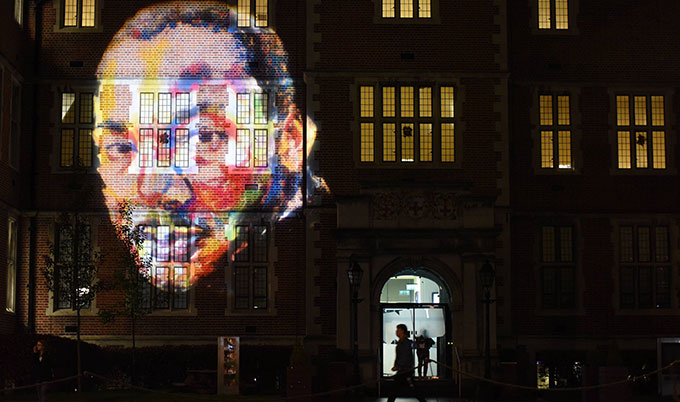 Three 'urgent and great problems'
The pack's creation was inspired by a speech that Dr King made in November 1967 when he visited Newcastle University to accept an honorary degree. In accepting the honour, Dr King made a moving and impromptu acceptance speech in which he spoke about the three 'urgent and great problems that we face not only in the United States of America but all over the world today, that is the problem of racism, the problem of poverty and the problem of war.'
This year, Newcastle University and partners across Tyneside are marking the 50th anniversary of Dr King's visit with a programme of activities under the banner of Freedom City 2017. The teachers' resources pack has been produced as part of those commemorations.
Dr Nick Megoran, Reader in Political Geography, Newcastle University and co-convenor of the Martin Luther King Peace Committee, said: "The issues of racism, poverty and war that Dr King talked about during his acceptance speech are just as relevant today as they were in 1967. These resources have been designed to encourage young people to think about the world they live in and how they can change it for the better.
"We hope the pack will give teachers and their students a variety of imaginative and thought-provoking ways to remember Dr King and consider his impact today."
Thought-provoking lessons
Among the suggested lesson activities are materials that could be used for RE, history and English lessons for Key Stage 3 pupils exploring non-violence. Using Dr King's famous 'Letter from a Birmingham City jail', students are asked to consider the justification for non-violent protest.
They are also encouraged to learn about the Children's Crusade of 1963 when hundreds of school students in Birmingham, Alabama, marched to talk to the mayor about segregation in their city. The march was stopped by the police who arrested many of the children and used fire hoses and dogs to disperse them. The event compelled President John F. Kennedy to publicly support civil rights legislation and eventually led to the passage of the Civil Rights Act of 1964.
Key Stage 4 geography students can carry out sessions on supply chains, trade and global inequalities to consider what Dr King meant when he talked of 'an inescapable network of mutuality'. By taking everyday items such as mobile phones and our food, these sessions look at how interconnected global commodity chains create ethical and moral considerations.
Taking Dr King's criticism of the Vietnam War as a starting point, there are also sessions for Key Stage 4 students as part of PSHE, history or drama lessons covering modern warfare and looking specifically at the use of drones and the Trident debate.
For primary school pupils, there is a section of the pack covering protest songs and the role of music in the American civil rights movement. Looking at well-known songs such as "We shall overcome" and Sam Cooke's "A change is gonna come" students can explore whether singing about these issues is different to talking about them, and have the opportunity to create their own protest song.
Brian Ward, Professor in American Studies at Northumbria University also worked on the teaching resource pack. He said: "These materials allow teachers and their students to use King's life, activism and legacies to explore a vast range of historical and contemporary issues from an equally vast range of perspectives."
Freedom on the Tyne
The teaching resources have been created as part of the Freedom City 2017 commemoration. Taking place throughout the year, Freedom City 2017 is a city-wide programme of events inspired by Dr King's 1967 Newcastle speech.
One of the highlights of Freedom City 2017, Freedom on the Tyne will take place on 29 October. This event will be a unique afternoon of music, theatre, dance and art commemorating the courage and sacrifice of those involved in the long march for civil rights around the world.
As part of the event, there are opportunities for hundreds of people from local communities to work alongside professional artists and performers. In addition to public workshops, there will be a session in September especially for teachers who would like to involve their students in Freedom on the Tyne. To sign up for these workshops, go to www.freedomcity2017.com/takepart
Other activities planned for later this year include:
- Two special exhibitions at Great North Museum: Hancock, in Newcastle.
- A comics anthology depicting the people and stories associated with the civil rights history of the North East.
- A conference at Seven Stories, the National Centre for Children's Books, to consider the issues around children's literature and race.
- An exhibition at Newcastle University's Philip Robinson Library telling the story of Dr King's visit to Newcastle.
- Baroness Floella Benjamin OBE giving this year's Fickling Lecture on developments in children's literature and taking place as part of Newcastle University's popular Insights public lectures series.
- The publication of a new book, 'Martin Luther King in Newcastle: The African American Freedom Struggle and Race Relations in the North East of England' by Professor Brian Ward (Tyne Bridge Publishing).
The free teachers' resource pack can be accessed via the Newcastle University Teachers' Toolkit. The full programme of activities taking place is on the Freedom City 2017 website.
---
Latest News