To Honour Great and Good Man exhibition
The inside story of a King in Newcastle
Published on: 30 August 2017
The inside story of Martin Luther King Jr.'s visit to Newcastle in 1967 to accept an honorary degree is being told for the first time in a special exhibition.
Unique archive material
Using unique and, in some cases, never before seen material from Newcastle University's archives and other sources, 'To honour a great and good man', reveals the preparation and planning that took place for Dr King's visit.
The exhibition, at the University's Philip Robinson library, looks at what led to Dr King's nomination for an honorary degree, the build up to the visit and what happened on the day.
It also examines the reaction in Newcastle following his assassination barely six months later, and the legacy of how his visit to the city is remembered.
Geraldine Hunwick, Senior Archivist in Newcastle University's Special Collections team, explained: "The 50th anniversary of Dr King's honorary degree has given us a unique opportunity to re-visit this remarkable event. His visit took more than a year to plan, leaving us with a wealth of fascinating material.
"Delving into our archives to present the key artefacts connected to Dr King's visit has been hugely enjoyable, but also thought-provoking, and I hope visitors to the exhibition will reflect on the significance of this momentous occasion."
Some of the correspondence included in the exhibition illustrates the anxiety that was felt when, on 30 October 1967, Dr King was sent to jail in Alabama and it became uncertain whether he would be able to come to Newcastle.
But, on 1 November, his office in Atlanta sent a telegram to University staff confirming that he would be able to visit, prompting a whirlwind of frenetic preparations.
Among the documents on show is a briefing to University staff which sets out the security arrangements for the day. This explains how Mrs. Kell, an administrator at the University would be in the King's Hall, where the honorary degree ceremony was to take place, to 'keep an eye open for the undesirable characters with toilet rolls and/or soft fruit'.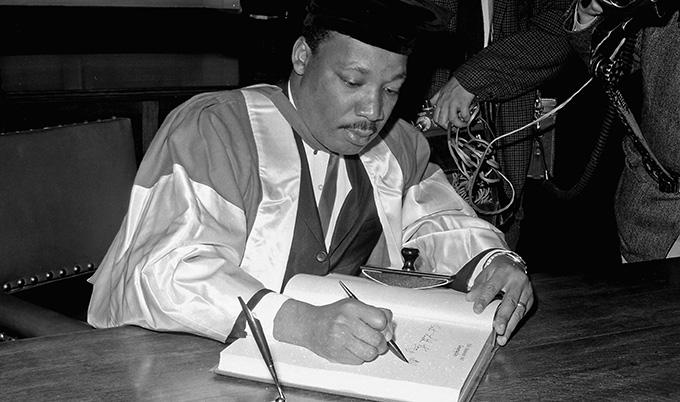 Personal mementoes
Among other highlights of the exhibition is the heartfelt letter of thanks that Dr King wrote following his award from the University. "In the course of constant criticism and alignment,' Dr King wrote, 'the recognition by an institution of higher education of the historical significance of one's work … is a tremendous encouragement. I especially appreciated the warm reception and general response."
Also on show are some personal mementoes of Dr King's visit that have been especially loaned to the exhibition.
These include a handkerchief that Dr King gave to Edna Kane. Mrs Kane and her husband, Laurence, managed the Vice-Chancellor's official residence at the time, which was the first stopping off point for Dr King before going to the University for the honorary degree ceremony.
Dr King presented Mrs Kane with the gift as a gesture of thanks for the hospitality the Kanes provided during his brief visit to the house, along with a signed card.
There is also a postcard sent to postal worker Peter O'Donnell. Mr O'Donnell was so moved by news of Dr King's assassination in April 1968 that he wrote to Dr King's widow, Coretta Scott King, to express his condolences and was amazed to receive this note of thanks for his thoughtfulness.
The free exhibition opens at Newcastle University's Philip Robinson library on 7 September and will run until 30 November.
City-wide commemoration
The exhibition is part of a wider programme of activity taking place across Newcastle under the banner of Freedom City 2017, to commemorate the 50th anniversary of Dr King's visit.
Also taking place as part of Freedom City 2017, and coinciding with the exhibition at the Philip Robinson Library, a new book published later this month looks at Dr King's visit and tells the largely forgotten history of connections between the region and the civil rights movement.
It shows how Dr King was one of many distinguished African American visitors to the region, including Olaudah Equiano and Frederick Douglass who addressed crowds in Newcastle in the 18th and 19th centuries, and more recently Muhammad Ali and Harry Belafonte.
The book has been written by Brian Ward, Professor of American Studies, Northumbria University.
Professor Ward said: "The book explains the significance of Dr King's visit both in terms of British and US society in the 1960s and in terms of historic links between the North East and the African American freedom struggle.
"Given that Dr King was not even supposed to speak, it's wonderful that we can now be inspired by the call he made in Newcastle to confront the global problems of racism, poverty and war. Those words still have tremendous relevance. I am pleased that they are at the heart of the Freedom City 2017 celebrations of Dr King's visit."
There will be a launch event for Professor Ward's new book on 13 September at 6pm at City Library, Newcastle. The event is free but places must be booked.
For more information about Freedom City 2017, including a list of events taking place, visit www.freedomcity2017.com
---
Latest News