Freedom fighters immortalised in new comic
Published on: 25 September 2017
Characters from the North East now have their own comic celebrating the region's local and global role in real-life struggles for freedom.
Tyneside radicals
Historical figures including suffragette Emily Davison, the Jarrow Marchers and anti-slavery campaigner Frederick Douglass are among the Tyneside radicals whose stories are told in 'Freedom City Comics'.
The new anthology presents snapshots of the history of civil rights and politics linked to the North East and has been produced by Newcastle University's Humanities Research Institute.
Institute director, Professor Matthew Grenby, said: "Newcastle has always been a Freedom City – a city marked by political activism and radicalism.
"The stories and situations depicted in the comic may have taken place years ago, but many still resonate today because they profoundly affected the lives of people in the North East, such as establishing different people's right to vote."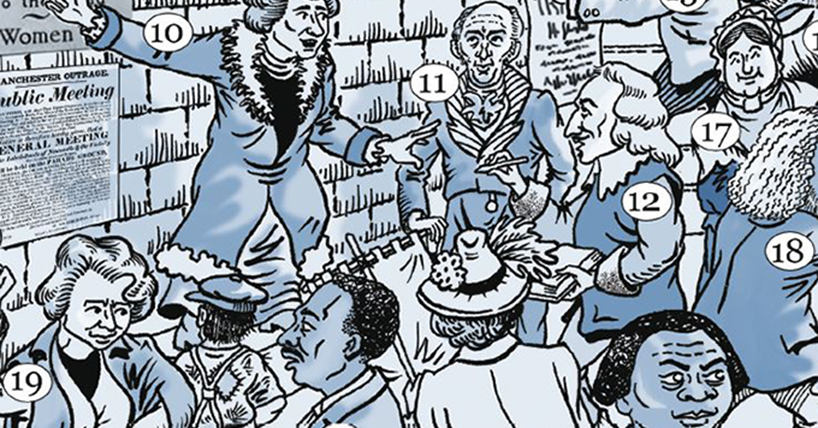 The history of social justice in Newcastle
Each of the seven chapters focuses on a different episode in the history of social justice in Newcastle and the North East, and are linked by the theme of freedom.
Events depicted include the campaign led by Joseph Cowen in 1873 to give miners the right to vote, and the actions of Emily Davison, a suffragette who hid in a broom cupboard in the Houses of Parliament on the night of the 1911 census. This meant she could record the Palace of Westminster as her address - a highly symbolic claim to the same voting rights as men.
The story of how, in 1846, two Newcastle Quaker women raised £150 to buy the freedom of Frederick Douglass is also featured. The anti-slavery campaigner – and at that time, an escaped slave himself – was in Newcastle as part of a lecture tour of Great Britain and Ireland during which he spoke to packed halls and churches about slavery in the US.
Fifty years before Frederick Douglass visited, another former slave, Olaudah Equiano, also came to Newcastle. The comic relates how, following his talk in the Bigg Market, Equiano was taken underground to see St Anthony's colliery. He later wrote that Newcastle was a 'most hospitable and welcoming city'.
Another story depicted is that of children from the Basque country who came to the UK following the bombing of their town, Guernica, during the Spanish Civil War in 1937.
Four thousand child refugees came to the UK, of which 400 were rehomed in Hexham and Tynemouth in the North East. While some children eventually returned home to the Basque country, others made the North East their new home.
Bringing history alive
Freedom City Comics has been produced as part of Freedom City 2017, the city-wide programme of events to commemorate the 50th anniversary of Dr Martin Luther King Jr being awarded an honorary degree by Newcastle University.
The anthology starts by showing Dr King's honorary degree ceremony in Newcastle being watched by a group of by-standers as it is broadcast on television.
The comic has been created through collaborations between professional comic artists and writers, and academics at Newcastle and Northumbria universities. Each chapter is based on research done by the academic, sparking a creative collaboration with the artists.
Lydia Wysocki, research assistant at Newcastle University and Editor-in-Chief of Freedom City Comics, explains: "Comics are an imaginative way to make information more accessible to a wider audience.
"Sharing stories from Tyneside's radical past in comics form is a way for history to reach new audiences. Our Freedom City Comics anthology with nine comics artist-writers shows how comics continue to present complex and serious information in engaging ways, helping readers in the North East and beyond connect with our region's local and global history."
Previous projects from Lydia and her collaborators include 'Spineless', which accompanied the exhibition at the GNM Hancock, 'Asteroid Belter: The Newcastle Science Comic', and 'Gertrude Bell: Archaeologist, Writer, Explorer' created with the Bell archive at Newcastle University.
The current comic art exhibition at Seven Stories: The National Centre for Children's Books shows continued interest in comics from readers of all ages, as well as opportunities for visitors to have a go making their own comics.
The creators of Freedom City Comics hope that adults and children alike will learn something new about Newcastle's place in the global struggle for equality and human rights.
"We hope that children and adults will enjoy reading Freedom City Comics independently or with family and friends," Lydia continued. "A lot of hardship and sacrifice were involved with the events depicted in the Freedom City Comics anthology, but representing them in comic form is not intended to make light of them. Instead, it's a way to bring the stories from Tyneside's radical past to a new audience and help them connect with the history of where they live."
Free copies of the 16 page comic are being distributed across the city at libraries, venues that are taking part in Freedom City 2017 and at locations across the Newcastle University campus. A full digital version of the comic is also available online at http://research.ncl.ac.uk/fccomics
---
Latest News