Park View Student Village starts to take shape
Published on: 25 October 2017
The last of the building modules that will become Newcastle University's largest student accommodation site has arrived at Park View Student Village.
Almost 800 modules will be pieced together to create the £75 million project, which replaces the 1970s buildings in Richardson Road. Opening in 2018, the six new buildings will provide almost 1,300 ensuite bedrooms for students. Galliford Try is the principal contractor for Park View Student Village.
Paul Bandeen, Head of Accommodation and Residential Services at Newcastle University, said: "We're now a year in to our building programme and the progress made during this time has been truly remarkable. The speed and efficiency of the whole process is second to none and I am very excited about seeing the finished scheme. I think everybody involved should be very proud of what has been achieved."
Paul Milburn, Project Director at Galliford Try, said: "Installation of the final module sees our team achieve a great milestone, two years since we began the design and construction process with Newcastle University. We're excited to continue the next chapter on site, with the first blocks nearing completion through 2018."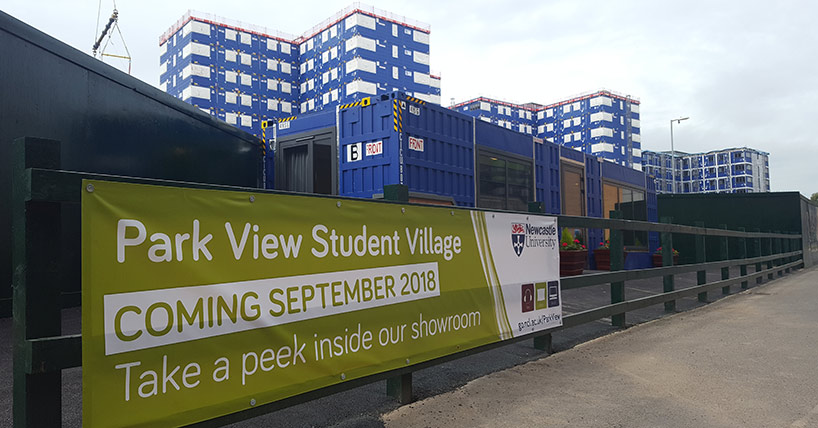 Helping make students feel at home
Park View Student Village features a distinctive modular design, of pre-fabricated modules produced in China and shipped to Newcastle. The self-catered bedrooms will be contained within 4, 6, 7 and 8-bedroom modern flats, as well as single studios.
Building modules:
Each of the Park View Student Village modules is 2.76m tall.
The total height of all 789 stacked modules would be 2,178m, that's almost seven times the height of the Eifel Tower.
Each module is 12.2m in length, when laid end-to-end the total length will be almost 6 miles, stretching from Richardson Road all the way to Wallsend.
The site's total floor area is 37,140m2, over five St James' Park pitches.
As part of the redevelopment project, Newcastle University worked with charities to donate 6,500 out of the 10,000 items of furniture from the existing site.
Prior to building works, an ecology survey was carried out where it was found that the site was an active area for bats. Two bat houses with solar panels were built for the bats to encourage the animals to stay on the site.
---
Latest News