New poetry collection celebrates Martin Luther King Jr.
Published on: 9 October 2017
Powerful poems inspired by a speech that Dr Martin Luther King gave when he visited Newcastle University in 1967 feature in a new book launched next month.
Inspiring collection
Poets on both sides of the Atlantic have contributed to The Mighty Stream: Poems in Celebration of Martin Luther King.
Featuring work by both established and emerging poets, the new anthology brings together a selection of poems addressing the challenges of racism, poverty and war that Dr King highlighted in the impromptu speech he made when he accepted his honorary degree.
Alongside poems by former US poet laureates Rita Dove and Robert Pinksy, work by three Pulitzer Prize winners - Gregory Pardlo, Tyehimba Jess, and Yusef Komunyakaa – is included in the anthology.
The new collection also features a number of emerging poets such as Raymond Antrobus, Degna Stone, and Edward Doegar. Their work appears alongside established poets including Claudia Rankine, Daljit Nagra, Benjamin Zephaniah, Nikki Giovanni, and Patricia Smith.
The Mighty Stream: Poems in Celebration of Martin Luther King is published by Newcastle University in partnership with Bloodaxe Books and has been edited by Jackie Kay, Professor of Poetry at Newcastle University and Scots Makar, and Carolyn Forché, Director of the Lannan Center for Poetics and Social Practice at Georgetown University, Washington.
Professor Linda Anderson from Newcastle University's Centre for Literary Arts, said: "Fifty years on, the 'great and grave problems' of war, poverty and racism that Dr King spoke about remain as relevant today as they were in 1967. At times angry and defiant, and emotionally-charged throughout, this important and timely collection of work offers powerful testimonies to the urgent issues Dr King spoke about during his visit to Newcastle."
On 13 November 1967, Newcastle University gave Dr Martin Luther King an honorary degree – the only UK university to do so during his lifetime. Remarkably, Dr King took time to visit Newcastle to receive the award. He then gave an impromptu acceptance speech – his last public address outside of the US before his assassination barely six months later.
In addressing the issues raised by Dr King fifty years ago, some of the poems that have been written especially for the new collection deal with topics such as the reaction to Brexit and the election of President Trump.
Also among the poems included is 'Praise Song for the Day' by Elizabeth Alexander, which she composed especially for the 2009 presidential inauguration of Barack Obama.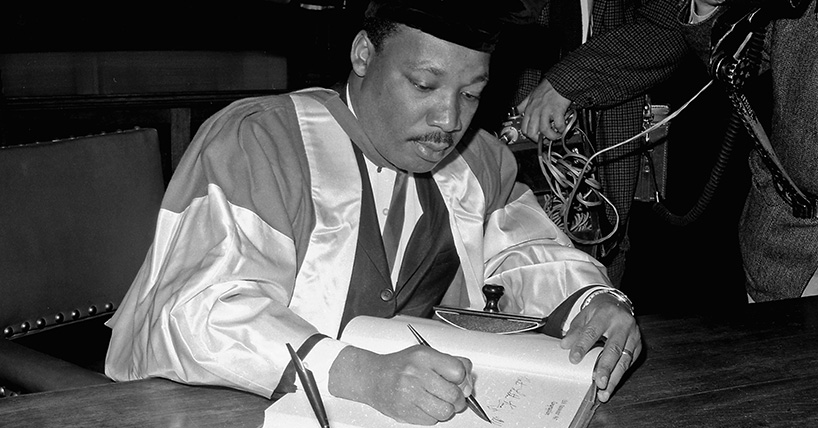 Launch event
The Mighty Stream: Poems in Celebration of Martin Luther King will be launched on Saturday 11 November, with readings fromKwame Dawes, Fred D'Aguiar, Major Jackson, Sarah Howe, Imtiaz Dharker, and Jackie Kay.
This will be preceded by a BBC Radio 3 Free Thinking Festival discussion, featuring some of the poets reading at the launch event.
Tickets for the Free Thinking discussion are free but must be booked in advance. Tickets for the book launch are priced £6.00 (£4.00 concessions, £2.00 for Newcastle University students). For more information and to book tickets visit www.ncl.ac.uk/ncla/events/
City-wide cultural programme
Both events, and the new anthology, are part of Freedom City 2017, a city-wide programme across Newcastle marking the 50th anniversary of Dr Martin Luther King Jr receiving an honorary degree from Newcastle University.
Other highlights of the Freedom City 2017 cultural programme include:
To honour a Great and Good Man (7 Sept-30 Nov) at Newcastle University's Philip Robinson Library. Archive material from Newcastle University's Special Collections tells the inside story of Dr King's visit in 1967 – the decision to award him an honorary degree, preparations leading up to the day itself, and the backdrop of longstanding connections between Newcastle and the African American freedom struggle.
Great North Museum: Hancock presents two new exhibitions as part of Freedom City 2017. Freedom! (7 Oct - 1 Dec) is a conceptual three-screen installation created by scholar-filmmaker Ian McDonald, celebrating the political energy of Martin Luther King Jr. and reflecting on the interlinked evils of capitalism he spoke about. Alongside this, Not as it is written: Black Pittsburgh in voice and image (7 Oct - 1 Dec) shines a light on race relations and the civil rights struggle in Pittsburgh, USA. Dr Ben Houston has gathered the spoken recollections of black Pittsburghers and these will be exhibited alonogside historic photos from the world-class Charles 'Teenie' Harris archive held by the Carnegie Museum of Art.
Where do we go from here? is a multimedia exhibition created by current students and recent graduates from Newcastle University's School af Arts and Cultures and features work exploring the theme of social justice.
Starless Midnight (16 Oct - 21 Jan 2018) at BALTIC Centre for Contemporary Art. An exhibition inspired by Dr King curated by and featuring the work of leading artist Edgar Arcenaux.
Seven Stories, National Centre for Children's Books presents Diverse Voices – a series of talks with leading writers and poets reflecting on issues around children's literature and race, with Catherine Johnson, Patrice Lawrence, Alex Wheatle, John Agard and Grace Nichols.
A new bronze statue of Dr King, created by celebrated sculptor Nigel Boonham, will be installed on Newcastle University campus.
Freedom City Comics – a 16 page comic that presents snapshots of the civil rights history linked to the North East. Copies of the free comic are being distributed across Newcastle at libraries, venues that are taking part in Freedom City 2017 and across the Newcastle University campus.
For more information, including a list of events taking place, visit www.freedomcity2017.com
---
Latest News