Civil rights advocates recognised with honorary degrees
Published on: 13 November 2017
Notable civil rights advocates have been recognised with honorary degrees from Newcastle University on the 50th anniversary of Dr Martin Luther King Jr receiving the same award.
Commemorating Dr King
Fifty years to the day, a special ceremony took place in the University's King's Hall to commemorate Dr King's visit and to remember his powerful acceptance speech, during which he called for us all to tackle the three 'urgent and grave problems' facing the world: racism, poverty and war.
Andrew Jackson Young Jr, American politician, diplomat and activist, was awarded with a Doctorate of Civil Law.
Ambassador Young, a prominent member of the Southern Christian Leadership Conference (SCLC) in the 1960s, travelled with Dr King to Newcastle in 1967. As Executive Director of SCLC, he played a key role in drawing up the Civil Rights Act of 1964 and the Voting Right Act 1965.
In 1977, President Jimmy Carter appointed him to serve as the United States Ambassador to the United Nations - the first African American to hold this position. Prior to this, he was the first African American to represent Georgia in Congress.
Since leaving politics he has established the Andrew Young Foundation to support and promote education, leadership and human rights in the United States, Africa and the Caribbean.
During his acceptance speech, Ambassador Young said: "We must run with perseverance the race that is set before us, looking to those who have gone before us. I was proud, not only because this university honoured Martin Luther King fifty years ago, but in 1846 , this community helped raise the money to buy the freedom of Frederick Douglass, a slave from the United States of America. We must come together now to set free those who are oppressed, and continue this mission for many years to come."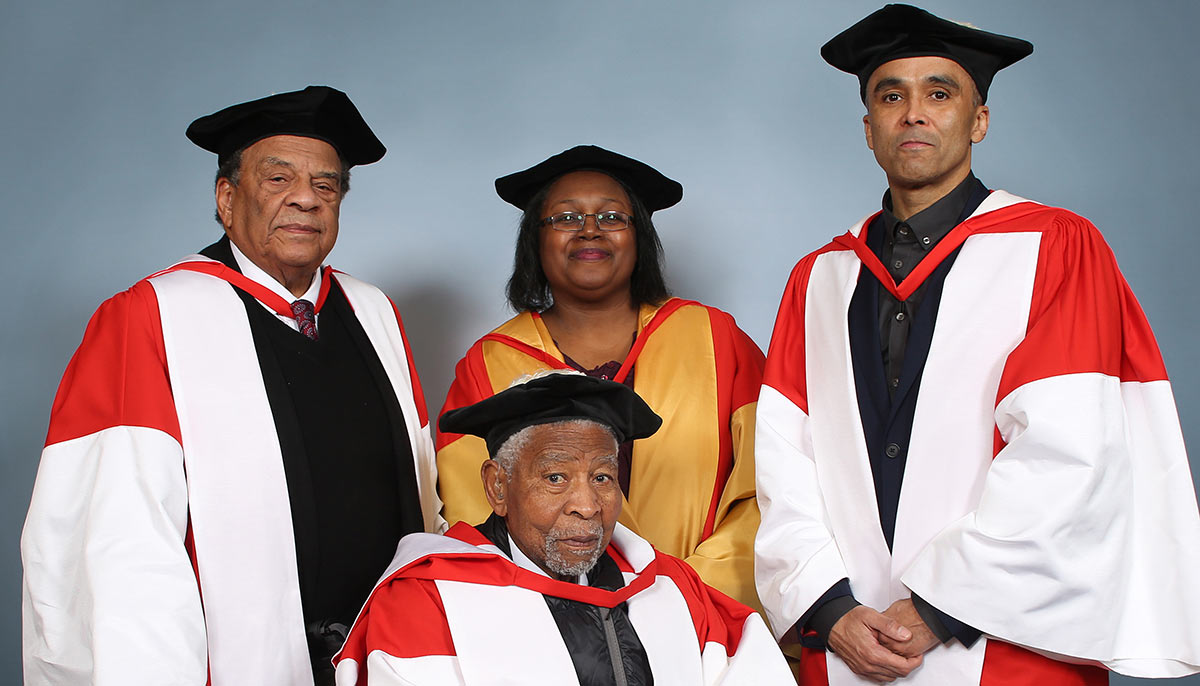 Campaigners for equal rights
Also honoured was veteran anti-apartheid activist and political leader Archibald 'Archie' Sibeko.
Archie was a trade union organiser in South Africa during the 1950s and 60s. His work as a member of the African National Congress (ANC) advocating equal rights for Black workers led him to being arrested in 1956 for high treason. He was held for a year during which time he shared a cell with Nelson Mandela before being released without charge.
When the ANC was banned, the organisation sent him overseas to continue the struggle. He travelled widely raising funds and support for campaigns to isolate and bring down the apartheid regime. It was during this time he had to use the names Zola Zembe or Zola Ntambo in order to protect his family from the attention of the South African police.
After 27 years in exile, Archie was finally able to return to South Africa in 1990, but a few years later he became ill and had to retire to join his wife in England.
Since 2002, he has lived in Tynemouth and contributed to fostering cultural and trade relations between South Africa and the North East.
Archie said: "People throughout the world supported us in our struggle to overthrow apartheid and establish democracy in South Africa and the people of the North East were very active in this. We will always be grateful for that. Now you are honouring me, and I consider this to be an honour for all of us who took part in that struggle.
"Today South Africa, like the UK and most of the world, still faces the problems which Martin Luther King called on us to overcome - racism, poverty and war. I think we still all need to co-operate to defeat them."
Milestone occasion
Children's author Malorie Blackman OBE was awarded with an Honorary Doctorate of Letters.
The former Children's Laureate won a BAFTA in 2000 for her book Pig Heart Boy. Shortlisted for the Carnegie Medal, it tells the story of 13 year old Cameron whose only chance of survival is a heart transplant, and the strain this puts on Cameron, his family and the relationships with his friends.
Held in high regard by literary critics, many of Malorie's books touch on the emotional damage that racism causes. Her most well-known work, the dystopian trilogy Noughts and Crosses, gained global recognition for raising the issue of racial prejudice and how it impacts young people.
Tyneside anti-racism campaigner and promoter of multiculturalism and equality, Tom Caulker, also received an Honorary Doctorate of Civil Law.
Tom, who was born in Gateshead, has worked tirelessly for more than 30 years to promote anti-racism and multiculturalism.
Newcastle's first Black publican, for many years Tom managed Newcastle's Trent House which he left after 25 years in 2009.
Alongside this, he ran independent club nights at Rockshots club, contributing to the venue's overall success, which is widely thought to be a major catalyst in creating modern Newcastle's LGBT scene.
In 1993 he opened World Headquarters club with the aim of adding further musical diversity to the city's cultural landscape. Now Newcastle's longest running club, it has welcomed many national and international artists, as well as hosting awareness and fundraising events for organisations such as the Show Racism the Red Card, West End Refugee Service and homelessness charity Making Winter Warmer, reflecting the strong social values Tom brings to his businesses.
Most recently, Tom has diversified to embrace large-scale, cross-generational live events, such as the Newcastle Unity Festival in Leazes Park in 2015 and bringing artists like the London African Gospel Choir to the city.
Mr Caulker said: "I honestly couldn't be more surprised and honoured to receive such a prestigious award from Newcastle University. The fact it's the same honour they bestowed on Dr King makes it even more special to me. I'm flattered to accept it, on behalf of everyone I have ever worked with and all the many people who have supported our music, our events and our World Headquarters way of thinking, spanning the last four decades."
Newcastle University Vice-Chancellor and President, Professor Chris Day, said: "The award of these honorary degrees reflect the significant contribution each of our honorands has made to society through their work to promote equality and social justice. We are proud to welcome them to Newcastle University on the day we mark such an important milestone.
"The 'urgent and great' problems of war, poverty and racism that Dr King spoke about are as relevant today as they were in 1967. Recognising the achievements of those who we're honouring today provides an opportunity for reflection on these themes and for us all to re-commit to the aims and values Dr King stood for."
Today's honorary degrees are the culmination of a year-long programme of events to commemorate the anniversary of Dr King's visit.
Before the ceremony, Ambassador Young unveiled a new bronze statue of Dr King, especially commissioned to mark the 50th anniversary of his visit. The statue, which stands two metres tall, is located in the new Armstrong Courtyard on the University's campus and has been created by artist Nigel Boonham, one of Britain's finest portrait and figurative sculptors.
A city-wide programme of cultural events has also been running throughout the year to mark the anniversary of Dr King's honorary degree. Taking place at venues across Tyneside, Freedom City 2017 is diverse programme of exhibitions, drama, art, musical performances and public lectures. Events will run throughout November, and beyond. To see the full programme, visit www.freedomcity2017.com
The full honorary degree ceremony can be viewed online at http://www.ncl.ac.uk/congregations/watch_online/
---
Latest News