Martin Luther King statue unveiled
Statue unveiled in honour of Martin Luther King Jr.
Published on: 13 November 2017
A brand new statue of Dr Martin Luther King Jr. was unveiled at Newcastle University today to mark the 50th anniversary of his visit to accept an honorary degree.
Focal point
The two metre tall bronze statue was especially commissioned to mark the occasion, and was unveiled by Ambassador Andrew Young, a close friend and colleague of Dr King's and who accompanied him to Newcastle in 1967.
The base of the statue is encircled by bronze lettering inset into Caithness paving, featuring text taken from the civil rights leader's powerful acceptance speech in which he spoke of the 'three urgent and grave problems' facing the world: war, poverty and racism. It was Dr King's last public address outside the US before he was assassinated, barely six months later.
Ambassador Andrew Young said: "Martin's dream is normally associated with race relations but from the beginning he said his commitment was to redeem the soul of America from the triple evils of racism, war and poverty. Civil society must find a way to fulfil Martin Luther King's words and live together as brothers and sisters, less we perish together as fools. The statue will be a way for his voice and his speech to continue to warm the hearts of the students that study here and visitors that pass through."
The statue stands in the King's Quad, a newly-created courtyard next to the King's Hall, the setting for Dr King's honorary degree ceremony fifty years ago. The statue will become the focal point of a new procession route that students at the university will take at the end of their graduation ceremony.
Professor Eric Cross, Dean of Cultural Affairs, Newcastle University, said: "This statue is a lasting tribute to the values that Dr King stood for and a unique record of one of the most significant moments in the University's history.
"Sadly, the challenges of racism, poverty and war are still relevant to this day. Having a statue of such an inspirational figure as Dr King on our campus will remind all visitors to the University of our commitment to social justice and the need to keep Dr King's legacy alive."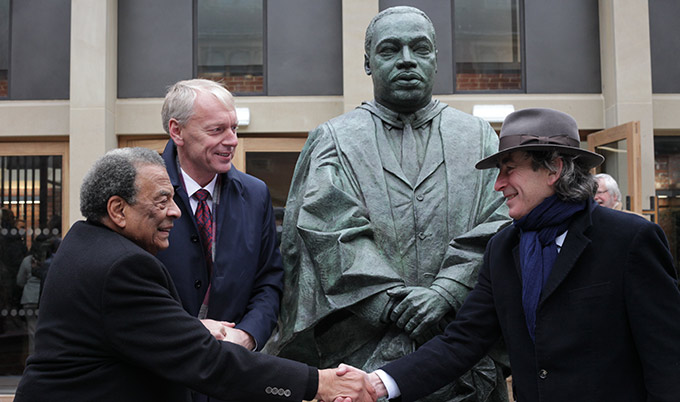 Timeless example
The unveiling was attended by more than 100 guests, among them Robert A. Brown, President of Boston University. It was at Boston University where Dr King gained his Ph.D. in Systematic Theology in 1955, and the university now holds the official archive of thousands of Dr King's personal papers.
President Brown added: "Dr. King's courageous commitment to the pursuit of justice—at great risk—is a timeless example for all of us. His teaching and his personal example of selflessness have reached every corner of the globe. Newcastle University's celebration of the anniversary of his acceptance of its honorary degree, is an occasion for renewal and reflection."
The statue has been created by Nigel Boonham, one of Britain's finest portrait and figurative sculptors, who spent months researching Dr King before deciding on the statue's final pose.
Explaining the various creative stages he undertook in creating the artwork, Nigel said: "It was a privilege to be asked to make a statue of Dr Martin Luther King Jr - he is a gift to a sculptor. I searched for the essence of the man by collecting and studying over 100 black and white photographs as well as listening to his speeches. This informed the statue's final design: Dr King standing firm with legs apart, holding his hat and leaning back slightly. It appeared to me that Dr King was braced for whatever came his way."
Culmination of a year-long commemoration
The statue was the first major art commission by the University since 1962 and adds to the number of permanent public artworks across campus, many of which have been created by notable artists and graduates of the University's Fine Art department.
Clare Rogers, Director of Estates at Newcastle University, said: "I feel honoured that I was privileged to commission this statue, having strived to uplift the campus by introducing art for the enjoyment of students, staff and visitors. We plan to continue this with more distinctive artwork, making the university a cultural destination for all."
Ambassador Young was at Newcastle University to receive an honorary degree, fifty years to the day since Dr King was given the same recognition. Also being honoured today were anti-apartheid activist Archie Sibeko, author Malorie Blackman and entrepreneur Tom Caulker.
The statue and honorary degrees are the culmination of a year-long programme of commemorative events commemorating the 50th anniversary of Dr King's visit.
A city-wide programme of cultural events has also been running throughout the year to coincide with the anniversary. Taking place at venues across Tyneside, Freedom City 2017 is diverse programme of exhibitions, drama, art, musical performances and public lectures. Events will run throughout November, and into 2018. To see the full programme, visit www.freedomcity2017.com
---
Latest News