New cutting-edge facilities for research and study in Singapore
Published on: 3 November 2017
Newcastle University has expanded its operation in Singapore with the opening of the Newcastle Research and Innovation Institute (NewRIIS).
NewRIIS was officially opened by the British High Commissioner, His Excellency Scott Wightman.
In addition to facilitating research, NewRIIS will deliver a range of events and activities including Continuing Professional Development (CPD) training programmes, masterclasses and workshops on a variety of subjects. A licence has also been granted to allow postgraduate teaching to commence at the site.
Located at the Devan Nair Institute for Employment and Employability in Jurong East, in Singapore NewRIIS houses state-of-the-art research facilities, a visualization suite, classrooms, open plan research areas and seminar facilities.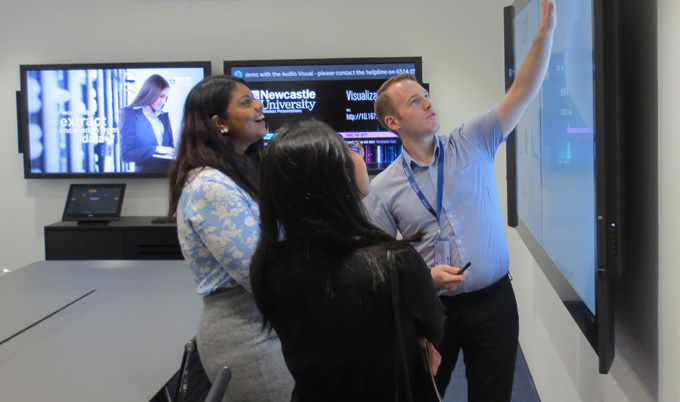 A global outlook
The Institute builds on Newcastle University's established and excellent global research reputation. University experts carry out high-quality research across a wide range of disciplines and locations. Areas of particular focus for NewRIIS will include: Energy and Sustainability; Smart Grids, Process Safety, Marine Technology; Data Visualisation.
CEO and Dean of NewRIIS, Professor Ian Postlethwaite said: "The establishment of NewRIIS is the latest milestone in meeting the University's global ambitions. Working with leading researchers, we will continue to ensure that our activities respond to the needs of industry, individuals and Singapore. NewRIIS will expand the University's research collaboration and be a hub for innovation and collaboration."

Professor Richard Davies, Pro-Vice Chancellor for Engagement and Internationalisation, attended the official opening. He said: "Newcastle University has had a presence in Singapore since 2009 and we have graduated over 1,000 graduates in the fields of science and engineering during that time. This new venture provides us with an opportunity to learn from Singapore and share our knowledge which will benefit both Newcastle and Singapore."
Postgraduate programmes
NewRIIS has been designed to host a number of postgraduate programmes and activities. It has also received Private Education Institution (PEI) status from the Committee for Private Education, which will allow NewRIIS to deliver Masters programmes. The first of these programmes are an MSc in Marine Technology (International) and MSc in Electrical Power Engineering, as well as MPhil and PhD research degrees.
Professor Postlethwaite said: "The hard work of colleagues both in the UK and Singapore has allowed us to create and open this fantastic space. The timely news of PEI status is also the culmination of much hard work. We look forward to welcoming our first postgraduate students and next CPD participants."

Ahead of the official opening NewRIIS has already hosted highly successful CPD workshops in Visualization Tools and Techniques and Smart Grids: From Concept to Reality, facilitated by University academics from the UK and Singapore.
Any queries relating to research collaboration, future programmes or using NewRIIS facilities should be directed to: newriis.research@newcastle.ac.uk.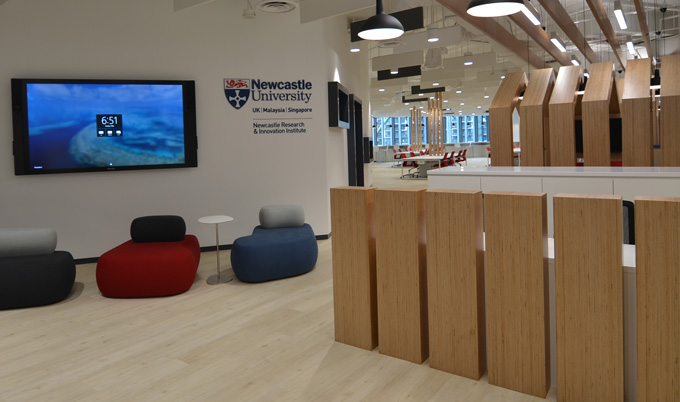 ---
Latest News