Professor's contribution to Peruvian culture
Published on: 16 November 2017
An international expert from Newcastle University was a guest of honour at a special forum in Lima recently, at the invitation of Peru's Minister of Culture.
Cultural strategy
Professor Peter Stone OBE, UNESCO Chair in Cultural Property Protection and Peace, attended the International Cultural Forum from 25-27 October.
The event is an important element in the production of a cultural strategy for Peru, which created its Ministry of Culture in 2010.
Renowned for his work in the creation and development of the World Archaeological Congress (WAC) and as special advisor to the UK Ministry of Defence regarding the identification and protection of the cultural heritage in Iraq, Professor Stone gave a presentation on 'The protection of cultural property in the event of armed conflict' and was a member of the final panel discussion during the forum in Lima.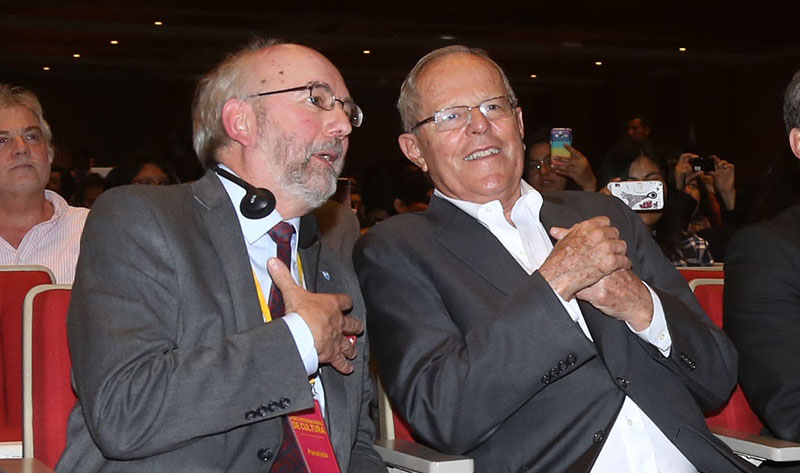 Landmark moment
Professor Stone said: "Up until now Peru has never had a cultural strategy, so it was an honour to be invited to the event and contribute at this landmark moment.
"The invitation came as Felix Lossio Chavez, a Peruvian PhD student at Newcastle University, had seen me speak a couple of times in the UK. He had previously worked for the Ministry of Culture in Peru and has gone back to work for it. He is currently helping to draft the new cultural policy."
During his time in Lima Professor Stone met with civil servants from the Culture Ministry to advise on Peru's responsibilities having ratified the 1954 Hague Convention, he also met the President of Peru.
President of Peru
Professor Stone said: "The President of Peru, Pedro Pablo Kuczynski, came to close the conference – to show how seriously he takes the whole initiative. I was introduced to him by the Minister of Culture and we sat next to each other to watch a traditional dance performance that ended the conference. Much of our conversation was about the importance of cultural heritage for the identity, social cohesion, and economy of a country. We also talked of his time at school in the UK – and school-boy rugby, at which he must have been very good!"
The trip was funded by the British Council and Professor Stone may be asked to follow-up his visit with advice on cultural property protection in the future.
---
Latest News