Tributes paid to world-leading dental expert
Published on: 17 November 2017
Tributes have been paid to world-leading expert, Emeritus Professor Jimmy Steele CBE, who changed the way that dental services are provided in the UK and abroad.
The former Head of Newcastle University's School of Dental Sciences passed away peacefully at the age of 55. He had been diagnosed with glioblastoma 22 months earlier.
Jimmy and his wife, Katie Bushby, Professor of Neuromuscular Genetics at the Institute of Genetic Medicine, began working at Newcastle University in 1989.
In 2009, Jimmy solidified his outstanding reputation when he spearheaded the Independent Review of NHS Dentistry – also known as the Steele Review – which aimed to ensure patients received the best and most effective care possible.
His health service research included work in primary care, clinical trials, health economics and quality of life measurement. He was the author and contributor to a number of books in areas such as restorative and preventative dentistry.
Jimmy was one of the leading experts who worked on the Children's Dental Health Survey in 2003 and 2013, as well as the 1998 and 2009 Adult Dental Health Survey. These are carried out every 10 years and remain key to assessing the national picture of the country's oral health.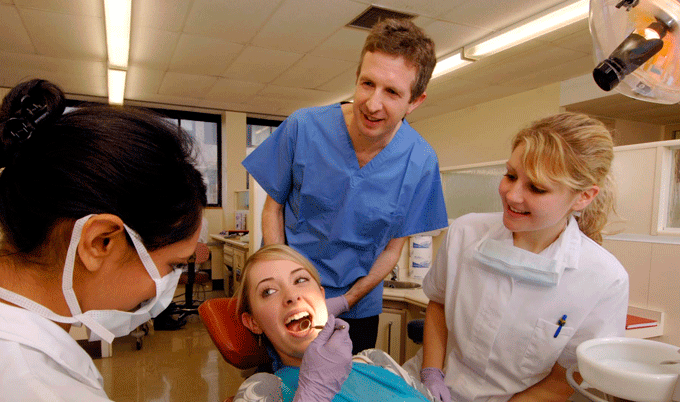 "Outstanding teacher"
Professor Chris Day, Vice-Chancellor and President of Newcastle University, knew Jimmy for more than 20 years.
He said: "Jimmy was hugely respected around the world as a leader in his field and will be sadly missed by all of those who knew him both professionally and personally.
"His strong background in research and education led him to take on a number of national leadership roles which were pivotal in shaping dental services across the UK to enable the best care for patients.
"Jimmy was passionate about finding ways to improve the quality of care for patients and making a difference to people's lives.
"He was also an outstanding teacher, I will always remember the warmth he showed when sharing his knowledge with the hundreds of students he has inspired over the years."
Since 1999, Jimmy had been an honorary consultant at Newcastle upon Tyne Hospitals NHS Foundation Trust in the specialty of restorative dentistry.
Honours he received included the International Association of Dental Research Geriatric Oral Research Award and Fellowships from the Royal College of Surgeons in Edinburgh and London. Just last year, he received a prestigious honour for his scientific work and lasting contribution to his profession when he was awarded the John Tomes Medal by the British Dental Association.
The John Tomes research prize is given as a medal for scientific eminence related to dentistry and dental surgery. It is a rare honour bestowed on distinguished members within the profession.
Jimmy was awarded a CBE by the Queen in 2012 for services to Dentistry and Oral Health. He was also oral and dental research lead for the UK Clinical Research Network (NIHR).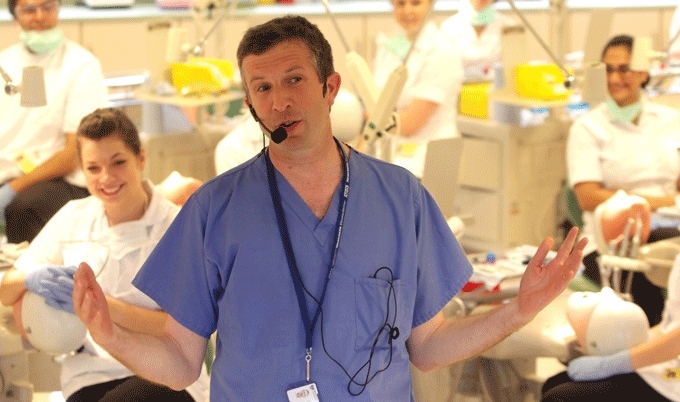 "building for the next generation"
Professor Mark Thomason, Head of School of Dental Sciences, said: "From the moment he arrived, Jimmy always had a special place in the life of the Dental School and had the ability to bring something unique to any area in which he applied his distinct talents.
"He was a world-leading researcher who was sought by collaborators from all over the world as a research partner, but Jimmy also prioritised his work with young and junior researchers, building for the next generation.
"Outspoken, decisive and clear thinking; Jimmy's research credentials were unquestionable and yet he was just as at home as a teacher and educator, sharing his clinical expertise and insight with undergraduates and postgraduate students and trainees. As a teacher he was inventive, challenging, insightful and caring.
"Jimmy was outwardly extrovert and clearly comfortable striding a world stage but he was also a very private person. As Head of School he was an exceptional role model and delivered enormous success.
"He will be widely remembered for his work with government in the review of NHS Dentistry, simply referred to universally as "the Steele Report" . And yet, for me, it was his support for colleagues, be they senior members of the University or students within the School, that marked out the real Jimmy.
"Jimmy was a unique talent and enjoyed sharing his gifts with others. He was a skilful communicator that brought something special and 'slightly off the wall' to his interactions with those around him.
"More than anything else though, Jimmy cared and that's what set him apart."
Jimmy was born in Edinburgh on June 28, 1962. He was educated at the city's Royal High School before going on to study dentistry at the University of Dundee, graduating with commendation in 1985.
He joined the University in 1989 as a Clinical Lecturer and was promoted to Clinical Senior Lecturer in 1999 and Professor of Oral Health Services in 2003. He was Head of the School of Dental Sciences for seven years until 2016. He was one of the University orators and loved the opportunity to contribute to the Honorary Degree Ceremonies.
Family man
Jimmy loved spending time with his wife, Katie, and children, Tom and Jenny, and spent much of his free time indulging his passion in bird watching and the natural world in general. A self-confessed "foodie", he enjoyed nothing more than experiencing good restaurants and buying and preparing fish. At the annual Dental School charity auction he regularly offered a "Fish Day" at which generations of students were trained in fish buying and fish preparation before serving a seafood meal for twelve at the end of the day. He was a kind and generous person, always keen to share his enthusiasms and passions.
Professor David Burn, Pro-Vice Chancellor for the Faculty of Medical Sciences, had known Jimmy for nearly a decade.
He said: "Everyone in the Faculty of Medical Sciences has been saddened to hear of Jimmy's passing.
"He touched the lives of so many people in our Faculty, well beyond the Dental School which was his spiritual home.
"Personally, I first got to know Jimmy on a leadership development course. His quick wit, sense of humour and sparkle in the eye were qualities I will always remember, along with his love of birds. You could always tell that the session was not quite capturing Jimmy's attention when he started to sketch out a blue tit in great detail.
"Jimmy contributed hugely to both teaching and research in dentistry with characteristic enthusiasm that never waned. He was loved and respected by staff and students alike and his leadership of the school was exemplary.
"Jimmy's voice and opinions at Faculty meetings always commanded attention and frequently had relevance well beyond his own school.
"It is tragic that we have lost such a talented and much loved colleague so early. But Jimmy has left a wonderful legacy and he will never be forgotten, not only by colleagues in Newcastle, but across the world.
"We pass on our sincere condolences to his wife Katie, children, Tom and Jenny, and the rest of his family."
Jimmy's funeral will take place on Friday 24th November at 11:15am at the Crematorium on the West Road, followed by a light lunch at the Crowne Plaza.
His family request that people do not send flowers but rather support the Trussell Trust, a charity close to Jimmy's heart.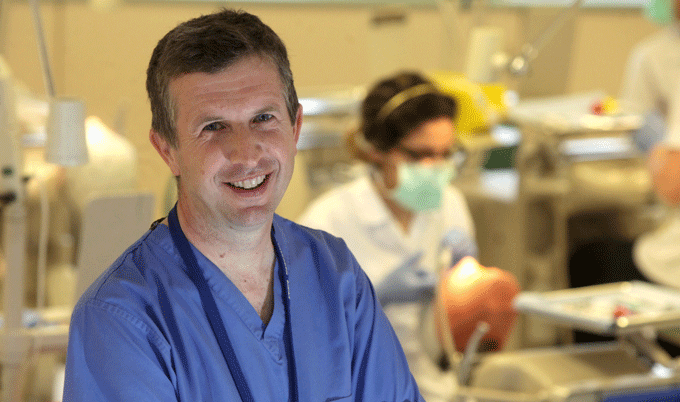 ---
Latest News