Tyne and Wear Citizens launch
New organisation set up to improve local communities
Published on: 9 November 2017
A new grass roots campaigning force in Tyne and Wear, supported by a broad cross-section of society, has been launched to improve the lives of ordinary people in the North East.
Strengthening communities
Newcastle University is one of the five founding partners of Tyne and Wear Citizens - an alliance of organisations committed to working together to improve the wellbeing of people and local communities.
Around 1,000 people from every background, age group and community filled the Tyne Theatre and Opera House to capacity and hear a range of issues outlined - from inadequate mental health services to the plight of the working poor and the scourge of hate crime.
Bishops, senior clergy, leaders of faith groups, MPs, councillors, and business leaders also took part in the event – which began with a song dedicated to a 'living wage' from the local Backyard Rhythm Orchestra.
Sara Bryson, full-time organiser of Tyne and Wear Citizens, formerly policy and research manager with Children North East, a long-established charity, said the new organisation was committed to strengthening communities and campaigning on issues determined by local people.
"At the end of 2017 we face many challenges in the North East, with rising levels of in-work poverty and divided and fearful communities," she said. "Often we feel powerless to do anything in response. By working together we are powerful enough to bring about real change. We are saying 'we are no longer waiting for someone else to do the right thing. We are leading that change ourselves'."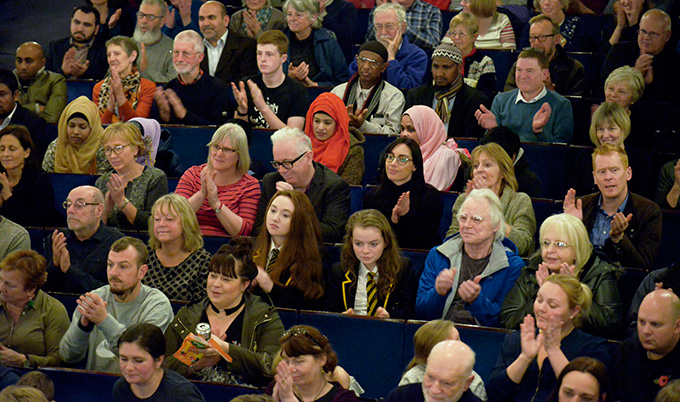 A focused agenda
Tyne and Wear Citizens will be focused on three themes initially – poverty, safer cities and mental health. These themes were agreed on through an extensive listening process - in all, more than 1,000 conversations – about the issues facing ordinary people in Newcastle, Durham and Sunderland.
Support from the University in the lead up to last night's launch has included funding from the HaSS Faculty and the Institute of Social Renewal (NISR). Professor Liz Todd, Deputy Director of NISR sits on the group's Leadership panel and a number of Newcastle academics have also given their time to help establish the new organisation.
Professor Todd said: "Tyne and Wear Citizens is what we need in the North East. By launching Tyne and Wear Citizens we are reaffirming our commitment to speeding up the coming of social justice for everyone. Martin Luther King was trained in the methods that Citizens use and our support for Citizens and the actions that will be achieved in the future will be part of the legacy of the Dr King's 50th anniversary celebrations."
Building on a radical past
The new group is an affiliate of Citizens UK, a fast growing non-political organisation, which campaigns for social justice and the common good. The organisation has been at the forefront of the campaign for a 'living wage', currently set at £8.45 an hour outside London. Although paid now by 3,500 employers – a tiny proportion nationally – businesses in the north east have so far been slow to sign up to a living wage.
Citizens UK, led by a North Shields-born senior social work professional Neil Jameson, was also active in campaigning against excessive interest rates demanded by pay-day lenders. These rates have now been capped at 0.8% daily.
Mr Jameson said: "The North East has a radical past led by unions, Chartists, Suffragettes and others – a tradition we want to build on by creating a powerful, diverse and permanent alliance of civil society working together for the common good."
Press release adapted courtesy of Tyne and Wear Citizens.
---
Latest News