At the sharp-end of University research
Published on: 4 December 2017
Newcastle University's head glassblower Robyn Hare reveals the artistic side of science.
As the winter break approaches for students, the University's glassblowing supervisor is settling into her new workshop alongside mechanical and electronic engineering technicians.
"I used to work on my own on the third floor of this building but the workshop brings all seven technicians together" said Robyn Hare. "We definitely regard ourselves as a technical services team even though we work under different schools."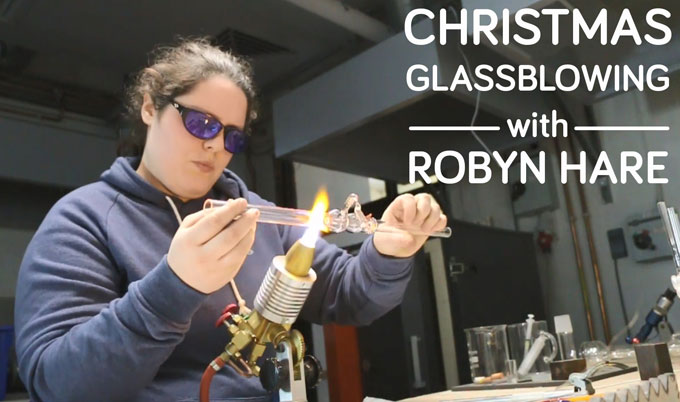 Bespoke glassware for research
This unusual role involves Robyn repairing equipment for the School of Natural and Environmental Sciences and working with people across the University to make bespoke pieces of glass, mainly for research projects.
"I work primarily for the Chemistry department but I carry out work for the whole University as a technical service" explained Robyn.
"No two days are the same. I really enjoying working with people when they need a specially designed piece of equipment. Glass is a bit like Lego; there are certain ways it can be put together and my job is to apply the basic principles and come up with an end product that will fit the purpose. Sometimes this can be a unique piece that has never been made before.
"I also enjoy working with other faculties. One highlight has been the teaching that I've done with art students keen to learn about and try glassblowing. I'm working with the school of architecture at the moment on some of their research projects and this has been really interesting."
Trained through the British Society of Scientific Glassblowers
Robyn has worked at the University for seven years after answering an advert for an apprentice glassblower in 2010. She began a three-year training period under the supervision of an experienced glassblower and, following his retirement, she now runs the workshop alone.
"I studied art A-level and then did an art and business course at college but I had never worked with glass before coming to Newcastle University" said Robyn. "The business skills do come in handy for me as running the workshop is a bit like running a business."
As part of her training Robyn took British Society of Scientific Glassblowers qualifications and examiners travelled to Newcastle University to monitor and mark the tasks set. "One exam involved eight hours of glassblowing and that was quite tough" said Robyn.
Although many Universities no longer have glassblowing workshops in-house, Robyn sees the service as a sign of strength. "Having someone with the skills to repair glass and create bespoke pieces saves the University money in the long run" she explained.
Glass making is an important part of the industrial heritage of the North East and, although there are still relatively few jobs available in this once thriving sector, Robyn believes there is a drive to keep the skills alive and broaden opportunities for all in a traditionally male-dominated industry.
"I think things are looking promising, there are glassblowers at Durham, Hull and York Universities and the majority of them are women" she said.
Adapting with technology
Other changes are also evident in the equipment that Robyn is asked to make. "Glassblowing is a traditional skill but as technology advances I find that I'm asked to make different things" she said.
"What is being made for chemistry has changed. For example, where once complex apparatus for the use of mercury was in the research labs, new technologies that are safer and sometimes aren't glass are now the norm. But glass is nothing but an adaptable material. There are new applications in research for glass, for example I've been working with the school of architecture recently, so I'm adapting with the research."
---
Latest News