Britain's greatest Olympian visits University
Published on: 22 December 2017
Britain's greatest Olympian Sir Chris Hoy was in the North East to speak to experts about the importance of exercise and nutrition.
The former track cyclist was guest of honour at the International Sport and Exercise Nutrition Conference being hosted by Newcastle University.
Sir Chris, a seven-time Olympic medallist, took part in a Q&A session where he answered questions on a variety of topics, from his stellar career to the best ways to keep your body in peak fitness.
The 41-year-old, Science in Sport ambassador, said: "Sport, nutrition and exercise are important for everyone and not just those involved in elite sport. How we look after our health and body impacts upon many aspects of our lives.
"It is important for people to be active in any way possible, whether that's walking up the stairs instead of taking the lift, or cycling or running to work. What fuel you put in your body is equally important.
"Meeting experts at Newcastle University, who are at the cutting edge of research in sports science, exercise and nutrition, is exciting as it shows the outstanding work that's being carried out in this area.
"It is great to hear that a new undergraduate BSc Sports and Exercise Science degreeprogramme has started in the Medical Faculty at Newcastle University this year and is going well."
Sir Chris is the most decorated Olympic cyclist of all time, with a total of seven Olympic medals: six gold and one silver, along with 11 World and two Commonwealth titles.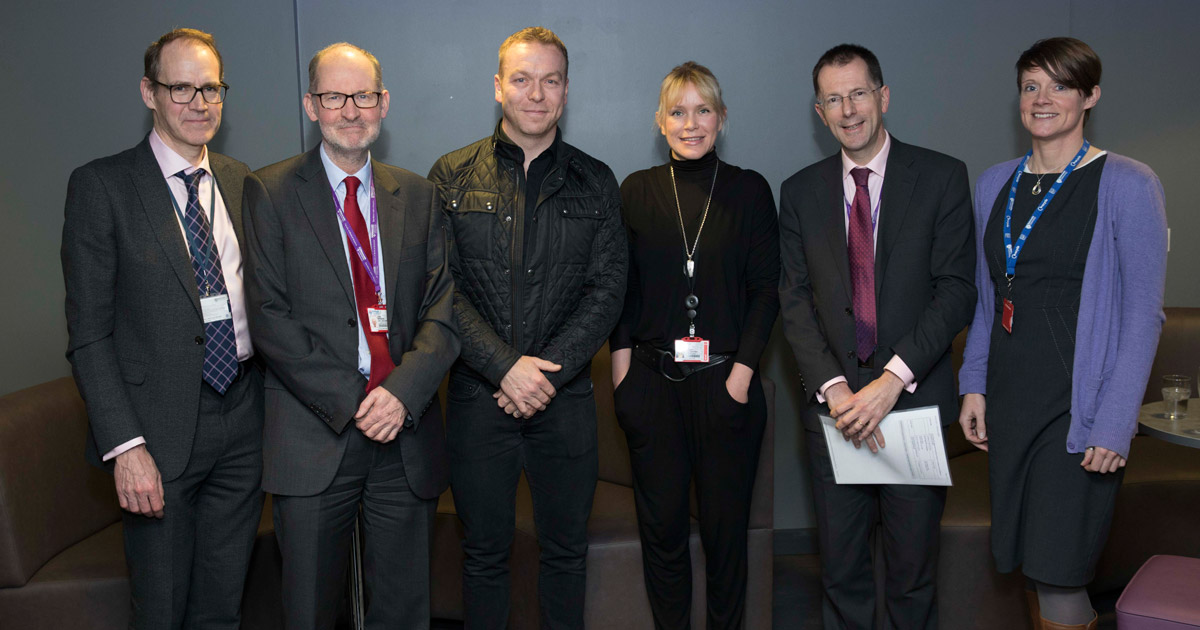 Prestigious conference
It is the eighth year of the International Sport and Exercise Nutrition Conference, and the event continues to go from strength-to-strength with academics travelling from as far afield as Australia and the USA to attend.
Topics being discussed at the three-day event include personalised nutrition, cardiometabolic health, the impact of nutrition and exercise on bone health, cell signalling and the ageing process.
Emma Stevenson, professor of sport and exercise science at Newcastle University, arranged the conference and will present about antioxidant supplements and their potential health benefits.
She said: "It is fantastic to have a world-leading athlete like Sir Chris Hoy attend the conference and highlight the importance of sport, exercise and nutrition.
"At the event, national and international experts will review nutritional issues relevant to anyone who plays sport – from elite sport to those who just want to improve their health through an active lifestyle."
BSc Sports and Exercise Science degree
Last year, Newcastle University announced that it was investing more than £30m in sports facilities and launching a new sports and exercise science degree to further enhance its position among the top sporting universities in the country.
The new undergraduate BSc Sports and Exercise Science degreeprogramme, the first in the country to be delivered from a Medical Faculty, began in September this year.
Professor Stevenson, who leads the BSc Sports and Exercise Science degree programme, said: "Drawing on our expertise in Newcastle University's Faculty of Medical Sciences, the degree has a strong science focus.
"We cover the disciplines that underpin human health and exercise performance, including exercise physiology, nutrition, psychology and biomechanics.
"The practical application of the science is also an extremely important part of the degree programme. The new facilities will provide students with the opportunity to work with top athletes applying their knowledge to enhance performance in a professional setting.
"Uniquely, as a National Centre of Excellence in biomedical research, we will be able to provide research informed teaching at the cutting edge of our subject."
New sports facilities
The planned development of the existing sports centre at Richardson Road includes an eight court sports hall, four squash courts, a strength and conditioning suite and two exercise studios providing more opportunities for all students to both train and play.
The exercise physiology and biomechanics laboratories, environmental chamber and gait track will ensure that students on the BSc Sports and Exercise Science Programme have access to the best teaching and research sports science facilities.
At the Cochrane Park Sports Ground, it is planned to create two artificial turf pitches, update and extend existing changing facilities and provide flexible social, meeting and office space.
Colin Blackburn, Director of Sport at Newcastle University, said: "Our vision is to build Newcastle into one of the top sporting universities in the UK.
"Our sports teams under the banner 'Team Newcastle' perform well across the board in all sport, with outstanding performances from our basketball, fencing, rowing, Rugby Union, squash and water polo clubs."
Team Newcastle finished the 2016/17 season with 2,223 points, placing it 10th amongst 160 Higher Education institutions in the country.
The back-to-back top 10 ranking means that Newcastle University has now finished in the top of the table in seven of the last 11 BUCS (British Universities and Colleges Sport) seasons.
For more information about the BSc Sports and Exercise Science degree programme visit: http://www.ncl.ac.uk/undergraduate/degrees/c600/#courseoverview
---
Latest News