Stu Brew Reimagine Awards
Student brewers toast success with international awards
Published on: 7 December 2017
Europe's first student-run microbrewery has scooped top international awards for enterprise and sustainability.
Stu Brew won the prestigious Reimagine Education overall enterprise award, beating competition from higher education institutions around the world.
The sustainable microbrewery, run by students for students, also picked up silver in the sustainability category.
Reimagine Education is a leading international competition which rewards innovative initiatives aimed at advances in learning technology and approaches to employability.
Each year, more than 1,000 organisations from around the world submit their projects to 16 award categories, such as e-learning and nurturing employability.
This year's awards ceremony took place at a global conference in Philadelphia, USA.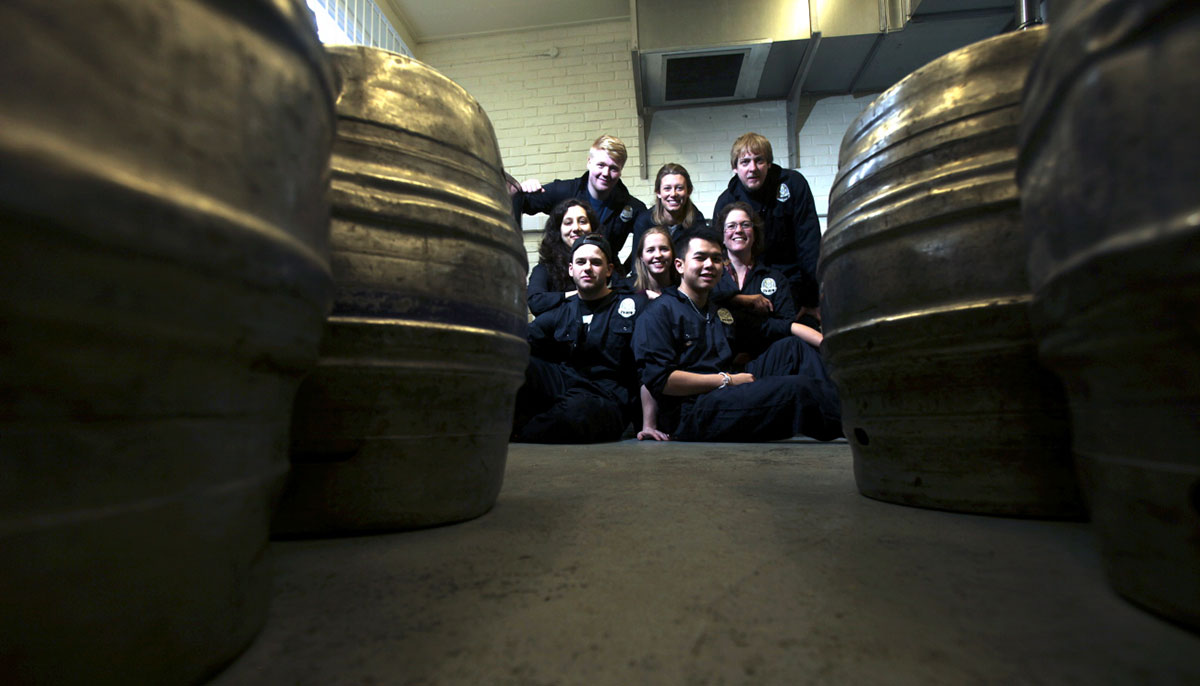 Student entrepreneurship
Postgraduate student James Milne, who was last year's Student Brewmaster and is the current Sales Manager for Stu Brew, attended the conference to present the student brewery to hundreds of delegates.
He said: "Winning the Enterprise award and silver in Sustainability was unexpected but a great pleasure.
"The fact that Stu Brew is now being recognised on an international stage at the Reimagine Education conference is fantastic and a signal for even greater things to come."
Nunzio Quacquarelli, CEO at QS, said: "At Reimagine Education, we're seeking to reward student-focused, employability-boosting projects that unite sustainability with scalability. Stu Brew was one of the few entries this year that excelled in all of these criteria, and our judges were impressed by the way that key learning principles were integrated into an enjoyable, engaging, effective real-world project. We will eagerly follow their progress in future, and are sure that their work will help cultivate a new generation of sustainability-minded entrepreneurs."
Profits from Stu Brew, which is managed through Newcastle University Students' Union, are invested back into training and development for students and overall long-term sustainability of the enterprise.
Reflecting the strong focus on student entrepreneurship at Newcastle, Stu Brew is run as a social scheme to support student development and help improve participants' employability skills.
Launched in August 2013, Stu Brew became one of only 25 environmental and sustainability initiatives in the UK to be awarded funding from the National Union of Students' 'Student Green Fund'.
More than 500 students have been engaged with Stu Brew – in leadership roles to guide and deliver the microbrewery enterprise, in practical volunteering to develop recipes, brew and cask beers, and through market research and academic projects linked to the brewery.
The brewery is a 2.5 barrel facility and a 20L experimental kit for recipe design and small-scale brews.
Set up with sustainability at heart, hops are grown on the student allotments and the brewing process uses a hot water recovery system to make the process more energy efficient. Spent malt is sent to a local farmer for use as animal feed and hop residue gets composted on the allotments.
Red Kellie, Go Volunteer Project Worker at Newcastle University Students' Union, said: "This international award is a brilliant and thoroughly-deserved recognition of the hard work and determination of Stu Brew's student volunteer team.
"The enterprise is going from strength to strength; both in terms of beer sales across Newcastle and the North East, and with its ongoing mission to promote sustainability within the brewing industry. Congratulations Stu Brew."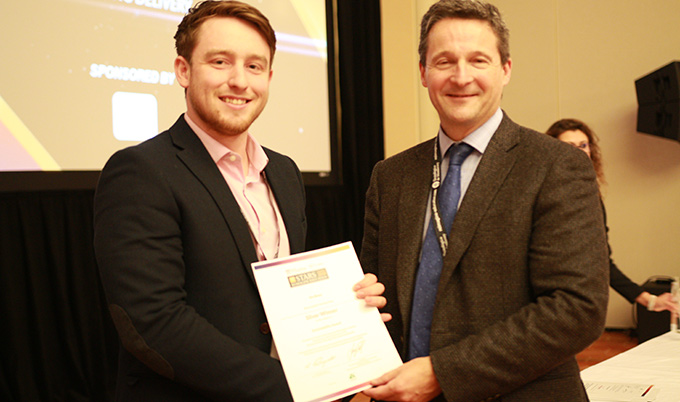 Sustainable brewery design
Stu Brew has established a partnership with the School of Engineering and acts as a research unit for sustainable brewery design, seeking to become an example of good environmental practice in the brewing field. The brewery works closely with academics from the school and other local microbreweries in the North East to improve our process and share best practice.
Dr Chris O'Malley, a lecturer in Chemical Engineering at Newcastle University, who leads the research arm of the Stu Brew initiative, said: "I'm really pleased to see the team getting the recognition they deserve for all the long hours that they're putting in to the project.
"We've had a busy 12 months with a rebrand last Christmas, growing our own hops and starting to sell our products in keg, cleaning research projects, career development module students, and more.
"It'll be exciting to see what the next 12 months brings. A big thanks to the School of Engineering, Newcastle University Students' Union and Go Volunteer for all the support - we couldn't do it without their backing."
Turning ideas into successful ventures
The student brewers received guidance and support from START UP, Newcastle University Careers Service's support programme for student and graduate entrepreneurs, and creators of the #StartedatNCL social media campaign highlighting the entrepreneurial achievements of those associated with the University.
Gareth Trainer, Assistant Director (Enterprise and Entrepreneurship), Newcastle University Careers Service, said: "This is a thoroughly well-deserved award that is testament to the creativity, innovation and leadership shown by the students involved. It is not just an incredibly powerful example of consumer-focussed social enterprise, but a stunning example of immersive enterprise education. Learning technical skills and knowledge in this way is very effective, but adding the commercial, business enterprise context in this sustainable, resourceful and repeatable way boosts the development of employability and self-efficacy almost immeasurably.
"To have the idea and make it happen is challenging enough; to have scaled it into such an impactful, inclusive and enterprising educational experience is truly inspirational."
Reimagine Education is the latest in long line of prizes recognising Stu Brew's contribution to sustainability and student employability.
In 2015, the project received the National Union of Students Enterprise Award for demonstrating innovation and the ability to 'make things happen' by overcoming challenges. In 2014, Stu Brew was part of an award-winning garden exhibited at the Chelsea Flower Show, highlighting a national Students Eats project which encourages students to grow their own produce and take on allotments.
---
Latest News