Belonging – first solo show for award-winning Newcastle graduate
Published on: 5 January 2018
Emerging artist Joy Labinjo who won one of the art world's most generous prizes, will launch her first exhibition in London this month.
Reflection and debate
Joy, who graduated from Newcastle University with a degree in Fine Art last year, was awarded the prestigious Woon Art Prize in 2017. The prize, jointly hosted by Northumbria University and BALTIC, includes a £20,000 fellowship, including 12-months studio space in the Woon Tai Jee studio at BALTIC 39 in Newcastle.
Her exhibition Belonging will open on 11 January at Morley Gallery, in London, as part of a new programme that aims to challenge the status quo, encouraging reflection and debate on our increasingly complex times.

"It feels absolutely amazing to be having my first solo show," says Joy. "I didn't think it would be possible for me to be an artist, let alone have a solo show only six months or so after graduating. I was over the moon when Morley Gallery got in touch. I know that I've been quite lucky with my situation which makes me appreciate the support I've received so much more."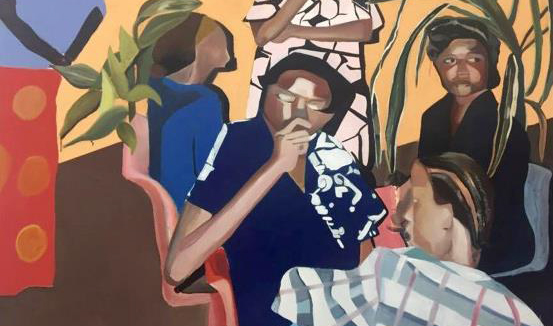 Identity, race and culture
Joy's paintings draw on her British-Nigerian heritage and examine the complex relationship between identity, race and culture. In Belonging, Labinjo invites the viewer to step into large-scale canvases saturated with colours, patterns and people, reconfigured from her family photograph albums.
David Butler, a senior lecturer in Fine Art at Newcastle University said: "Joy Labinjo's paintings are powerful in their imagery and content. The Woon Fellowship gives Joy a great opportunity to develop that strong voice. She is an artist who has already shown she will make very good use of that."
Woon Art Prize
Joy is the fifth winner of the Woon Art Prize, which was established by the Woon Foundation, made up of Northumbria graduate and keen art collector Mr Wee Teng Woon and his three brothers.
"Winning the Woon Prize is an amazing experience which has given me a lot of visibility," says Joy. "It's also been quite strange. I went to work the day after winning and it felt really surreal, very much like a pinch me moment."
Newcastle University's Fine Art Department is rated number one in the country by the Sunday Times 2018 University Guide.
Belonging runs from 11 January to 10 February 2018 at Morley Gallery, 61 Westminster Bridge Road, London SE1 7HT.
---
Latest News