1,000 V2G chargers put UK at forefront of electric vehicle revolution
Published on: 30 January 2018
Newcastle University is to play a leading role in the world's first, large-scale trial of Vehicle-to-Grid technology.
The £9.8m project announced last week by Department for Business, Energy and Industrial Strategy minister Richard Harrington will be led by Nissan and involves experts from Newcastle University and Imperial College, London, electricity network operators Northern Powergrid, UK Power Networks and National Grid and V2G aggregator Nuvve.
V2G technology allows electric vehicles to be fully integrated into the electricity grid and will help improve grid capability to handle renewable power, making renewable sources even more widely integrated and affordable.
Private owners and businesses with large EV fleets will have the opportunity to create mobile energy hubs by integrating their vehicles into the grid. Connecting to the grid to charge the battery during low-demand, cheap tariff periods, drivers will have the option to then use the electricity stored in the vehicle's battery to feed back to the grid which could generate additional revenue for the EV owner.
Last year, Newcastle University installed one of the UK's first V2G chargers, working with Nissan and Nuvve on the original research.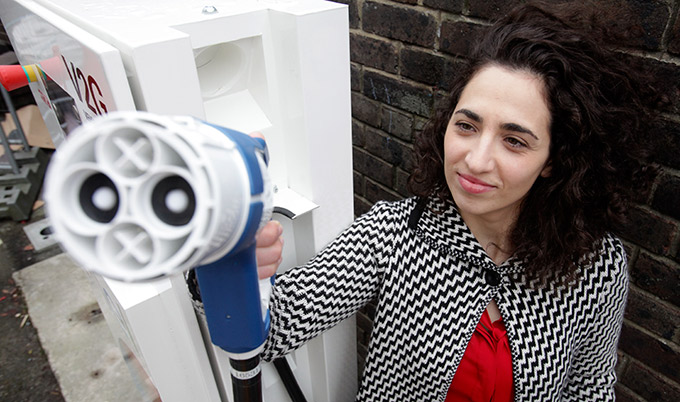 Game changer
Myriam Neaimeh, Newcastle University's project lead, said today's announcement would be "a real game changer as we move towards decarbonising the grid."
"Using these V2G chargers that allow bi-directional power flows, customers could offer their EVs to support a reliable and cost-effective operation of the power system in exchange of lower bills. The aim of e4Future is to identify and help overcome barriers to make this vision a reality. If successful, this project will be a game changer for both the transport and electricity sectors."
"This will be the first, large scale demonstration of vehicle to grid technology anywhere in the world," she said.
"And crucially, this project is highly collaborative, bringing together for the first time participants from typically disconnected sectors– a giant of the automotive industry with electricity network operators, energy services providers and academics - so we can work together to really make this happen.
"It's a really exciting time and fantastic that Newcastle University has been involved right from the beginning."
Reducing future emissions
At the moment the number of EVs is too low to have a significant impact and it is estimated there will need to be more than two million electric vehicles on the UK's roads if we are to meet our commitment to reduce carbon emissions then by 2030.
Assuming half of these are plugged into the grid using a 10kW V2G charger, and each EV battery can store 40kWh then this offers a potential energy storage resource of approximately 40GWh and around 10GW of power capacity– significantly bigger than any energy storage system currently installed or planned.
"Clearly drivers aren't going to want to find that they can't use their car because the battery has been drained," Neaimeh says. "So the system can be programmed and controlled through an aggregator platform, developed by NUVVE, to ensure the battery is charged and ready to go when the drivers need it.
"With an extensive charging infrastructure at work and at home, the whole process can start anytime the vehicle is plugged into the grid for a long period of time."
Smarter, flexible electricity system
The project is part of a £30 million investment from BEIS - working with the Office for Low Emission Vehicles and Innovate UK – to fund projects that investigate new business models, consumer awareness and technologies that support interaction between electric vehicles and the grid.
The UK government wants nearly all cars to be zero emission by 2050, and it sees a smarter and more flexible electricity system as a major benefit to consumers and a key to future growth.
Patrick Erwin, Policy and Markets Director at Northern Powergrid, a project partner and the company responsible the North East, Yorkshire and northern Lincolnshire's electricity network, said:
"The growth in electric vehicles will increase the opportunities to connect to local power networks providing greater system flexibility and use of renewable energy sources.
"This project – combined with our network investments and wider innovation programme – will support our preparations for the rapid growth of electric vehicles and ensure that all partners involved remain at the forefront of a low-carbon revolution that delivers for customers.
"Vehicle-to-Grid also offers the prospect of enabling our customers to gain income from their vehicles by selling services to the energy system."
Francisco Carranza, Managing Director of Nissan Energy at Nissan Europe added:
"Nissan has been saying for a long time that the future is electric. That forward-thinking led us to produce the world's most successful mass market EV – the Nissan LEAF.
"Today, our electric vehicles are not just transforming the way we drive, but also the way we live.
"We now look at our cars as so much more than products which simply move people from A to B – they are an intrinsic part of the way we consume, share, and generate energy. This will have a fundamental impact on the shift from fossil fuels to renewables.
"Our EVs can be plugged into the grid and support the transmission and distribution companies in making the UK grid more sustainable and more stable. The increase of electric vehicles penetration, the introduction of more and more distributed generation and storage and the overall increase in renewable energy penetration should be done smartly.
"To ensure Nissan plays a wider role in the advancement and protection of our cities, our electric V2G-ready vehicles will be used as clean mobile energy units.
"Nissan has also reiterated its bold mission to offer customers free power for their EVs. V2G introduction will change the rules of the game and make energy cheaper for everyone."
Gregory Poilasne, CEO of Nuvve, said:
"Nuvve is excited to be involved in this highly innovative UK based project leveraging our experience gained from running the world's only working commercial aggregator across multiple Transmission System Operator markets.
"The Nuvve GIVe platform is capable of optimising highly distributed, dynamic, kW-scale resources such as EV batteries and stationary storage, at the edge of the grid allocating these resources across a range of ancillary grid services."
---
Latest News