Hunt is on for the best student neighbours
Published on: 12 February 2018
Residents across Newcastle are being asked to nominate students who have gone above and beyond to support their community.
Following a year-long initiative to help improve relations between residents and students in Jesmond, Newcastle University and its Students' Union have launched the Best Neighbour On Campus award.
Designed to celebrate the great work students do within their communities, residents from across the city are being asked to nominate students or households who have had a positive impact on the area where they live, either through volunteering, supporting local residents or simply by being considerate, responsible neighbours.
The winning households will receive up to £1,000 to help towards their rent and living costs in recognition of being good neighbours.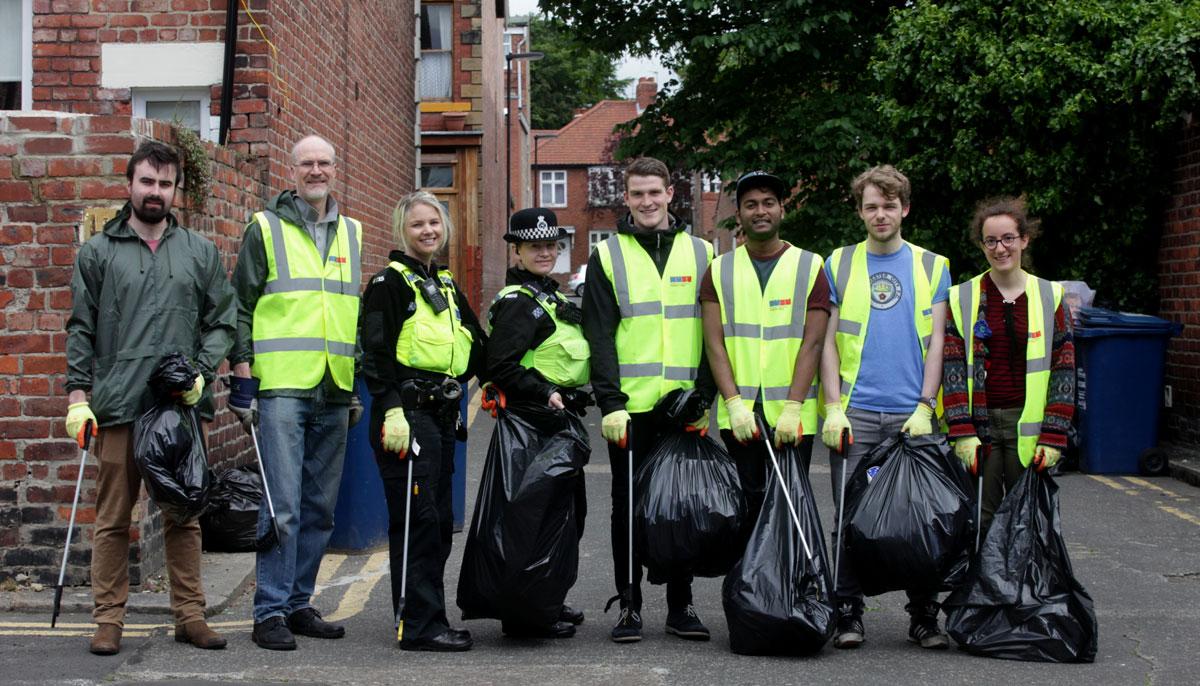 Recognising the great work of our students
Marc Lintern, Newcastle University's Director of Employability and Student Success, said:
"With such large numbers of young people moving into residential areas – living different lives and keeping different hours to their neighbours – it's understandable there have been tensions in certain neighbourhoods of Newcastle.
"This is an issue for most university cities, but at Newcastle University we have been working hard to tackle the problems and try to improve the relations between our students and their neighbours.
"Having made progress over the past 12 months, the aim of this campaign is to start celebrating the great young people we have at Newcastle University, and to recognise the work many of them do above and beyond their studies to contribute to their community and wider city."
NUSU President Ronnie Reid added:
"Newcastle University students are a credit to the city and local residential areas. I'm extremely proud to support a campaign which celebrates students going above and beyond to help the local community."
Working with the community
For the past 12 months, Newcastle University and its Students' Union have worked closely with Newcastle City Council, Northumbria Police, Jesmond councillors and local residents to tackle the anti-social behaviour of some students living in the community.
This included a new 'Halls to Homes' campaign for students moving out of student accommodation to live in the community, a series of hard-hitting postcards highlighting the unintended consequences of anti-social behaviour on people's lives; and a push to encourage more student volunteering across the city. The University has also introduced an online system to make it easier for residents to get in touch and raise a complaint and has also created new webpages for residents to help them get in touch with the University when they do have a complaint, or if they need advice.
As a result, incidents of anti-social behaviour in Jesmond fell by 21% during the last autumn term, compared with the year before, while the Police have reported a significant reduction in the number of Section 80 Legal Notices issued to student households.
Past chair of the Jesmond Residents Association Tony Waterston said:
"Here in Jesmond we have very good relationships with students but there is a small minority that can seriously disturb their neighbours through noise, leaving litter and general anti-social behaviour.
"The Jesmond Residents' Association is delighted that the University is starting the Best Neighbour scheme as we would like students to be part of the resident community, to get to know their neighbours and contribute towards the upkeep of the area."
Volunteering in the community
Newcastle University is a thriving international community of 27,750 students from over 130 countries, contributing an estimated £240m to the North East economy.
Last year, 5,731 students volunteered in their communities, working with 200 local charities and voluntary groups in and around Newcastle. Together with local residents, Newcastle University students organised 18 litter picks across the city, collected 6,930 bags for the British Heart Foundation raising £97,020, and 281 student volunteers made 175 visits to local schools.
Each month from March, the aim is to find Newcastle University's Best Neighbour On Campus. Leaflets will be sent to residents living in student areas across the city giving information on how to nominate, and a panel of judges will decide which of the entries they feel has had the most positive impact on the community.
The judging panel includes Newcastle East MP Nick Brown, Chair of Newcastle University/Students' Union Partnership Committee and CEO of Northumbrian Water Heidi Mottram and Business Editor of The Journal Graeme Whitfield as well as residents, local councillors and representatives from the University.
More information and details of how to nominate and the terms and conditions of the competition can be found on the University's website.

---
Latest News