GET North programme announced
Great Exhibition of the North Programme Revealed
Published on: 28 February 2018
The full programme for the Great Exhibition of the North 2018 has been announced.
Celebrating the North
Taking place 22 June –9 September across Newcastle and Gateshead, the 80-day exhibition will celebrate great art and culture, design and innovation from across the North. And staff and students from Newcastle University will support the exhibition through a range of events and activities.
Expected to be the biggest event in England this year, the festival will tell the story of the North of England and how its innovators, businesses, artists and designers have shaped our present and are inspiring our future.
Up to three million people are expected to take part in events – including more than one million visitors from across the UK and overseas.
Visitors will begin their journey at one of three iconic venues – Great North Museum, BALTIC Centre for Contemporary Art and Sage Gateshead – before joining three interconnected trails through 30 world-class venues and public spaces on either side of the River Tyne that celebrate the North's achievements in art and culture, design, and innovation.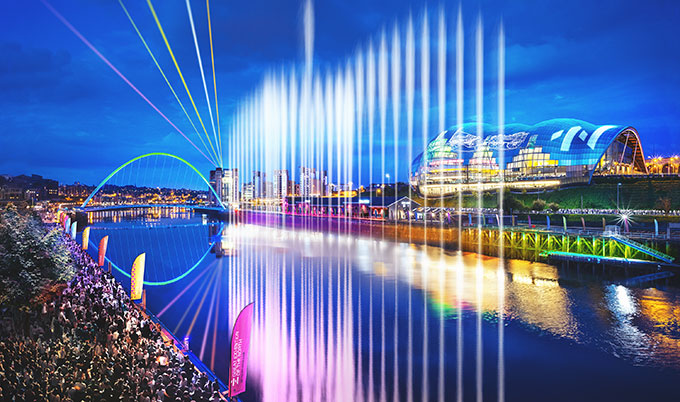 Sustainable innovation
Projects involving Newcastle University include
Future Everything with the Urban Observatory – part of the Arts Trail. Cutting-edge technology will meet creative writing, in the form of a poem displayed outside Theatre Royal that refreshes every minute to tell the real-time story of data from across the city.
Future Homes (Science Central) – part of the Innovation Trail. Step into the 'home of the future' to experience new technologies that will help provide supportive homes for anyone at any life-stage.
Self-Build Utopias – In collaboration with Northern Stage, exhibitions, installations and performances will imagine a more creative, sustainable and fun future.
Professor Eric Cross, Dean of Cultural Affairs, said: "From the inventions of the past that revolutionised the way we live to how we are leading the way in shaping a sustainable future, Great Exhibition of the North will provide a fantastic opportunity to showcase the amazing art, culture and innovation that has come out of the North.
"For Newcastle University, it gives us an excellent platform to build on ground-breaking collaborations with our partners and display the impact of our research."
The Great Exhibition of the North is expected to bring a £184 million boost to the North East, showing how cultural investment can benefit and inspire entire communities.
Sir Gary Verity, Chairman of Great Exhibition of the North, said: "As well as being a showcase for some of the best creative and inspiring talent from the North of England, our diverse programme tells a pioneering story and one that will help change the way the world views the North. Whether you have a love of arts and design, cutting-edge culture, history and innovation, inspired technology or vibrant street performance – there is something in this programme to intrigue and excite those of all ages and from all backgrounds."
---
Latest News