Six students named Best Neighbours On Campus
Published on: 23 March 2018
Newcastle University and its Students' Union have announced the winners of the first round of a new competition to find the students who have gone 'above and beyond' in their community.
Students Oscar Simons, Ollie Armitage, Nat George, Ben Odale, Will Ovenden and Matt Coombes, living on Clayton Road, Jesmond, were nominated by their neighbour for the first Best Neighbour On Campus award.
Collecting the £1,000 reward for their efforts, the six lads said they were "absolutely delighted and honoured to have been nominated."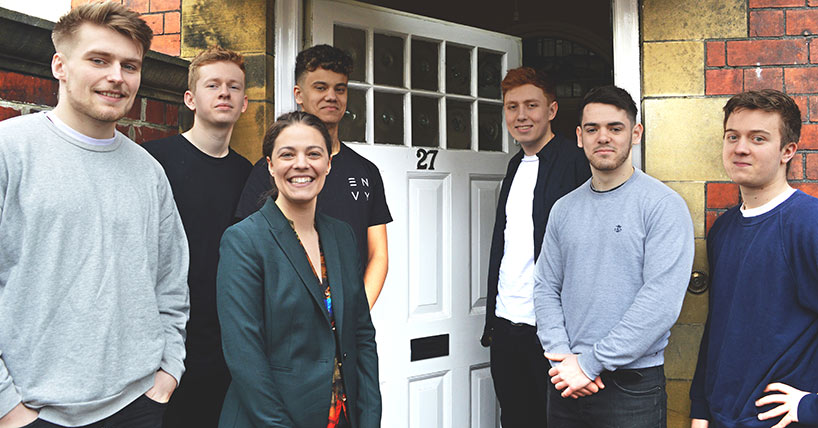 Best neighbours for 40 years
Stella Postlethwaite, Labour Councillor for North Jesmond and one of the Best Neighbour On Campus (BNOC) judges, said:
"It was a delight to meet the first student winners of the Best Neighbour on Campus award. The Jesmond resident who nominated them said that they were the best student neighbours that she had had in almost 40 years of living in Jesmond which is just fantastic.
"This award is very important because it celebrates when students and long term neighbours live alongside each other really well.
"Students are such an important part of the community in Jesmond and this award shows that the little everyday steps that students take to fit in with other members of the community are really valued and don't go unnoticed.
"These students have made their neighbours very happy and will be missed when they move on – they should be very proud."
"It's the little things that matter"
Nominating the students, the Clayton Road residents said they hadn't "done anything 'earth-shattering'" but were consistently considerate and respectful to all their neighbours and for her, "it was this that was important".
Praised for keeping the back lane free of rubbish, the nomination said:
"The lads quickly noted that they had moved to a group of predominantly family houses and have tried to fit in accordingly.
"Whenever they have held an event at the house they have informed us in advance and we were extremely impressed when they also provided each of their mobile numbers so that we could get in touch by phone should there be anything that concerned us.
"They are extremely thoughtful and, just recently, even let us know and apologised by text that their burglar alarm had malfunctioned and was ringing - but giving reassurance that they were trying to rectify this. Although these small courtesies and considerations may not sound earth shattering, but having lived in various locations in Jesmond for nearly 40 years, it is wonderful to find students who actively try to fit in.
"This is the first time that I have experienced such consideration and feel that the endeavours of these students to be good neighbours should be applauded and given appropriate recognition."
Best Neighbour On Campus
Following a year-long initiative to help improve relations between residents and students in Jesmond, Newcastle University and its Students' Union have launched the Best Neighbour On Campus award.
Designed to celebrate the great work students do within their communities, residents from across the city are being asked to nominate students or households who have had a positive impact on the area where they live, either through volunteering, supporting local residents or simply by being considerate, responsible neighbours.
The winning households will receive up to £1,000 to help towards their rent and living costs in recognition of being good neighbours.
Marc Lintern, Newcastle University's Director of Employability and Student Success, said:
"With such large numbers of young people moving into residential areas – living different lives and keeping different hours to their neighbours – it's understandable there have been tensions in certain neighbourhoods of Newcastle.
"This is an issue for most university cities, but at Newcastle University we have been working hard to tackle the problems and try to improve the relations between our students and their neighbours.
"Having made progress over the past 12 months, the aim of this campaign is to start celebrating the great young people we have at Newcastle University, and to recognise the work many of them do above and beyond their studies to contribute to their community and wider city."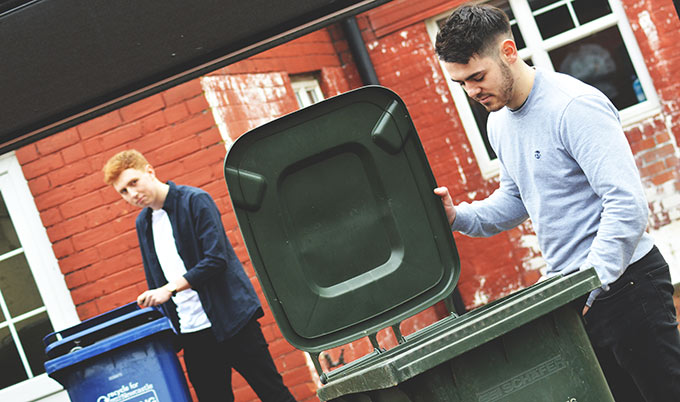 ---
Latest News