International student satisfaction at Newcastle ranked in UK's top 10
Published on: 5 March 2018
International students continue to rate highly their experience at Newcastle University, an international student survey has revealed.
Conducted by i-graduate, the International Student Barometer Autumn 2017 results demonstrate a high level of satisfaction among students from around the world, with 93% of respondents stating they were satisfied with the University overall.
Satisfaction among Newcastle University's international students is high across a number of categories, including expert lecturers (95%), learning support (94%) and quality lectures (90%). More than nine out of 10 international students (94%) were satisfied with the Careers Service.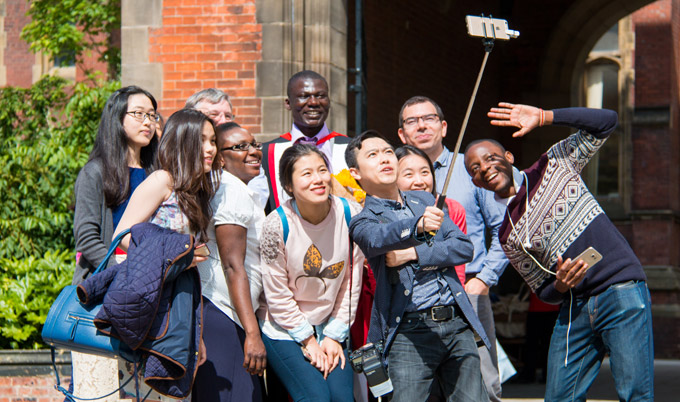 Transcending international boundaries
Professor Richard Davies, Pro-Vice-Chancellor, Engagement and Internationalisation, Newcastle University, said: "We are a vibrant international community with over 6,000 students from more than 130 countries. The consistently high satisfaction among our international students underlines our key focus on delivering outstanding student experience and excellent environment for our students' experience, as well as their personal and professional development."
Dawn Chueh Wei Qing, medical student from Singapore, said: "Studying at Newcastle University is definitely challenging and competitive, with everyone here being really smart and probably topping their respective schools in A-levels. However I believe that it is rewarding, as we get to do good work in the lives of our future patients. Newcastle has one of the best universities in the UK to study medicine, with a great programme and hospitals in the North East where we will be doing lots of attachments.
"People here are really friendly. I've been told that people in the North East are some of the friendliest people you'd meet in the UK. Coming to study in Newcastle has given me a great first experience of living in the UK."
Feeling at home in Newcastle
Anshuma Sharma, a postgraduate Media and Public Relations student from India, said: "Situated in gorgeous Northeast England, Newcastle is known for its natural beauty and rich heritage. The city also has a lower cost of living. You couldn't ask for better quality teaching. The city balances community and connections. I feel quite lucky to be a part of a world famous university that feels like home."
Nehir Kandemir, PhD in Mechanical Engineering, from Turkey, added: "Newcastle is one of the best universities in the UK providing us with so many opportunities. During my studies, I had the privilege to work with lecturers, students and staff from different backgrounds blended in a sophisticated, informative and friendly research environment.
"The facilities, support and the guidance provided to carry out outstanding research definitely helped me enjoy my research project and gave me the ambition to improve it even further. As an international student, I enjoyed interacting with the local people too, who create a family-like and welcoming environment."
Newcastle University Students' Union received a 97% satisfaction rate, placing it 6th in the UK.
Ronnie Reid, President of Newcastle University Students' Union, said: "The Students' Union deeply values the contribution of international students to the fabric of life at Newcastle University. We're extremely proud to have scored 97% in the ISB, and I think this reflects both the quality and quantity of support and activities that we coordinate at NUSU."
The International Student Barometer Autumn 2017 compiled results from 92 participating institutions from all over the world. Since its launch, it has gathered feedback from over 3 million students worldwide across all student types, levels and years of study.
---
Latest News