Scholarship boost for business leaders of the future
Published on: 21 March 2018
Newcastle University Business School is offering up to £250,000 of scholarship funding to support MBA students.
New full tuition fee scholarships
A range of full and partial MBA scholarships are available for study starting in September 2018. These include two full tuition fee scholarships of £21,600 in collaboration with Association of MBAs (AMBA). The two awards celebrate 30 years of the School's AMBA accreditation, the global accrediting body for leading MBA programmes. Successful candidates should demonstrate that they share AMBA's values in promoting sustainable and responsible management and have strong potential for career advancement.
Reflecting the Business School's commitment to equality and diversity, a Women in Leadership award of £11,000 is available to support innovative business women to become influential leaders. Successful candidates will also receive mentoring support from Professor Sharon Mavin, Director of Newcastle University Business School and an internationally-renowned expert in gender, leadership and organisation studies.
Professor Mavin said: "These scholarships enable exceptional candidates from across the globe to develop the leadership and managerial skills required in an uncertain world.
"I'm especially pleased that we are able to cement our long-standing association with AMBA by offering two new scholarships. This will help us ensure that our MBA programme continues to empower and inspire our students to excel in their career and drive change in their own organisations."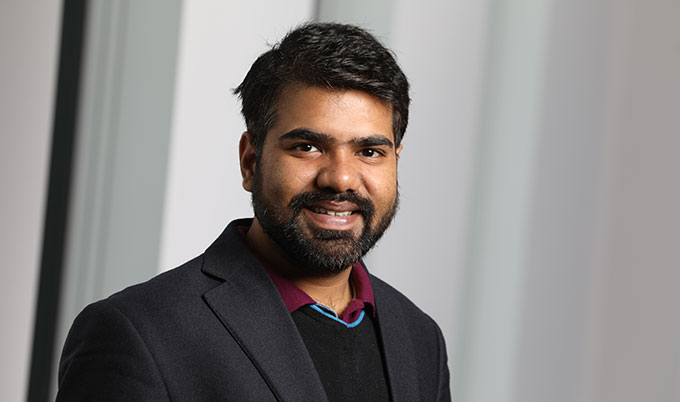 The next generation of business leaders
For those who already have managerial experience and who are looking to take their career to the next level, a number of partial scholarships are also available, including MBA Business Excellence Scholarships of £6,000 and awards of £10,000 as part of the MBA Leadership Scholarship.
Abhihit Kumar is currently studying for his MBA, thanks to the MBA Leadership scholarship. The 29-year-old, pictured, started the course in September 2017 and enjoys the mix of formal teaching and opportunities to learn from established business leaders.
"The support I received from the scholarship has really made a difference in allowing me to focus on my studies," Abhijit says. "In a dynamic world, it's imperative to understand how businesses can remain agile, continue to innovate and cost-effectively manage operations. The MBA programme at Newcastle offers many opportunities to develop knowledge in these areas with the aim of being better business leaders."
Abhijit, from Newcastle, worked as a consultant at Deloitte Touche Tohmatsu India LLP before he started the MBA.
He added: "The MBA at Newcastle is really well structured. The modules are all well-linked and applied to real-world business challenges. As well as the quality of teaching, there are also opportunities to network with business leaders from a variety of sectors.
"The programme is varied and fun, and the diversity of students in terms of where they've come from and their previous business experience is really inspiring. I feel I've really expanded my horizons during the programme."
In addition to learning from, and working alongside, world-leading researchers and practitioners, MBA students at the Business School receive extended careers support throughout the programme and beyond graduation.
The first round of MBA scholarships close for applications on Friday 20 April 2018. Prospective candidates need to hold an MBA programme offer before they can be considered for a scholarship.
For more information visit http://www.ncl.ac.uk/business-school/courses/mba
---
Latest News