UKs best undergraduate dentist
Newcastle University student crowned dental skills competition winner
Published on: 14 March 2018
Newcastle University student, Joe Reid has been named the UK's best undergraduate dentist in a national dental skills competition.
Run by the Royal College of Surgeons of Edinburgh and Dentsply Sirona, the competition was won by Joe after a punishing series of tests designed to push the finalist's skills to the maximum.
Joe said: "I'm quite surprised to have won today, there are a lot of talented people here and it's not something I was expecting.
"It was quite a novel experience competing in the Dental Skills Competition. You don't really compete with each other normally at dental school and you don't see the quality of other people's work.
"There were a lot of different challenges today that we don't normally come across too. I think the best part of the competition was spending time with people from other dental schools, as they're people you wouldn't normally meet."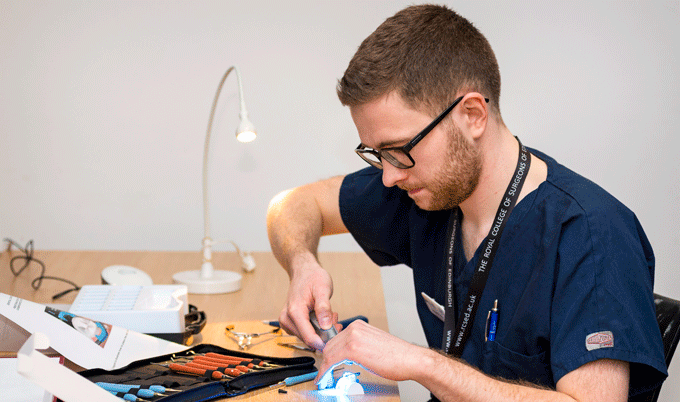 Clinical skills expertise
Each of the finalists from the first round of 18 UK and Irish dental schools, where over 400 final year students took part, were tasked to complete a series of challenges devised to test a wide range of clinical skills in dentistry.
Professor Mark Thomason, head of the School of Dental Sciences at Newcastle University said: "Joe's natural aptitude for technical precision in the area of dental skills was apparent from the start of his clinical training.
"Joe has now gone on to demonstrate the high level of development of these and related skills that we look to seek to foster throughout the Newcastle course. Joe's technical mastery is matched perhaps only by his innate modesty and we look forward to watching his career develop over the coming years."
Mr Brian Nattress, Convener of the Dental Skills Competition and member of the College's Dental Council said: "This year's dental skills contest was expanded to include more dental schools from the UK and Ireland. The added competition captured every students' enthusiasm and drive by placing them in a competitive situation against more of the best final year students.
"The final was extremely exciting but also very challenging as not only did the students' have to show strong skills but they had to work in a high pressure contest. I felt honoured to see the students in action and witness again the great sense of camaraderie as they competed alongside colleagues from other dental schools in the Grand Final."
Gerry Campbell, VP & General Manager UK, Dentsply Sirona said: "This competition continues to bring the best out of students and this year we added key elements of the latest techniques in digital dentistry to the competition."
The competition is designed to both showcase the great dental talent of the UK and Ireland's undergraduate dentists and also to develop the very best skills and support for future dental surgeons.
Second place was awarded to Rowan Glossop, from the University of Central Lancashire, with third place going to Ammar Zaki from the University of Liverpool.
"Hearty congratulations to our winner Joe Reid and everyone who took part in this year's competition. One of the major aims of the Dental Faculty of the Royal College of Surgeons of Edinburgh is to set and quality assure the highest standards for the dental profession and recognise that with the award of Membership and Fellowship," said Professor Fraser McDonald, Dean of the Dental Faculty at the Royal College of Surgeons of Edinburgh.
"The dental skills competition has proved to be an exciting, rewarding and challenging way of ensuring that those standards are challenged and updated annually, with students benefitting from competing against each other and networking between themselves. As students it is hoped they will learn the value of networks if only to see problems are challenges are common to all. The Royal College of Surgeons of Edinburgh is very keen to complement the basic dental skills delivered at the undergraduate level in the UK and Ireland, and to help develop self-improvement in post-graduation dentistry."
Find out more about studying Dental surgery or Oral and Dental Health Sciences at Newcastle University and more about life as an undergraduate student.
(Adapted with thanks to the Royal College of Surgeons of Edinburgh)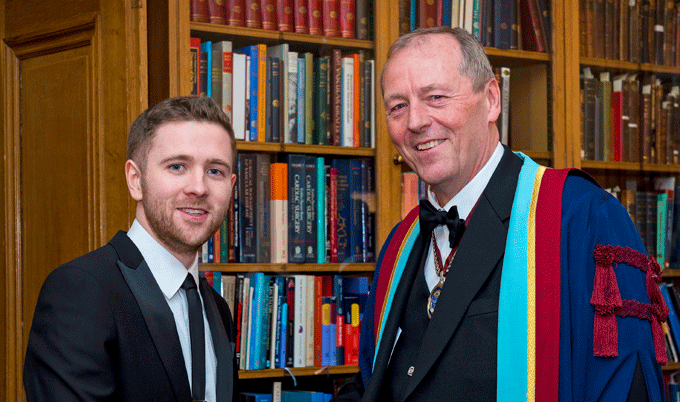 ---
Latest News