Tributes paid to veteran anti-apartheid campaigner
Published on: 27 April 2018
Tributes have been paid to veteran anti-apartheid campaigner Archie Sibeko, who has passed away.
Freedom Fighter
Archie was given an honorary degree in November 2017 by Newcastle University in recognition of his huge contribution as a leading figure in the fight against apartheid.
An active trade union organiser in South Africa during the 1950s and 60s, Archie went on to become a member of the African National Congress (ANC) advocating equal rights for Black workers. His role in the ANC led to him being accused of high treason and arrested. He was held without charge for a year, during which time he shared a cell with Nelson Mandela.
Archie remained committed to ending apartheid and when the ANC was banned by the South African authorities, the organisation sent him overseas to continue the struggle.
He travelled widely raising funds and support for campaigns to isolate and bring down the apartheid regime. It was during this time he had to use the names Zola Zembe or Zola Ntambo in order to protect his family from the attention of the South African police.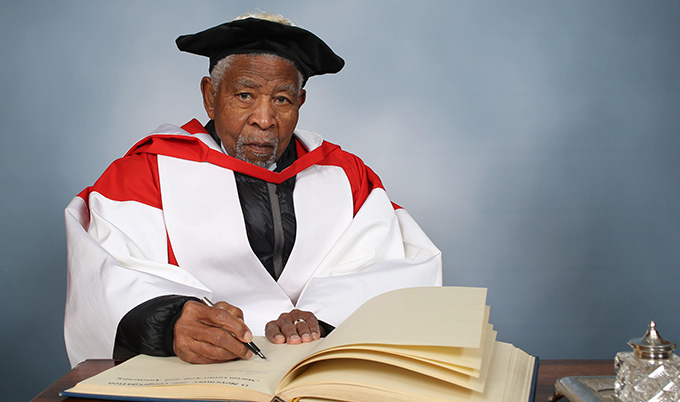 Inspirational figure
After 27 years in exile, Archie was finally able to return to South Africa in 1990, but ill health forced him to retire from politics in 1992. He then founded Tyume Valley Schools, in the Eastern Cape, a charity committed to improving teaching and learning for 5,000 children.
His health declined further and Archie had to return to the UK with his wife, Joyce. They moved to Tynemouth in 2002, where Archie wrote a number of books and continued his work to foster closer relations between South Africa and the North East.
He became an active member of the community in North Tyneside and as a keen member of Backworth Croquet Club developed a passion for the sport.
Professor Chris Day, Vice-Chancellor and President of Newcastle University said: "Archie was an inspirational figure who played a significant role in the weakening of the apartheid regime in South Africa. We were privileged to give him an honorary degree in recognition of his outstanding contribution to overcoming racial discrimination.
"Archie's strength of commitment and warmth shone through. Even after his retirement from politics, for example, he worked tirelessly to raise funds to improve education for thousands of schoolchildren in South Africa.
"The thoughts of the whole University community are with Joyce and the rest of Archie's family at this sad time."
---
Latest News