Freedom City Comic teaching pack
Teaching resources bring radical past alive for pupils
Published on: 3 April 2018
A set of teaching resources inspired by Tyneside's radical past is helping schoolchildren to gain a better understanding of civil rights in today's world.
Inspired by Dr King's speech
The free downloadable resources have been created by academics at Newcastle University and are aimed at Key Stages 2 and 3 pupils.
The pack has been designed as a framework to support Freedom City Comics, which was inspired by the themes of a speech given by Dr Martin Luther King Jr when he visited Newcastle University in 1967 to accept an honorary degree.
A collaboration between comics artist-writers and academic researchers at Newcastle and Northumbria universities, each chapter in the 16-page comic focuses on a different era of the history of civil rights and politics in Newcastle and the North East.
The accompanying teaching resources pack includes suggestions for activities based on the people, themes and events depicted in the comic, focussing on issues such as democracy, modern slavery and equality.
It also gives behind the scenes look at how Freedom City Comics was made and encourages students to explore the different styles of artwork used throughout the comic.
The pack has been designed to support a number of subjects at KS2, such as art, citizenship, history, writing, literacy, geography, and drama. KS3 curriculum links include: media, foreign languages, PSHE, and RE/Ethics.
Lydia Wysocki, Research assistant at Newcastle University and Editor-in-Chief of Freedom City Comics, said: "The stories and situations depicted in the comic took place years ago, but they had a profound impact on the way we live today.
"All the activities in this learning framework are designed as springboards for teachers' and students' own projects and lessons. They offer engaging ways to consider the issue of civil rights, as well as exciting ways to read, make, and use comics and other media to develop skills and understanding.
"We're grateful to our Freedom City Comics artists for sharing insights into their working processes. Showing the early stages of planning and drafting these pages by top comics creators will help students' own comics take shape."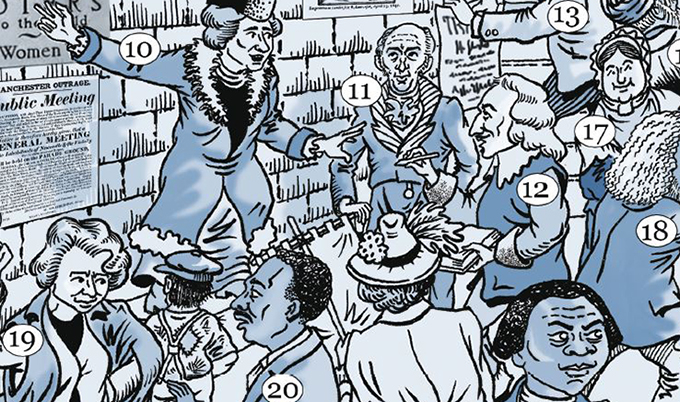 City's radical past
Freedom City Comics was produced last year as part of Freedom City 2017, commemorating the 50th anniversary of Dr King's visit to Newcastle.
Events and characters depicted in the comic include suffragette Emily Davison, whose campaign for women's right to vote included her hiding in a broom cupboard in the Houses of Parliament on the night of the 1911 census, and throwing herself under the King's horse at the Epsom Derby in 1913.
The story of how, in 1846, two Newcastle women raised £150 to buy the freedom of escaped slave Frederick Douglass is also featured. Douglass was in Newcastle as part of an anti-slavery tour of Great Britain and Ireland during which he spoke to packed halls and churches about slavery in the US and his experiences.
Copies of Freedom City Comics were distributed around Tyneside and the North East throughout the Freedom City 2017 commemorations, with 37,000 copies being made available at venues such as libraries, Seven Stories The National Centre for Children's Books and Great North Museum: Hancock, as well as distribution with The Crack listings magazine.
Both the free comic and teaching resources pack are available now at www.research.ncl.ac.uk/fccomics/
---
Latest News