Remembering a dream, fifty years on
Published on: 20 April 2018
Fifty years to the day since a memorial service was held in Newcastle to remember Dr Martin Luther King, a special service will take place to honour the civil rights icon.
Thought-provoking moments
On 26 April 1968, barely five months after bestowing an honorary degree on Dr King, Newcastle University organised the memorial following his assassination in Memphis, Tennessee.
Taking place at St Thomas' Church in Newcastle city centre, the service will again see figures from across the city join staff and students from Newcastle University and members of the public in paying tribute to Dr King.
The service will also coincide with opening of a special exhibition looking back on some of the highlights from Freedom City 2017.
The programme took place throughout 2017 to commemorate the 50th anniversary of Dr King's visit to Newcastle University to accept an honorary degree.
Professor Richard Davies, Pro-Vice-Chancellor for Engagement and Internationalisation, Newcastle University, said: "The past year has seen many memorable and deeply thought-provoking moments as we remembered first the visit by Dr King all those years ago, and then the profound shock felt around the world at the news of his death.
"But as we look back, it's just as important to look forward. That's why each project in the Freedom City 2017 programme was developed with legacy in mind, as a way to contribute to the ongoing struggle against war, poverty and racism that Dr King spoke of in 1967 and keep his legacy alive."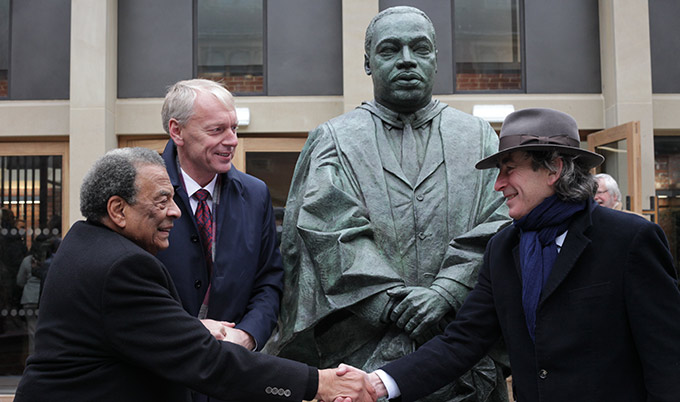 A city comes together
In total, 54 events were held at 37 venues across Tyneside as part of Freedom City 2017. One highlight was Freedom on the Tyne, when 5,000 people gathered on the Tyne Bridge in a unique performance that remembered and celebrated the courage and sacrifice of those that have led the long march for civil rights.
In accepting the honorary degree in 1967, Dr King made an impromptu speech in which he talked about the three 'urgent and great problems' of war, poverty and racism – which remain as relevant today as they were in 1967. As part of Freedom City 2017, around 50 people of all ages, sexes, and from different backgrounds recited parts of the speech at locations around Tyneside. The idea, conceived by Turner Prize-winning artist Jeremy Deller, saw bakers, barbers, lecturers, business leaders, school pupils, politicians and railway announcers take time out from their usual routine to deliver an extract from the speech made by Dr King.
The year-long programme also included a number of projects led by students and staff at Newcastle University.
Among them was Freedom City Comics, a unique 16-page comic celebrating the North East's local and global role in real-life struggles for freedom. Featuring the stories of historical figures including suffragette Emily Davison, the Jarrow Marchers and anti-slavery campaigner Frederick Douglass, the comic was distributed around Tyneside and the North East throughout the Freedom City 2017 commemorations, with 37,000 copies being made available at venues such as libraries, Seven Stories The National Centre for Children's Books and Great North Museum: Hancock.
Freedom City 2017 culminated on 13 November 2017 on the 50th anniversary of Dr King's visit when Andrew Young, who had travelled with Dr King to Newcastle in 1967, unveiled a new statue of his old friend. This was followed by the University awarding honorary degrees to Ambassador Young and three other notable civil rights advocates.
Keeping a legacy alive
Partners involved in Freedom City 2017 are now actively considering how they can improve their practices in relation to equality, diversity and inclusion.
Among the activities planned so far, Newcastle University will reinstate the annual Dr Martin Luther King public lecture in the next academic year, and establish a small grants scheme to deliver collaborative projects between academics and community organisations around social justice themes.
It is also creating a new Dean of Social Justice role to provide leadership across the institution in this area. The Dean will also support the creation and coordination of further legacy initiatives across the University.
The Dr King memorial service takes place on 26 April 2018, 6.00 – 7.15pm, at St Thomas' Church, Haymarket, Newcastle. The service will be led by Revd Catherine Lack, chaplain at Newcastle University and St Thomas' Church and is a collaboration between St Thomas' Church and the Martin Luther King Peace Committee.
People of all faiths and none are welcome to attend. Readings will be given by Professor Chris Day, Vice-Chancellor and President of Newcastle University, preacher Revd Jeffrey Brown, American Baptist Minister of one of Dr King's former churches and architect of "The Boston Miracle", Chi Onwurah MP, Newcastle Central, and Professor Brian Ward, Professor in American Studies at Northumbria University. Colour Blind Performance will present poems on race and youth in Newcastle.
The Freedom City 2017 exhibition runs at St Thomas' Church until 17 May 2018 and will be open 10.30am-4pm each day except Sundays when the church is closed for worship.
---
Latest News