Last Ditch Attempt – Fine Art graduates create mobile seed library
Published on: 13 April 2018
A self-built tandem trike is to travel around Newcastle and Gateshead dispensing seed pods as part of an exciting new art project.
Plaster seed pods
Last Ditch Attempt has been created by Newcastle University Fine Art graduates David Lisser and Lucien Anderson as part of a wider North East exhibition.
Inspired by the flooding of the Svalbard Seed Vault – a facility which holds a wide range of plant seeds to guard against the loss of species – they have created 300 plaster seed pods which will be distributed in the town and city. Each pod is made up of seeds including pea, bean, kale, courgette and onion seeds.
"We've included things which are easy to grow," explains David. "We hope some people will keep them and make Newcastle and Gateshead, and possibly the wider North East, a dispersed seed bank. And, of course, some people might just want to use the seeds and grow some vegetables.
"The idea came about after hearing about the flood last year at the Svalbard Seed Vault. It seemed obvious that maybe having everything in one place was not such a good idea after all."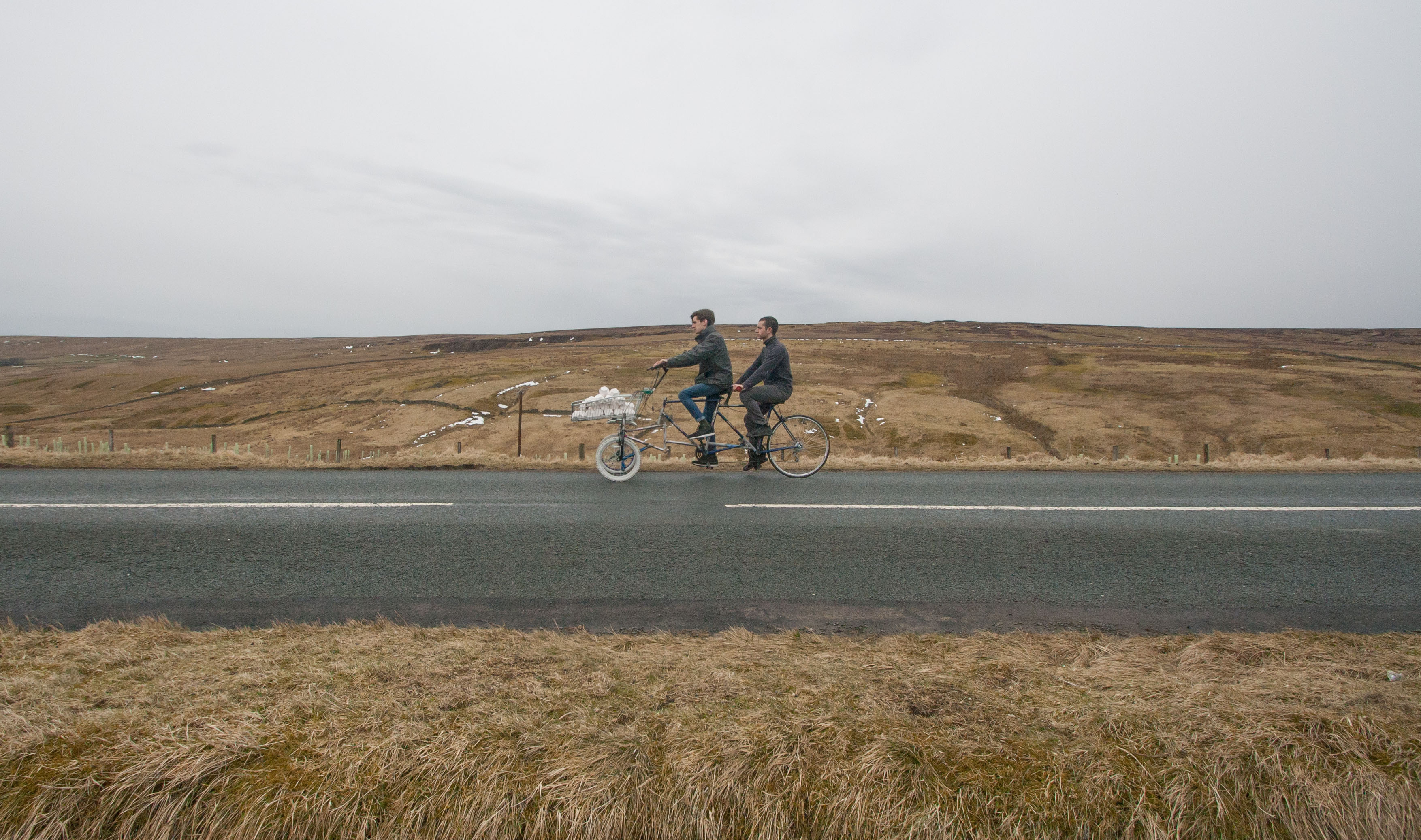 Long-term test bed
The duo will get on their tandem trike, which they constructed themselves out of donated bikes and other parts, and head to Gateshead Town Centre to give out the pods and talk to people before cycling over the Tyne Bridge to Northumberland Street on Saturday (14 April).
Then on 28 and 29th of April, they will be heading to LOT, a new art space in the Ouseburn Valley, where they will be planting seeds and establishing a long-term test bed for seed harvesting and storage methods.
"We've very much thrown ourselves in at the deep end," says Lucien. "Neither of us knew much about seed harvesting and storage and building the trike was particularly challenging.
"We still wouldn't call ourselves experts and we're keen to learn alongside the people we engage with throughout the project. I hope people will look at our work and think 'I can do that too.'"
Deep Adaptation
Last Ditch Attempt is part of Deep Adaptation, an ongoing programme of commissions, talks, screenings, workshops and events organised by artist led community, The NewBridge Project, which was founded by Newcastle University graduates.
The event explores how current social, political, civic and economic issues can be understood in relation to climate change, in particular looking at:
● Relinquishment - people and communities letting go of certain assets, behaviors and beliefs where retaining them could make matters worse
● Resilience - people and communities better coping with disruptions
● Restoration - rediscovering forgotten attitudes and approaches to life, such as increased community-level productivity and support
The Deep Adaptation exhibition, will feature work by artists Rhona Foster, Alex Lockwood, Chad McCail, will go on show at The Newbridge gallery in Gateshead on Saturday 14 April until Saturday 19 May. A series of events around the themes will also take place until Saturday 19 May.
---
Latest News