Tributes paid to world-leading engineer
Published on: 24 April 2018
Tributes have been paid to one of the region's best-known scientists and an internationally-renowned hydrogeologist and environmental engineer.
Professor Paul Younger, Newcastle University's former Pro-Vice-Chancellor for Engagement has passed away peacefully at the age of 55.
Joining the University as a geology undergraduate, Paul worked his way up to become Newcastle's first Pro-Vice-Chancellor for Engagement until he was appointed Director of the Newcastle Institute for Research on Sustainability (NIReS). He left Newcastle in 2012 and went on to continue his successful career at Glasgow after his appointment as the Rankine Chair of Engineering.
Regarded as one of the world's foremost experts in the remediation of pollution associated with mining, a highlight of his career was leading the research team which won Newcastle University its first Queen's Anniversary Prize for Higher Education in 2005.
Recognised at the highest levels, he was honoured as a Fellow of the Royal Academy of Engineering in 2007 and as a Fellow of the Royal Society of Edinburgh in 2016.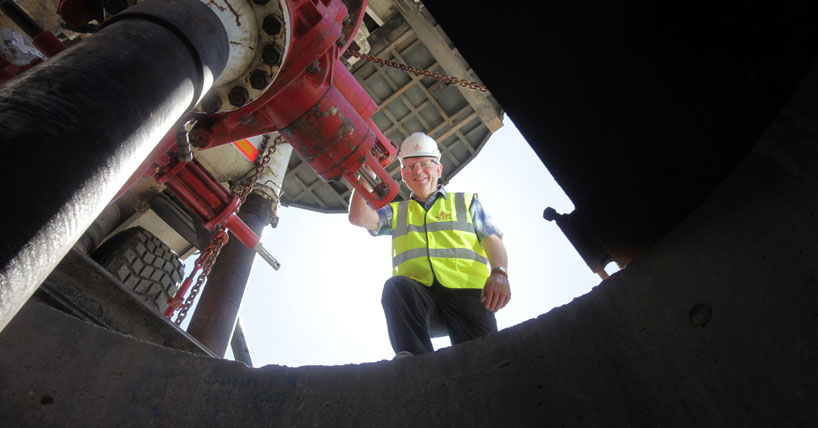 A proud Geordie with a global influence
In the region, Paul was a driving force behind the bid to make Newcastle a City of Science and Technology and led the pioneering research to drill for geothermal energy in the heart of Newcastle.
Professor Younger was a major player on both the regional and global stage and was responsible for leading the University's 'Enough, for all, forever' campaign, set up in partnership with leading figures around the world to help tackle one of the greatest societal challenges of our age, Sustainability.
Professor Chris Day, Vice-Chancellor and President of Newcastle University, said:
"It is impossible to sum up Paul in a few sentences – he was a giant of a man in every way and his warmth, enthusiasm and fierce sense of justice permeated everything he did.
"Academically he was known and respected in his field by experts around the world, but it was in his role as ambassador for the University that I knew him best. I had the pleasure of working alongside him on the University's Executive Board for many years and I enjoyed his intellect, his challenge, but above all, his passion for his subject, the University and the region. And this passion always came to the fore when he performed as Public Orator at the University's graduation ceremonies and special events. Like me, Paul was a fellow proud Geordie but his influence was felt around the world and he will be greatly missed by many."
Passionate and caring
Colleague Dr Jaime Amezaga, a Reader in Environmental Sustainability, said:
"Paul's interest in Sustainability was best reflected by his passion for working with communities world-wide.
"If you asked Paul what part of his career he liked the most he would probably answer the years he was working as a hydrogeologist in Bolivia, serving rural communities.
"And for Paul, world-wide truly started at home, with the communities of the North East and Scotland."
And Professor Enda O'Connell, Professor of Water Resources Engineering who worked closely with Paul throughout his time at Newcastle added:
"Paul's passion came from a warm heart and a fundamental desire to do good in the world. He has helped more people than we will ever know, and in so many different ways. This reflected his deeply held Christian beliefs."
In a statement, Paul's family said:
"Of all of his achievements, Paul was most proud of his wonderful marriage to Louise and his very happy family life with his three sons, Thomas, Callum and Dominic.

"Paul was an incredible husband, father and inspiring academic and accomplished musician and linguist in his own right. Gan canny bonny lad."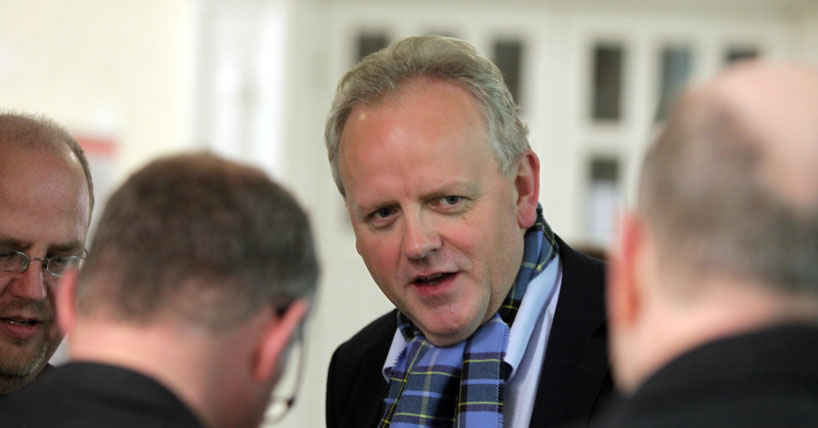 Passionate about the region
Paul's talent for research was equalled by his linguistic skills, mastering many languages fluently – including Gaelic. He also wrote a column in the Newcastle Chronicle as the "Go Green Doctor" answering people's questions about sustainability issues.
Born in Hebburn, he was a passionate ambassador for the Northeast and invested substantial personal effort to support local communities and issues, which was recognised by his appointment as a Deputy Lieutenant of Tyne and Wear.
And in 2011, he was conferred with honour of Freeman of the Borough of Gateshead, joining other luminaries such as football legend Bob Moncur, Olympic triple jumper Jonathan Edwards and former athlete and cousin, Brendan Foster.
Colleague and Environmental Engineer Dr Adam Jarvis, said:
"Paul's talent for public speaking, and for engaging his audience, captured the enthusiasm of countless students at all levels of study, including school children, and numerous professionals.
"His ability to simultaneously make people more knowledgeable and make them laugh, whether in a lecture room or at a social function, was unparalleled."
Professor Tom Curtis, Professor of Environmental Engineering at Newcastle added:
"Paul Younger has left an immortal legacy in the hearts and minds of the students and colleagues he inspired and the springs, rivers and streams in the northeast, and around the world, are cleaner today as a result of his research, advocacy and enthusiasm."
Professor Richard Dawson, Head of the Water Group at Newcastle, added:
"Paul's achievements were impressive and many, but for those who had the pleasure of knowing and working with him, it will be impossible to forget his energy, warmth, and great craic."
At the family's request, all donations to be sent to Marie Curie.
---
Latest News