Celebrating 100 years of the RAF
Published on: 18 April 2018
The Head of Newcastle University's Fine Art department has designed a series of coins for The Royal Mint to commemorate a century of the Royal Air Force (RAF).
The iconic Spitfire
The first £2 coin by Professor Richard Talbot and his brother Neil, also an artist, features an image of the iconic Spitfire.

Professor Talbot said they were excited to have been asked to design the coins for the Royal Mint. "The key was to choose the right image so that we knew that when it was rendered in relief on the coin that it would work," he said. "These aircraft can do all kinds of amazing things in the air, but we needed to be sure that the images on the coins were easy to read and understand, so we had to be careful in the depictions we chose."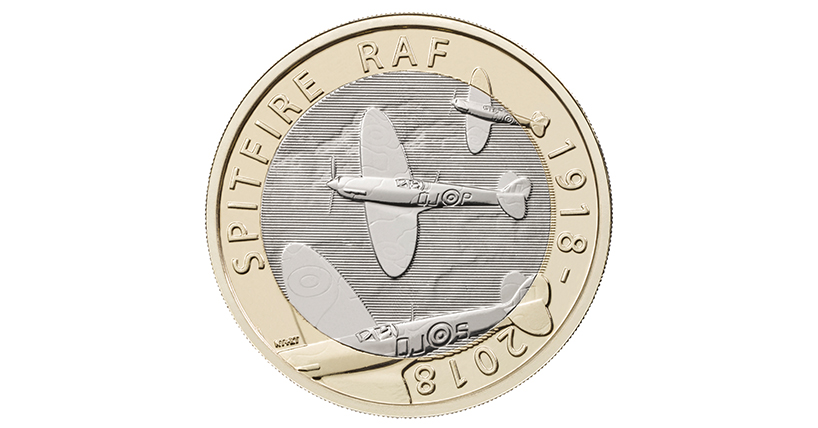 Form and design
The brothers' three other designs which feature a Vulcan, a Sea King helicopter and the new F35B Lightning, will be released later this year.
"I hope the beauty of the aircraft is apparent in the designs and that is largely to do with the interaction of their form and their design with technology," said Professor Talbot. "And also that the designs remind people of the significance of particular moments in time and the special multifaceted role that the RAF has played, and will continue to play."
Artistic strengths
The project drew on the brothers' artistic strengths. Richard is Professor of Contemporary Drawing, while his brother specialises in relief carving and was previously Head of Sculpture at Northumbria University.
They have worked on an RAF project previously, in 2004, when they created a memorial for RAF Coastal Command, which is permanently sited in the South Cloister of Westminster Abbey.
The RAF celebrated its centenary on 1 April. When it was formed in 1918, it was the world's first independent air force.
---
Latest News