Behind the scenes at the exhibition
Published on: 1 June 2018
Fine Art students get ready for this year's degree show.
A big undertaking
After four years of hard work, students have been working around the clock for two weeks transforming the Fine Art Building into high quality exhibition spaces.
As well as making sure their artworks – which they have spent up to a year perfecting - are just right, they clean and empty studios, build and paint walls on which to hang their work, in some instances installing intricate hanging systems of hooks and chains, and finally, install their pieces.
"It's a big undertaking," says Nick Fox, senior lecturer in Fine Art, who organises the degree show. "The students have a lot to do to prepare their spaces ready for the show."
This year, the work on display is as eclectic and thought provoking as ever. Sculptures, paintings, video installations and performance art will all be available to see and experience during the degree show.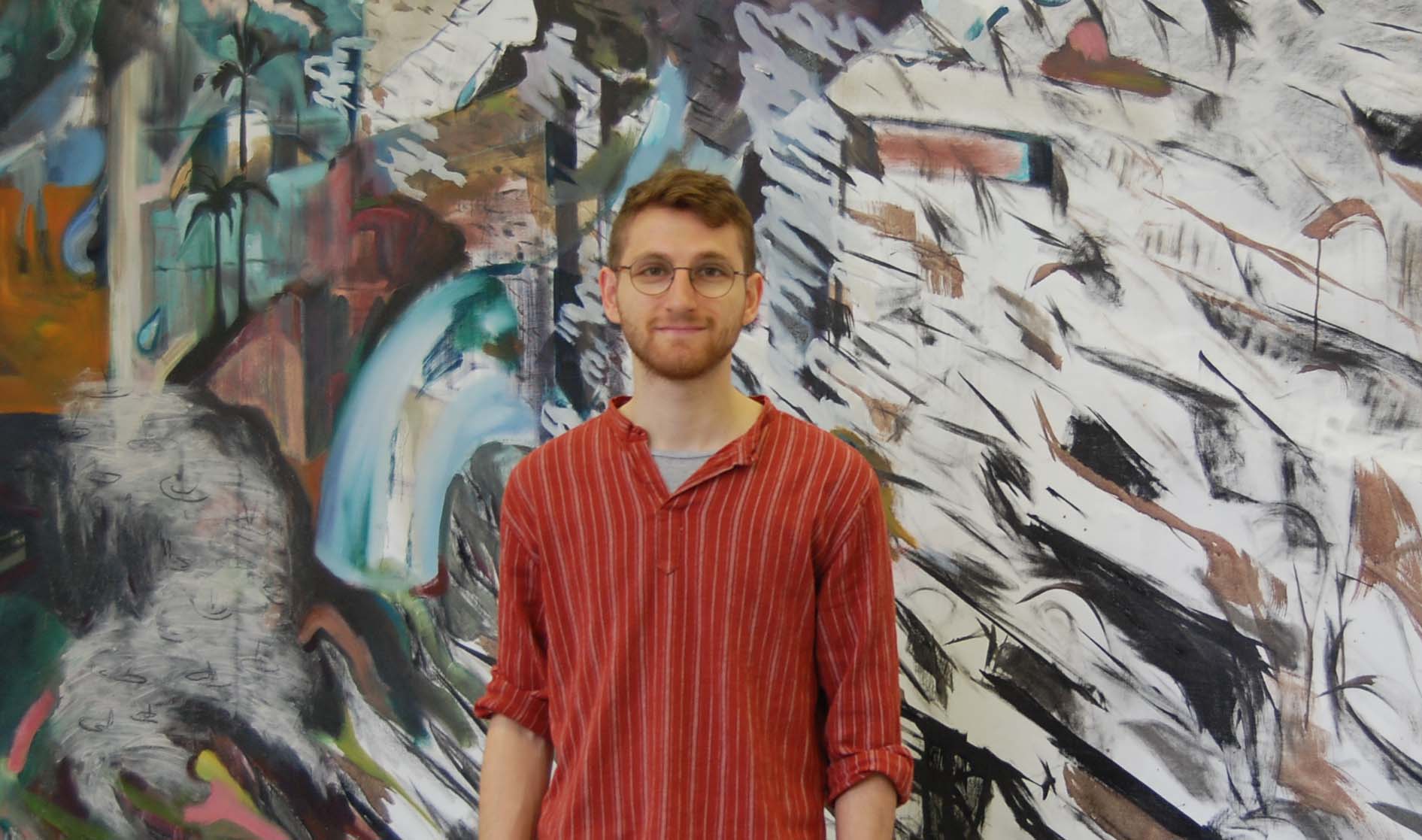 The final touches
Students described what it feels like to be putting the final touches to their pieces before the show opens to the public on Saturday.
Katie Watson is on the shortlist for this year's coveted Woon Prize, won last year by Fine Art graduate Joy Labinjo. "Getting everything ready has been really nerve wracking, she says. "I haven't really let anyone see my work until now. When you're hanging it you become really aware of how it's going to look when people come into the room."

Jamie Hammill has created sculptures for the show. "I've enjoyed being able to move my work into the studios," he says. "Normally there's about eight students working in a studio so with only two or three in each space for the show, your work gets to breathe.
"This week's been stressful but I've really enjoyed the past four years, everything I've learned and all the people I've met. It's opened my eye to lots of new ideas."
"It's been building up over the last semester, so the past four months," says Ailish Treanor who has made silk prints and ceramics for her show."Then it all comes down to this last couple of weeks, which is stressful because you've worked hard and want everything to be perfect but you feel good too because it is the culmination of the last four years."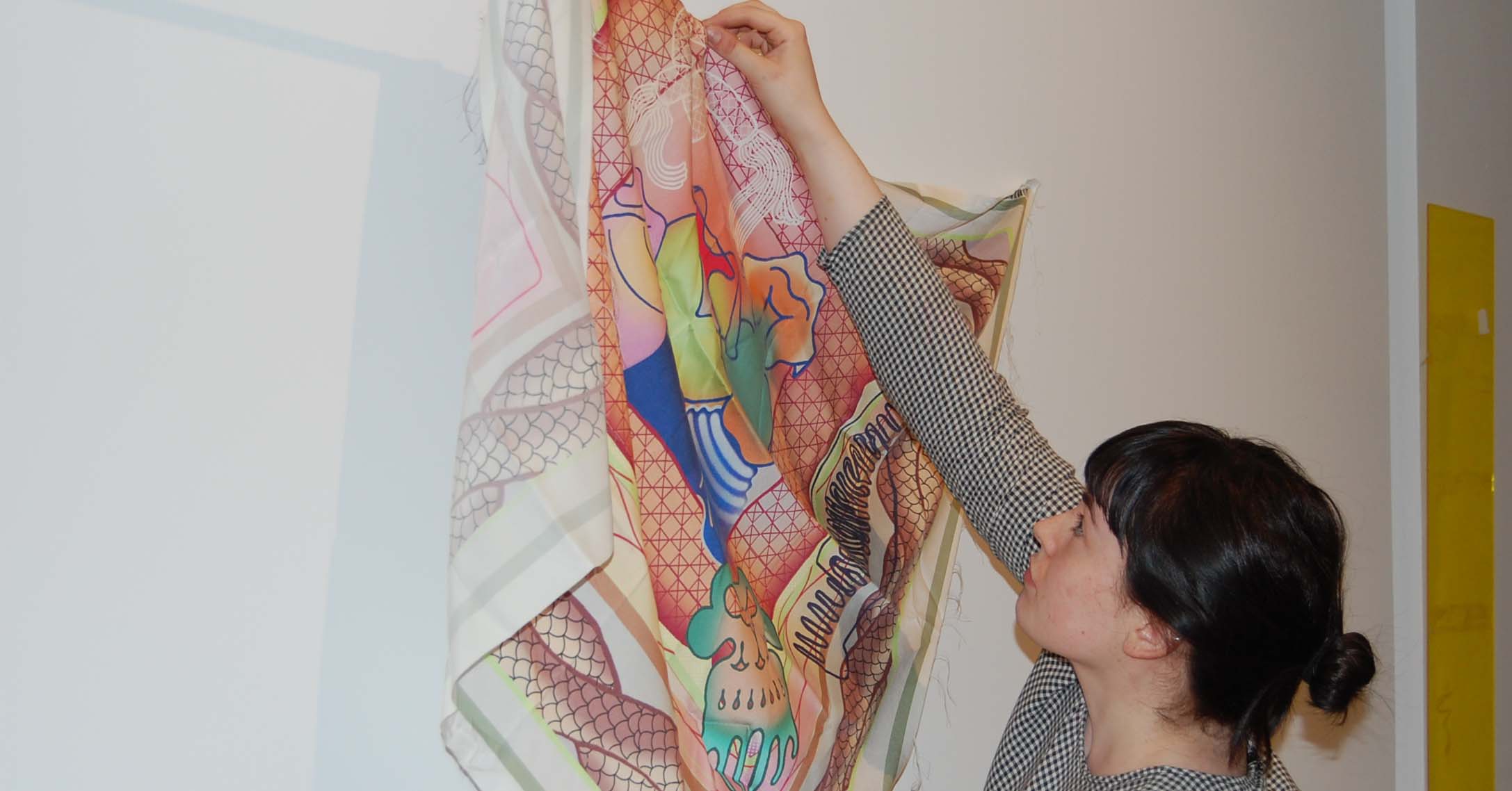 Preparing students
But the hard work of getting the show ready is all good experience for the students says Nick Fox. "They've had to consider the sorts of spaces they want to show their work in and negotiate with the other artists they are sharing those spaces with. They're experiencing first- hand installing and exhibiting their work at professional level to a public audience."
"The Fine Art course helps prepare our students for careers as artists once they graduate and this show is big part of that evolution."
Professor Richard Talbot, Head of Fine Art encouraged people to visit the show. "Every year I am impressed by the quality of the work that our very talented students have created," he says. "This is a great opportunity to come along and see just what they can do, and also see their work in the fantastic setting of both the Fine Art Building and newly refurbished Hatton Gallery."
The Hatton Gallery will host the show for the first time in two years following a £3.5 million refurbishment. For the first time, the Boiler House will also be used to display some of the work.

Fine Art at Newcastle University is ranked first in The Sunday Times 2018 University Guide.

The Fine Art Degree Show takes place in Newcastle from Saturday 2 June until 16 June. It will go on display at the Copeland Gallery, in Peckham, from 29 June to 3 July with a preview on Friday 28 June 6pm to 11pm.
---
Latest News