Making our roads, railways and flood defences more resilient
Published on: 16 May 2018
£4.8 million research programme will look at how we better maintain and monitor our infrastructure.
A new engineering research programme led by Newcastle University will examine how 'long linear infrastructure assets', such as our roads, railway embankments, pipeline bedding and flood protection structures, can be better maintained and monitored to make them more resilient for the future.
Announced today by the Engineering and Physical Sciences Research Council (EPSRC), the ACHILLES programme involves experts from the universities of Newcastle, Southampton, Durham, Loughborough, Leeds and Bath, as well as the British Geological Survey, major infrastructure owners and their consultants.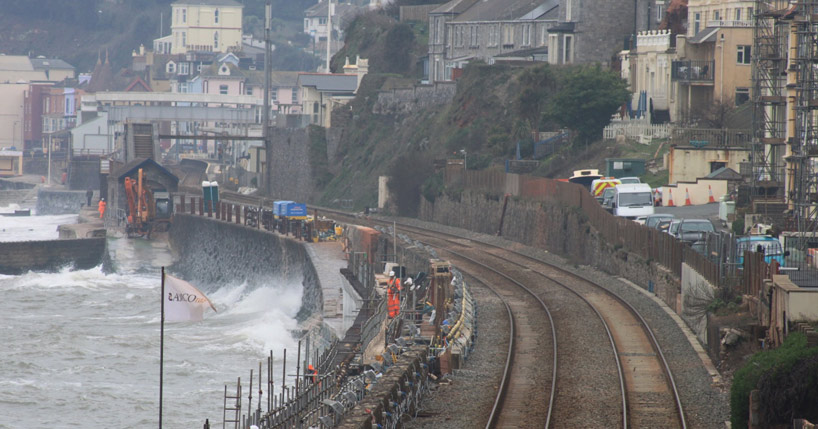 Better understanding of why infrastructure fails
Failure of these networks is common-place. For example, in 2015 there were 143 earthworks failures on Network Rail, more than two per week. This results in high costs - emergency repairs cost 10 times that of planned works, which in turn cost 10 times that of maintenance work.
Vulnerability to these types of failure is also significant. There are 748,000 properties in the UK with at least a 1-in-100 annual chance of flooding while derailment from slope failure is the greatest infrastructure-related risk faced by our railways.
Despite this, the exact reasons for, and timing of, failure are poorly understood.
Newcastle University's Professor Stephanie Glendinning, project lead, explained:
"The aim is to gain a better understanding of the way that linear infrastructure deteriorates under increasing environmental pressure, and to use this understanding to improve investment decisions.
"Through this research we hope to be able to change the way new infrastructure is designed, such as HS2; understand how aging infrastructure is adapted and how investment strategies are formulated to enable physical and operational resilience."
Launch of UK Research and Innovation
The announcement comes in the week that UK Research and Innovation (UKRI) has its official launch in London and during the Year of Engineering.
Professor Philip Nelson, EPSRC's Executive Chair, said:
"This investment will link the aims of reducing infrastructure failures and transforming infrastructure maintenance, and therefore help the UK become more resilient and prosperous.
"The research has gained considerable interest from industry and will have a direct impact on a range of activities, potentially improving safety and reducing costs. We are delighted to see the participation of the project partners who have come on board."
Professor Glendinning adds:
"You can think of our linear infrastructure as being a bit like a 1970s car.
"It's been serviced yearly - providing the owner remembers - but could suddenly show the oil warning light just seconds before the engine explodes, causing the owner to crash the car and create traffic chaos.
"By comparison, a modern car has in-built deterioration models and sensors that tell you when a service is due and what it is for so that you can plan your budget; it senses the exterior environment so that lights and wipers come on automatically when needed and it warns of the possibility of ice so the driver can adjust their speed.
"We can't afford to completely replace all our roads, embankments and flood defences, but we can take that 1970s car and adapt it and update it to make it more resilient and fit for purpose in the 21st century."
---
Latest News