Narbi Price Pitmen painters
Art student curates new exhibition of unseen Pitmen Painters works
Published on: 25 May 2018
A brand new exhibition of unseen works by Northumberland's celebrated Pitmen Painters will go on display at Woodhorn Museum, in Ashington.
A new lease of life
Curated by Narbi Price, Newcastle University Fine Art PhD student, winner of Best Visual Artist at the Journal Culture Awards and the Contemporary British Painting Prize 2017; Pitmen Painters Unseen brings together a collection of paintings by the Ashington Group, the majority of which have never been on public display.

Many of the works have been sourced from the local community in Ashington, the South East Northumberland town where the Pitmen Painters first formed in the 1930s.
"The permanent Ashington Group Gallery at Woodhorn Museum houses paintings up to 1972 but the Pitmen Painters were prolific until the early 1980s," says Narbi. "Of the hundreds of paintings they produced in their careers, many were either gifted to local people or sold to private collectors; so much of their work remains unseen.

"This will be the first time many of these paintings have been on public display and they'll have even more impact sitting alongside the permanent Ashington Group Gallery.

"Some of the works have been professionally conserved giving them a new lease of life. They all provide another fantastic insight into the 'Biggest Mining Village in the world' by the people who knew it best."
The unseen works include paintings by founding member Oliver Kilbourn and Ashington Group members Len Robinson, Jack Harrison, Jimmy Floyd and Fred Laidler.
Len Robinson's 'Wansbeck Bridge' is one of the Group's later paintings, produced in 1975. William Scott's 1936 painting, 'The Bedlington Terrier', was originally purchased for just £2 at The Laing Gallery in Newcastle upon Tyne. It was gifted to the renowned writer Janet Adam Smith in 1938 and has not been publically exhibited for 50 years. It has been professionally restored for the new exhibition.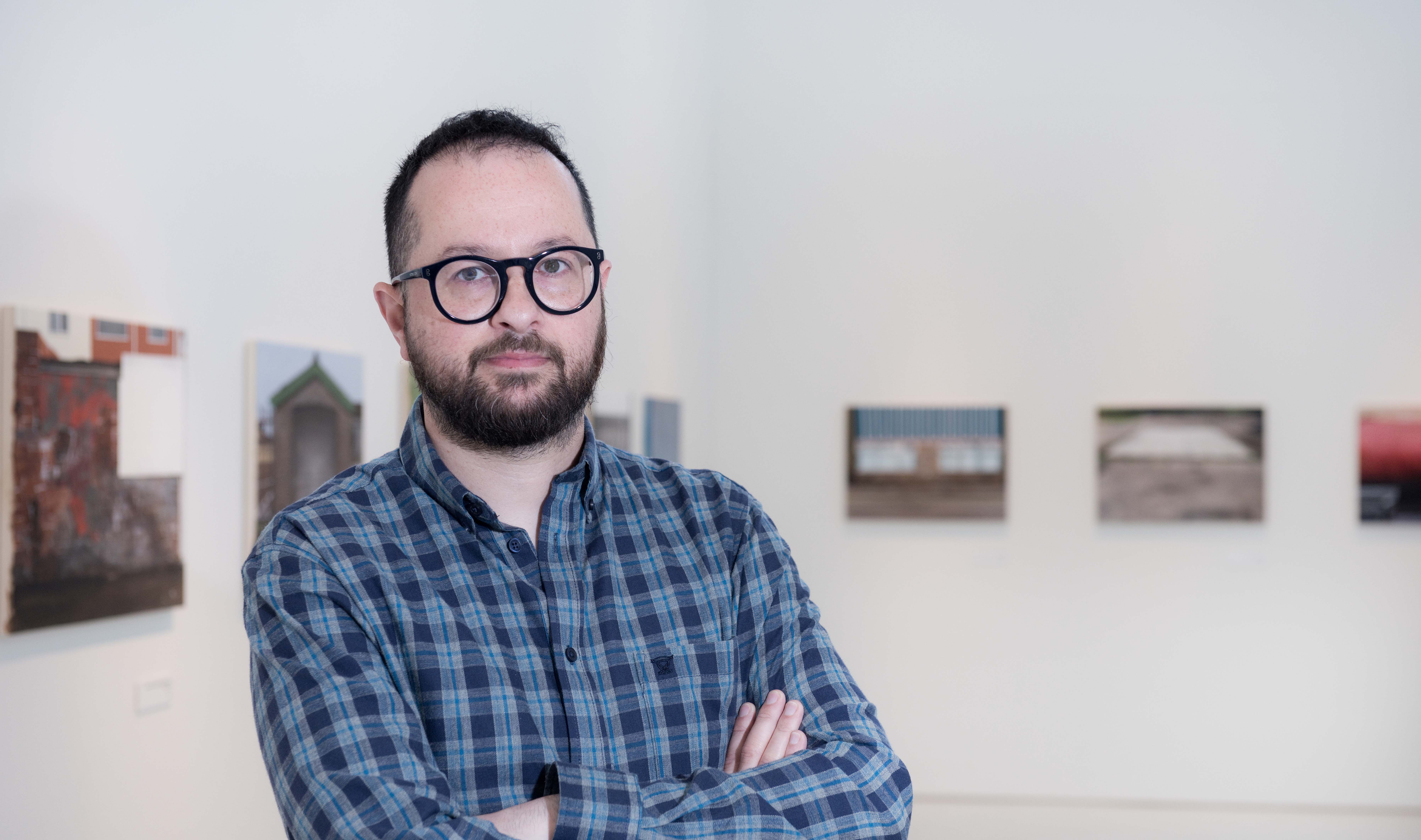 Glimpses of history
Running alongside 'Pitmen Painters Unseen' will be an exhibition of new work by Narbi, inspired by the Ashington Group.
The Ashington Paintings glimpse at the histories of Ashington's industrial past, hidden behind redevelopment, modernisation and a changing political landscape. Where once stood a colliery, now stands a business park. A beautiful swan-filled lake hides the biggest slag heap in Europe.
Narbi's paintings explore the changing landscape of the world's 'Biggest Mining Village', one that provided the inspiration for all the Pitmen Painters work.
"Whilst many people focus on the subject matter of the Pitmen Painters' works, I've explored their techniques as painters," says Narbi. "Everything from the paint they used to the supports. I wanted to dispel the myth that they were in any way naïve or amateur painters. My choice of painting surface and technique acknowledges the sophistication and subtlety of their methods.

"'The Ashington Paintings' is about celebrating the Pitmen Painters' artistic journey and documenting the sites of post industrial history they so fondly captured."
Paintings include 'Untitled Bridge Painting (Spine Road)', which depicts the site of Len Robinson's 1975 painting 'Wansbeck Bridge'. Other works include 'Untitled Wall Painting (Big Red Jobbie)', 'Untitled Flowers Painting (Colliery)', 'Untitled Road Painting (Colliery)', 'Untitled Bus Stop Painting (Colliery)' and 'Untitled Trees Painting (Colliery)', which show the sites of the five Ashington Coal Company collieries as they are today.
Both shows form a major part of Narbi's Phd, which is an Arts and Humanities Research Council funded collaborative doctoral award in partnership with Woodhorn Museum.
Award-winning artist
Narbi Price is the winner of the Contemporary British Painting Prize 2017 and he won best visual artist at this year's Journal Culture Awards. He was featured in Phaidon's Vitamin P3 - New Perspectives in Painting and was a prizewinner in the John Moores Painting Prize 2012. He is an Ashington Group Trustee and currently working on his PhD at Newcastle University. The exhibtion forms a large part of of his doctoral research and is an Arts and Humanities Research Council funded Collaborative Doctoral Award in partnership with Woodhorn Museum.
The Ashington Group formed in the 1930s as a group of coal miners learning about Art Appreciation. Their depictions of working life in a northern mining community quickly gained interest in the art world and saw the Group gain fans in Graham Sutherland and Henry Moore.

Their work has toured to China, Germany and the Netherlands. The permanent collection of 86 paintings remains at Woodhorn Museum and Northumberland Archives, a historic colliery site in Ashington.

The Ashington Group's story was made famous by the Lee Hall play, Pitmen Painters, which premiered at Live Theatre, Newcastle upon Tyne, in 2007. It went on to appear at the National Theatre and on Broadway. Today, their work provides a unique insight into Northumberland's industrial, cultural and artistic heritage.

'Pitmen Painters Unseen' and 'The Ashington Paintings' will be on show at Woodhorn Museum from Saturday 26 May to 16 September 2018. Entry is free for children aged 0-16 and £7 for adults. Concession tickets are priced at £6. All passes are valid for unlimited visits for 12 months from the date of issue.


Press release adapted with thanks from Woodhorn Museum.
---
Latest News