Newcastle University artist unveils installation at Cheeseburn
Published on: 18 May 2018
Peter Hanmer presents Plato's Lair – the winning entry from 2017's Gillian Dickinson North East Young Sculptor competition.
Peter, a Master of Fine Arts student, has spent the last 12 months creating Plato's Lair, which has been carefully installed in the Walled Garden Potting Shed, situated within the 10 acres of landscaped gardens at Cheeseburn Grange in Stamfordham. It features a series of miniature figures, within a scene that has been specifically designed to immerse the viewer within the space. Many of the figures are remade action figures and other mixed media.
The artwork draws upon the philosopher, Plato's 'The Republic', primarily from book 7, 'The Allegory of The Cave', which asserts that relying on your senses alone to inform you of the world around you is simply not enough, and that philosophical inquiry is the only true way to understand the world.
You don't need to be a philosopher, however, to enjoy the installation - in this case, your senses are more than enough.
"I have spent the last year creating a mixed-media installation in the Potting Shed at Cheeseburn Sculpture, combining miniature figures, sound, light and shadows into a number of connected scenes that can be interpreted in many ways," says Peter.
"I created forty, hybrid human-bird figures, which are divided into three main factions: the guards, citizens/prisoners and the philosophers. The guards, controlled by The Tyrant, prevent the citizens/prisoners from escaping their world into the sunlight. Philosophers come from outside offering enlightenment to the citizens, where they meet resistance.
"I want the viewer to feel like they are a part of this world; to make a connection to the figures, and to whatever it is they think is occurring within the space."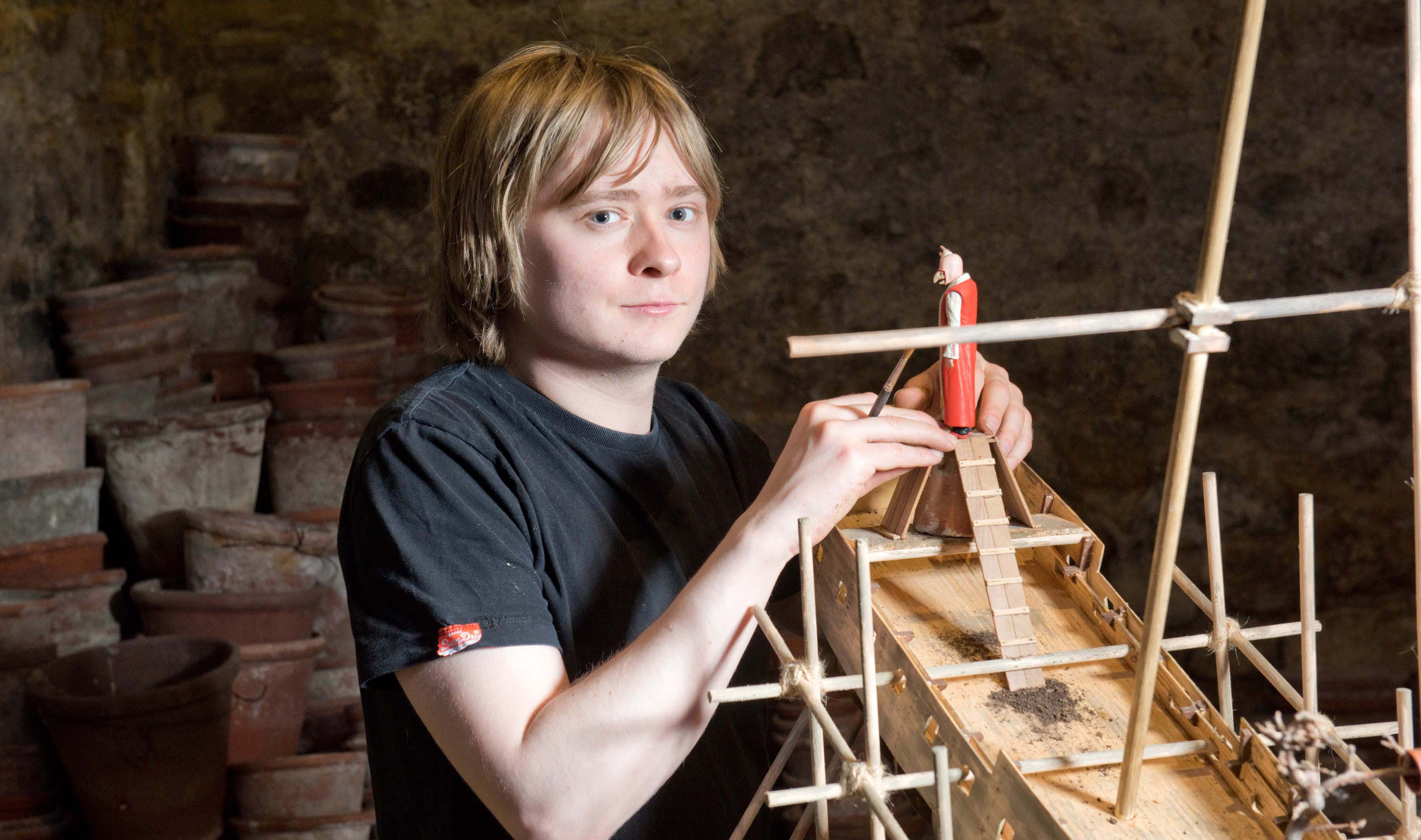 Dark and Atmospheric
When Peter first entered the Potting Shed, he instantly knew that this was the right spot for him to explore his ideas.
"The Potting Shed lends itself to the story of Plato's Cave in that it is dark and atmospheric," he says. "I like the contrast between this dark space, and the beautiful gardens within which it is surrounded.
"I hope that Plato's Lair is seen by and enjoyed by lots of people. I hope that it is thought-provoking, and that the opportunity, given to me by Cheeseburn, enables me to continue exploring my ideas."
Joanna Riddell, owner and founder of Cheeseburn, says: "We are delighted to open our 2018 season with Plato's Lair, and to see Peter's proposal come to fruition. It is certainly an installation that requires some quiet contemplation and the Potting Shed is the perfect place for that."
Plato's Lair was chosen as the winner of the second Gillian Dickinson North East Young Sculptor (GDNEYS) award by a panel of judges, consisting of: founder and owner of Cheeseburn, Joanna Riddell; curator at Cheeseburn, Matthew Jarratt; artist, Joseph Hillier, and trustee for The Gillian Dickinson Trust, Alexander Dickinson. Also taken into account by the judges were votes from visitors to Cheeseburn and online via Facebook.
Diverse and intriguing
Also on show will be proposals from the 11 young artists shortlisted for 2018 award. They have all been awarded £300 to develop their ideas for an installation or sculpture to be sited in 2019 and will present them for the first time to visitors and online from Saturday 19 May.
The shortlisted artists include two Newcastle University Fine Art students, Jed Buttress and Jenny McNamara and graduate Clare Townley.
Matthew Jarratt, curator at Cheeseburn, and mentor to GDNEYS winners says: "It seems as though I say it every year, but the calibre of the proposals we receive from the young artists from our regional Universities and Colleges are exceptional.
This year we present another diverse and intriguing selection of proposals and, as always, we ask the public to visit the gallery at Cheeseburn and vote for their favourite."
Cheeseburn Sculpture's opening weekend takes place on Saturday 19 May and Sunday 20 May.
Newcastle University's Fine Art department is currently ranked number one in The Sunday Times 2018 University Guide.
Press release adapted with thanks from Cheeseburn Sculpture
---
Latest News