Portable water testing Tanzania
Portable testing could hold the key to safe drinking water
Published on: 3 May 2018
Experts from Newcastle University are working with colleagues at Ardhi University in Tanzania to tackle one of the world's biggest dangers to health.
Detecting waterborne hazards
Newcastle University researchers are providing staff and students at Ardhi University in Dar es Salaam, Tanzania, with in-country practical training in the use of molecular microbiology as a way to detect potential hazards present in poor quality water.
The training is being delivered through the £477,000 IMAGINE project and is centred around developing portable technology to quickly test water quality in the field.
Dr David Werner, Reader in Environmental Systems Modelling, School of Engineering, explains: "We want to make it easier to carry out on-site water quality assessments with innovative technologies, including portable gene sequencing. Through this collaboration with researchers at Ardhi University, we're co-developing new methods and digital applications to rapidly survey, map and communicate waterborne hazards."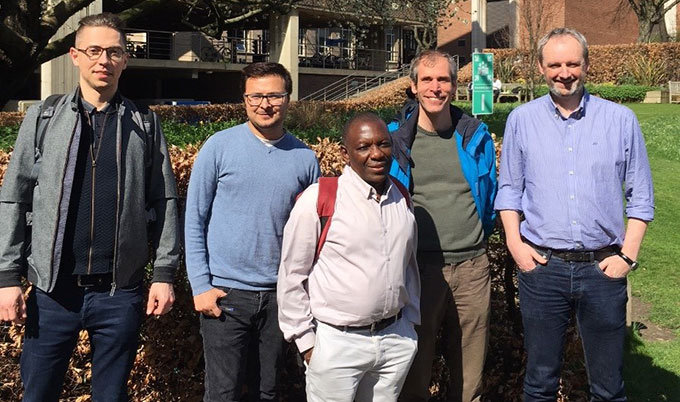 Water quality at the molecular level
According to the United Nations, an estimated 1.8 billion people are exposed to drinking water sources contaminated with faecal matter which may cause a range of diseases if it's consumed.
A key challenge in cities like Dar es Salaam are unplanned settlements with limited public services, where residents use private water sources such as shallow wells and boreholes where water quality is not usually monitored. Consequently, occasional outbreaks of diseases such as cholera occur in Dar es Salaam.
The project aims to shorten the time required to measure water quality and share this information with the Tanzanian authorities. In turn, the team hope that more people will understand the dangers present in some of the untreated local sources.
Dr Shaaban Mgana, the principal investigator at Ardhi University, visited Newcastle University earlier this year to meet colleagues working on the project. He said: "We are working in the rapidly emerging field of molecular microbiology applied to water quality management in low income countries for the purpose of creating greater knowledge of water quality at the point of use.
"Currently there are no regulatory standards for the use of molecular microbiology methods, but they are potentially very informative, and may identify a wide range of pathogens in water.
"The hands-on training of our scientists in state-of-the-art molecular microbiology is critical for quality assurance and the success of our project. We aim to identify indicators of faecal pollution in drinking water more rapidly and more comprehensively than with conventional methods."
Sustainable water quality
The three-year project is funded by the Global Challenges Research Fund, which forms part of the UK's Official Development Assistance commitment and aims to reduce poverty by generating and putting into use knowledge and technology to address development challenges and advance development for the poorest people and countries.
It is one example of how staff at Newcastle University are working with academics, government, industry, and communities around the world to find sustainable solutions to improve water quality, sanitation and infrastructure. To find out more visit http://www.ncl.ac.uk/engineering/research/civil/environmentalengineering/
---
Latest News