Sir Terry Farrell masterclass
Masterclass in masterplanning from top architect
Published on: 4 May 2018
Architecture students have had the tutorial of a lifetime with one of the world's most famous and prolific architects.
Seven lucky students were given a masterclass by Sir Terry Farrell, the man behind buildings such as the MI6 Building in London and award-winning projects including The Deep in Hull, the Embankment Place office development above Charing Cross Station, Incheon Airport in Seoul and Beijing's South Station.
Sir Terry is the founder of the Farrells architecture practice. He is a Newcastle University Architecture graduate and was made a Visiting Professor of Architecture in 2016.

He held the session with fellow architect Duncan Whatmore for students studying for a Masters' degree in Architecture, Planning and Landscape. The postgraduates were asked to come up with proposals for new buildings and public spaces in the city's Leith area. Their ideas included housing, a wellness centre, studios and workshops for the creative industries, a school, a hotel and leisure complex, and a wine and beer museum.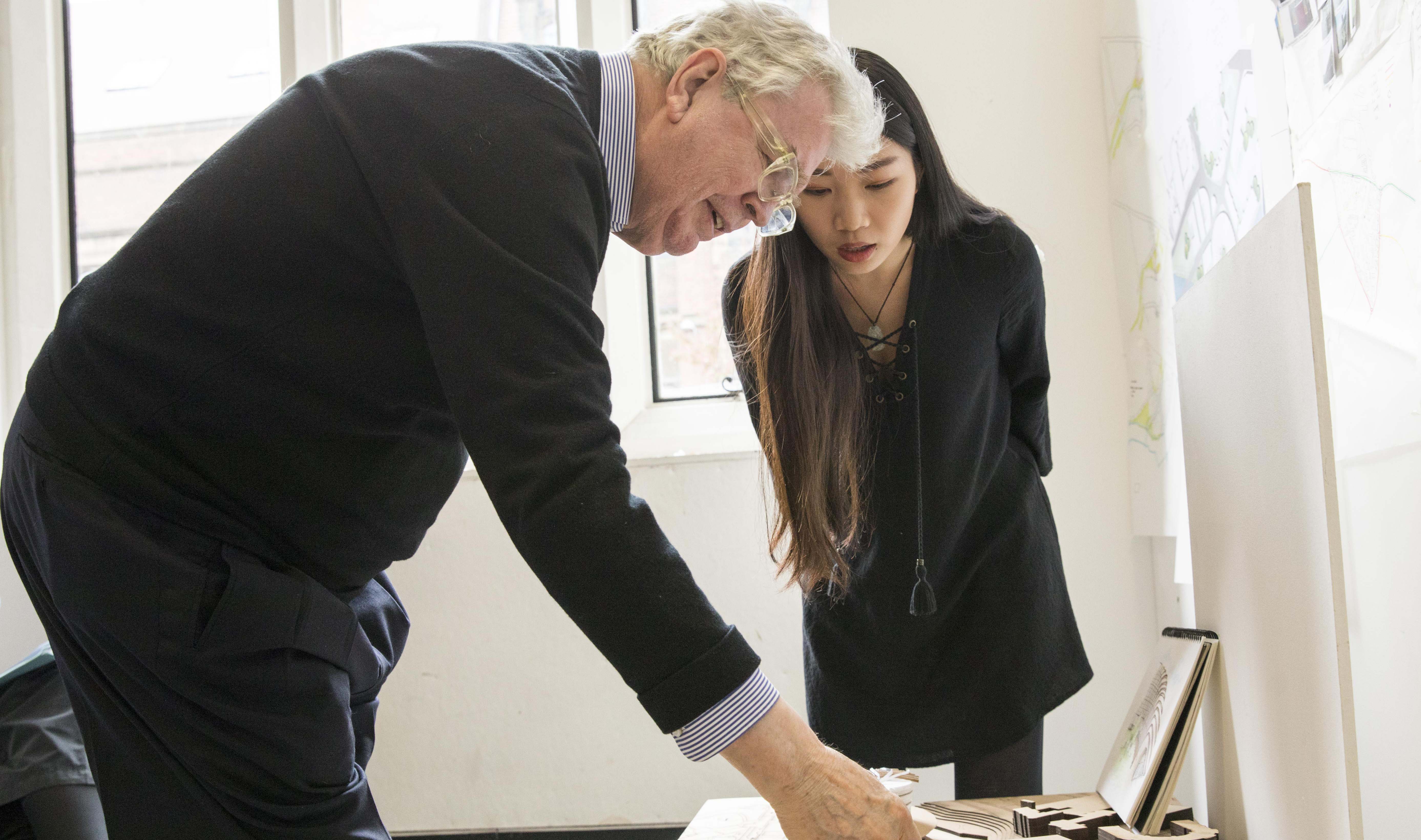 Inspiration to a generation
"This was an amazing opportunity for our students," said course leader Dr Martin Beattie. "To get feedback from someone at the forefront of his profession and who is an inspiration to a generation of young architects, it will be an experience they won't forget.
"It was also great for him to be able to work with some of our Chinese students, as he has an incredibly high profile in China, having designed and created some famous buildings such as Guangzhou Station and the Kingsley Finance Tower, at the time the tallest building designed by a British architect.
"I'm very glad to be here," said Sir Terry. "This is as a result of being asked to be Visiting Professor 18 months ago and I'm very glad to be involved in seeing how the students are doing."
Famous buildings
Student Yuying Liu presented her ideas for a cultural centre. "I was quite nervous as this is the first year I've studied architecture," she said. "But the feedback from Sir Terry was good. It helped me think about my ideas differently."
Simon Congliu worked in an architectural practice in China before coming to Newcastle University to study. He has visited Sir Terry's famous KK100 tower in Shenzhen. "His buildings are famous in China and I visited one when I was working there" he said. "In that job I'd met famous architects before, but this was the first time I've ever had to present to one. It was a very interesting experience."

For more information about Newcastle University's Architecture courses visit here.
---
Latest News