Next generation of architects showcase their talent at degree show
Published on: 22 June 2018
Floating theatres, a circular bridge, and new forms of housing for the twenty-first century are among the exciting designs on show at this year's Architecture Degree Show.
The annual event is a showcase of the imagination, flair and skill of Newcastle University's talented Architecture undergraduate and postgraduate students.

Their work is informed by leading architecture and planning research conducted by the School's staff. The School aims - by translating research into practice - to equip students not just for their first day in work but to lead the professions they'll retire from.

The models and drawings on display celebrate the breadth and depth of the students' ideas, and are the culmination of years of dedication and hard work.

Students' visions for structures encompass a range of locations from central London, the beautiful Northumberland coast, the historic Italian city of Venice and Newcastle's iconic Quayside.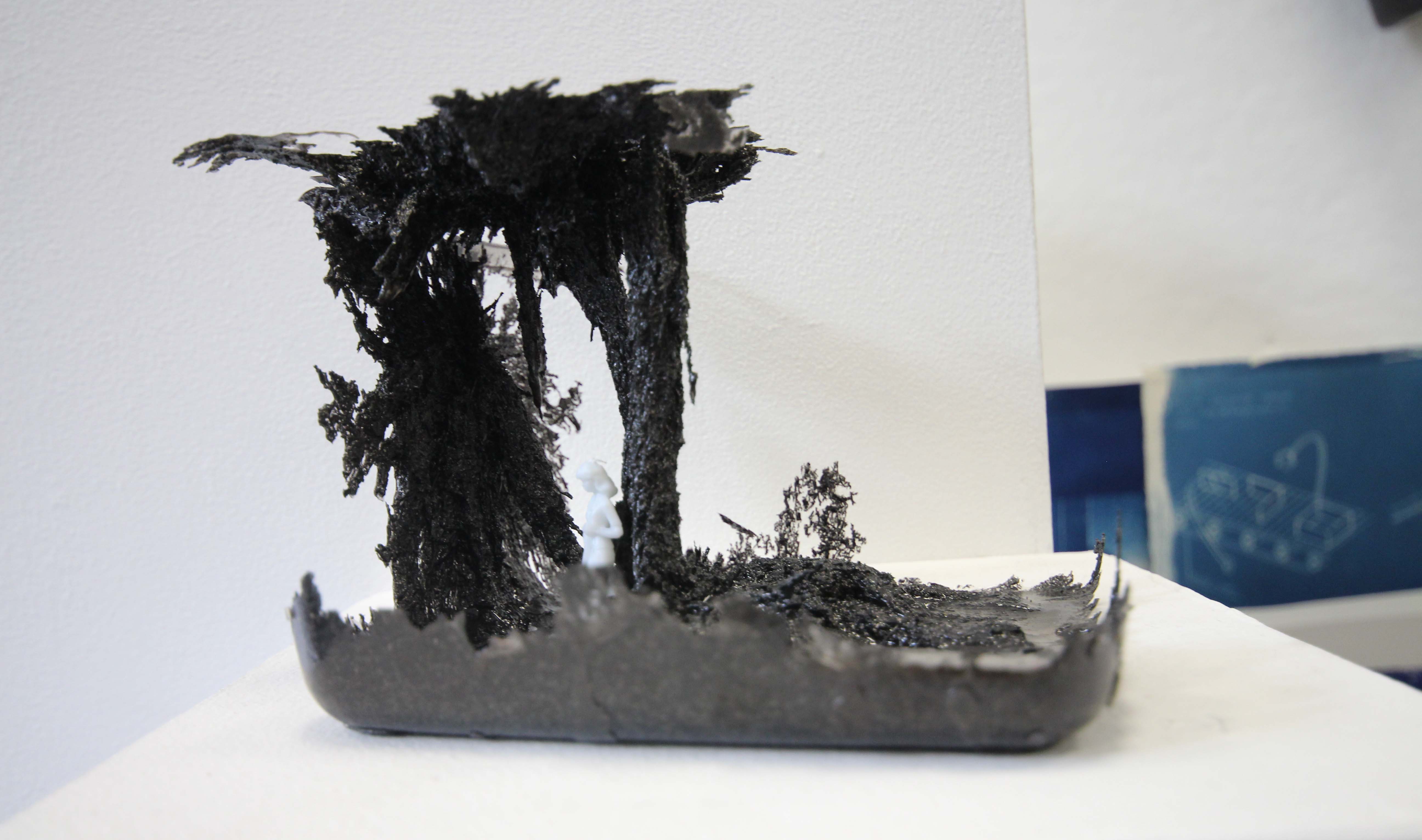 Inspired by Venice
One brief for students was to think about buildings suitable for Venice's watery location.
Dora Farrelly designed a theatre inspired by the work of famous Italian architect, Carlo Scarpa.

"It's designed so it can flood," says Dora. "But also so water can be incorporated into the performances."
Finishing her final project for her degree has been hard work, as she said: "It's been exciting and it's been fun. It's also been quite stressful at times but it's been worth it."
Hannah McAvoy designed a theatre which can move around the archipelago with a direct relationship to the water surrounding the city.

She said: "The building was inspired by Aldo Rossi's 'Theatre of the World' that was designed for the 1979 Venice Biennale.
"It floats and can travel on different routes around Venice. People would get on, on land and then they would be taken on a journey while they watched a performance."
Gentrification focus
Other projects are closer to home. Callum Campbell designed a building for the birdwatchers and kite surfers who visit the stretch of coast between Bamburgh and Seahouses. He then used his ideas to create furniture and a circular bridge.

"The project focused a lot of working on a range of scales, from a bridge to plant pot," said Callum. "It gives me a level of control over every aspect of the building, not just the architecture itself but the products that are in the building and the surrounding environments."

Tackling gentrification was part of Bahram Yaradanguliyev's brief. He took a Grade II listed building in Elephant and Castle, London, and included an extension which includes a theatre.

"The area has been regenerated," said Bahram. "But that often means community spaces disappear. My extension houses a theatre and there's library in another part of the building because these are some of facilities local people said are now missing."

Also on show is Masters student Adel Kameshki's plan for a grand Gurdwara – a Sikh temple – near Loch Tay in Scotland, responding to cultural dialogues between Eastern and Western cultures.

Sophie Baldwin challenged processes of gentrification and housing renewal through a series of plaster casts animated with digital projection.
Talent and ambition
Professor Adam Sharr, Head of the School of Architecture, Planning and Landscape said: "Every year I'm impressed by the quality of the work our students produce. The range of invention, informed by research, is remarkable, and the talent and ambition on show is fantastic to see."
The Architecture Degree Show opens to the public from 10am to 4pm on Saturday, 23 June, until 6 July, in the Architecture Building on Newcastle University's campus.
The show will transfer to London on Friday 13 July and will be on display at The Crypt at Clerkenwell from 6pm to 10pm.
This year's event is sponsored by FaulknerBrown Architects.
---
Latest News