Honour recognises scientific expertise
Published on: 1 June 2018
A world-leading academic from Newcastle University has been honoured with a prestigious award for his work in helping patients with hereditary diseases.
Professor Sir Doug Turnbull has received the Galen Medal from The Worshipful Society of Apothecaries, an organisation at the forefront of modern-day medicine and a leading player in the advancement of medical research and knowledge.
The Galen medal was instituted by the Society in 1925 for valuable services or contributions rendered to the science of therapeutics.
It is awarded on a yearly basis and encompasses the whole spectrum of the art of healing, from preventative medicine to surgical intervention.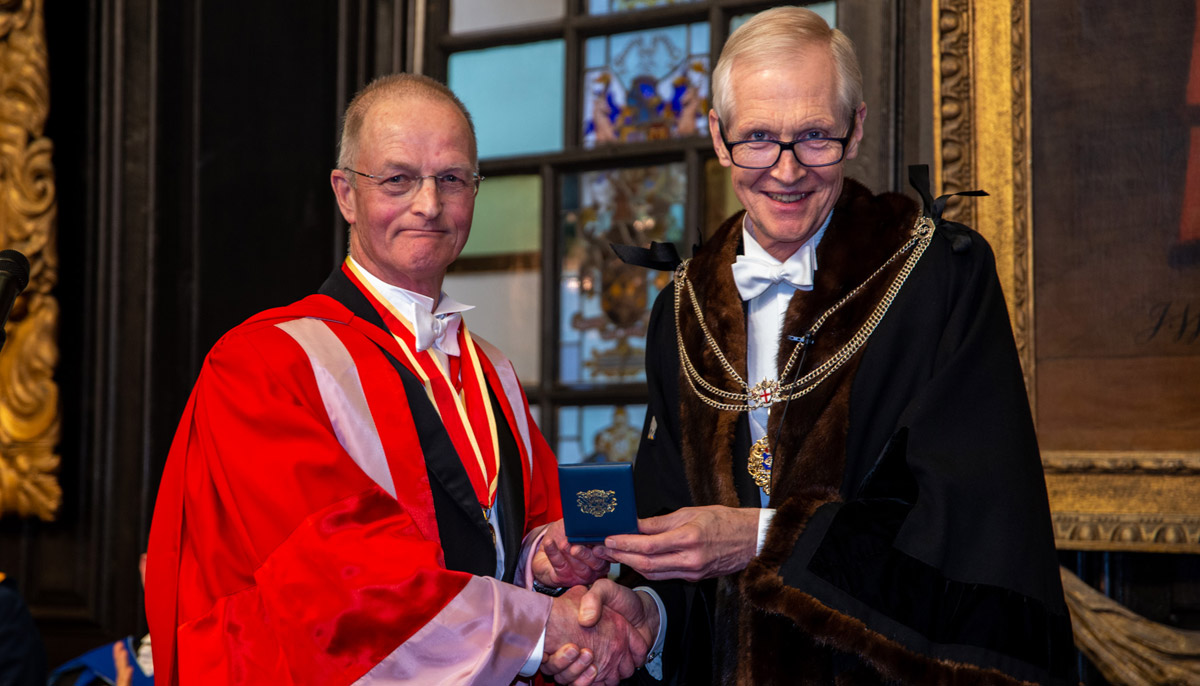 Honoured recipient
Professor Turnbull, an expert in Neurology at Newcastle University, has devoted his career to the treatment and research of mitochondrial disease and this accolade is in recognition of his outstanding work in this field.
He cares for more than 1,000 patients and their families dealing with mitochondrial disease, a genetic disorder that at its most severe causes blindness, heart failure and ultimately death.
He said: "I am honoured to be the recipient of this prestigious award from The Worshipful Society of Apothecaries.
"I am delighted that our innovative research at Newcastle University has led to the very best care for patients with mitochondrial disease."
In 2012, Professor Turnbull's work was recognised when he and his colleagues were awarded the coveted Wellcome Centre status, one of only a handful in the UK.
As director of the Centre, Professor Turnbull has built an internationally-renowned team of clinicians and researchers, with patients opting to travel from all over the country to be under his care in Newcastle.
While the treatments he and his colleagues at the University provide have improved the quality of life for hundreds of patients, preventing these disabling genetic diseases is crucially important for families.
Certain forms of mitochondrial disease are passed down from mother to child. Mitochondrial donation, a new IVF technique developed in the Wellcome Centre for Mitochondrial Research at the University, could offer women with the condition the chance of having healthy children.
Professor Turnbull has worked tirelessly with patients, patient organisations and policy makers to champion mitochondrial donation. These efforts were rewarded when the UK Parliament voted to allow this ground-breaking treatment to be offered to patients.
Professor Turnbull, an Honorary Consultant Neurologist at Newcastle upon Tyne Hospitals NHS Foundation Trust, has trained more than 40 PhD students who have progressed to work in this important area at Newcastle University and across the globe.
Significant achievement
Professor Chris Day, Vice-Chancellor and President at Newcastle University, said: "Professor Turnbull is a world-leading scientist and clinician who has dedicated his career to understanding and treating a group of diseases that blight the lives of families across the world.
"He leads the hugely successful Wellcome Centre for Mitochondrial Research at Newcastle University which has attracted researchers from across the world to work alongside him and his team, developing a new generation of pioneering scientists and clinicians.
"Their work has turned the treatment and prevention of these devastating diseases from a theoretical dream into reality over the course of the last three decades.
"It is a mark of the significance of the achievements of him and his team that Professor Turnbull has been given the Galen Medal."
Professor Turnbull is an NIHR Senior Fellow and has sat on, and chaired, several Wellcome panels/committees during his career.
The Royal College of Physicians has recognised him on several occasions as he was awarded the Goulstonian Lecturer (1992), the Jean Hunter Prize (2003) and the Sims Royal College of Physicians Lecturer (2004).
---
Latest News