Students breathe life into ancient metalworking
Published on: 25 July 2018
A group of Newcastle University students are aiming to recreate prehistoric metalworking techniques at a series of live open-air experiments.
Recreating ancient technologies
The experiments are the first in a series of projects by a group of postgraduate students to better understand how materials such as copper and glass were made thousands of years ago.
In a collaboration with Jarrow Hall Anglo-Saxon Farm in South Tyneside, the group will be giving demonstrations of copper smelting, based on discoveries made at Pyrgos-Mavroraki, near Limassol in Cyprus - known to date back to around 2,000 B.C.
Due to the extraordinary wealth of its ore deposits, Cyprus was a metal powerhouse from the Bronze Age to the late Roman period. Most of the copper traded and used in the Mediterranean during that time is believed to have been sourced from, and smelted on, the island.
Excavations over the last decade unearthed plenty of evidence of metallurgical activity in Pyrgos, including several workshops.
As well as re-creating the type of pit furnace found at Pyrgos, the team will also be using replicas of blow-pipes, which use the same type of ceramic nozzles that were discovered during the excavations at the site.
Marco Romeo Pitone, who will be leading the research as part of his PhD at Newcastle University, explains: "The site at Pyrgos-Mavroraki was abandoned around 1,800 B.C. so this is a very early moment for metalworking in Cyprus. The discoveries that have been made there are exceptional for a site dating back this far. But we still don't fully understand the specialist techniques these ancient smiths used so the challenge now is to put together the archaeological evidence and try to recreate how it might have been done.
"Our experiments will help us get answers to questions such as how long smelting took, how much copper could be produced, what sort of fuel was needed to get the required temperatures and how many people it might have involved."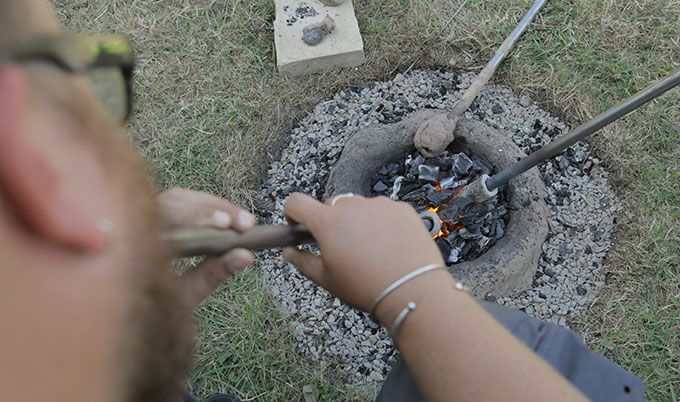 Student-led research
The five PhD Archaeology students taking part in the project have set up a research group, Experimental Archaeology at Newcastle (EXARN). Over the coming months, they will carry out similar projects including one in partnership with Sunderland Glass Centre looking at how glass was made in Anglo-Saxon times. The group also plans to host Newcastle's first Experimental Archaeology Student Symposium later this year.
Marco adds: "Experimental Archaeology is about replicating ancient technologies and artefacts in order to understand how they worked and what they were used for. Once we have uncovered finds at a site – whether that is finding an artefact through excavation or by using cutting-edge soil analysis techniques to see if there is evidence of industrial activity – we can simulate what we think took place to test different ideas without risking damage to the site or artefacts."
The group has been given funding as part of Newcastle University Humanities Research Institute's Challenge Lab 2018. This is a scheme open to all undergraduate and postgraduate students at Newcastle University to support interdisciplinary student-led humanities research collaborations. The EXARN team, for example, includes Creative Arts Practice students who plan to make films and other creative responses to the group's work.
The EXARN team will be running copper smelting experiments at Jarrow Hall (formerly Bede's World) every day until 27 July, between 10.00 am - 4:00pm. This will be followed by a free public lecture on Saturday 28 July at 3.00pm also at Jarrow Hall. All events are open to the public.
---
Latest News