Experts hope to reduce damage to the heart after heart attack
Published on: 29 August 2018
A team of researchers at Newcastle University are to study how to limit the damage caused by heart attacks, thanks to new funding from the British Heart Foundation (BHF).
Professor Helen Arthur has been awarded £143,000 to explore how the immune system responds following a heart attack – and if this can be altered in a way that could reduce damage to the heart.
When a person suffers a heart attack, the body's natural response is to try to fight back, in the same way it would if an infection or virus was present. This causes inflammation in the injured heart, which can cause further damage to heart cells and reduce their ability to pump blood around the body.
Professor Arthur (pictured second from left), from the Institute of Genetic Medicine at Newcastle University, and her team have identified a molecule called fractalkine, which regulates the way the body responds to infection or injury. She says:
"Our immune system is complex, and hugely important to help defend ourselves against disease. Unfortunately, sometimes the immune response is activated in places and situations where it has the potential to cause harm, rather than to heal us.
"This project will investigate in mice how fractalkine regulates these immune responses. We will investigate whether removing this molecule reduces inflammation and whether this protects the heart from additional damage. If targeting fractalkine improves heart function after a heart attack, then our findings could open the door to developing drugs to mimic this effect. In the long term, this could help people to recover more quickly and fully after a heart attack."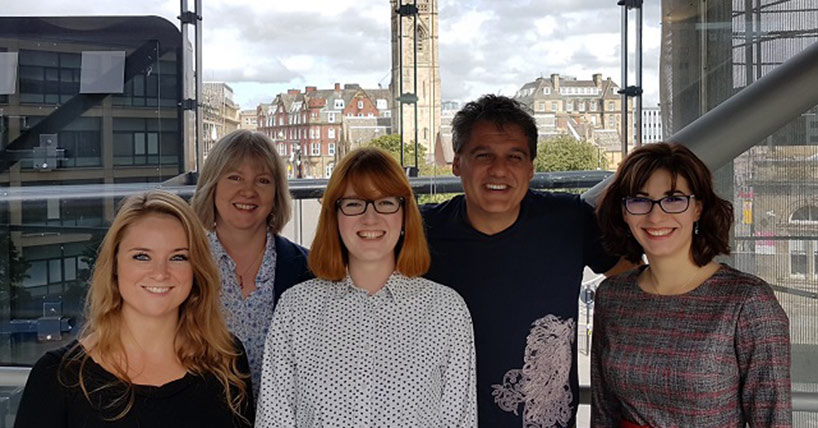 Research into life-saving cures
In England there are over 157,000 hospital visits each year due to heart attacks - roughly one every three minutes. While survival rates have improved significantly over the last 50 years, heart attacks cause permanent damage, and can lead to long-term problems including heart failure - a condition which means the heart cannot pump blood around the body as efficiently as it should.
Dave Storey, from Newcastle, had a heart attack in 1998. He says: "I was at home with my wife, Sheila, when I had a heart attack. She acted quickly, and phoned 999 before giving me CPR. It was a massive shock as I'd always been really fit and healthy – I used to run up to 70 miles a week!
"It took me 18 months to recover and it was really hard. I was unable to go back to my job as an HGV driver, and had to begin a new career, working in an office for the first time in my life. I'm also not able to run like I used to, which I have found very hard to adjust to. Really my life has been changed completely by my heart attack. I got involved with fundraising for the BHF because I want to help support research, like the project Professor Arthur is working on, which will help people recover more quickly from heart attacks and enable them to continue doing the things that they love."
Dr Lucie Duluc, Research Advisor at the BHF says: "Damage to heart tissue is irreparable, so when someone experiences a heart attack, we want to limit the damage as much as we possibly can and try to avoid heart failure. Funding this new research in Newcastle could have huge implications for how we treat patients following heart attacks in the future, and, we hope, could allow people a better quality of life once they have recovered.
"Research like this has only been made possible by the fantastic generosity of the public and is central in our mission to beat heartbreak forever."
The BHF funds research into life-saving cures to beat heart and circulatory diseases so people can live longer, better, together. To find out more about the amazing research happening in your local area, visit: https://www.bhf.org.uk/research-projects
Press release and image courtesy of BHF
---
Latest News