Shining a light on new talent and innovation
Published on: 29 August 2018
A new exhibition presents the ideas of postgraduate students and early career researchers at the home of one of the North East's most pioneering industrialists.
Bringing innovation to life
Created through a collaboration between Newcastle University and the National Trust, Switched on! Shining a light on female innovation has been inspired by Cragside's past as a hotbed of innovation and technological advancements. It explores different ways of presenting the home of industrialist Lord William Armstrong and his wife Lady Margaret through a series of mixed-media art, sculpture and sound installations.

The exhibition is part of the National Trust's Women and Power programme for 2018, celebrating the centenary of the passing of the Representation of the People's Act, granting some women the right to vote.
It showcases some of the North East's most talented thinkers, paving the way for a new generation of female innovation.
Working with eight innovators from a variety of disciplines such as fine art, science, music, history and architecture, the National Trust and Newcastle University have explored the potential of Cragside as a setting for celebrating past and future innovation.
Rachel Armstrong, Professor of Experimental Architecture at Newcastle University and project director for Switched on! said: "Working in collaboration with the National Trust team has enabled our emerging innovators to take their creative spirit to the public in new ways.
"By participating in such a challenging transdisciplinary project, where different stakeholders with a varied range of skills come together, they are expanding their skills in working with diverse members of society and are learning how to develop new practices."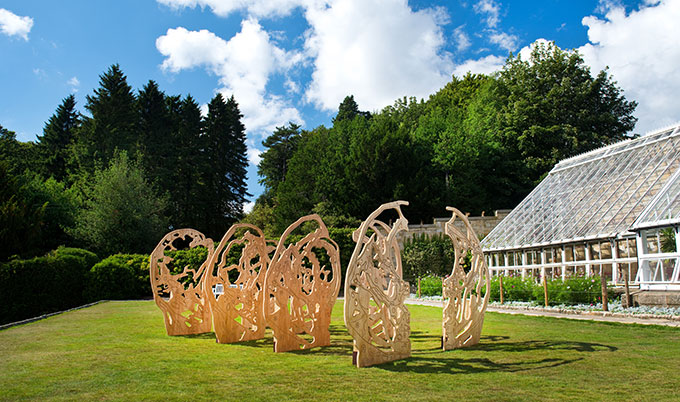 Discovery of new ideas
The installations address a broad range of issues including quality, diversity, mass production, technical drawings, the human body, language and storytelling.
In the exhibition, innovation is not simply the making of the product, but the discovery of new ideas and experiences that can be mediated, discussed, expressed and enlarged through a range of technologies – some familiar, and some new.
The installations include a 3d printed model of Lady Armstrong's lace scarf created in response to society's need for mass production, a suspended sound installation that tells some of Cragside's key stories by going beyond a simple text panel, sculptures representing MRI scans of the female body, and a maze of 4000 sunflowers to represent the anonymous workers of Cragside whose names failed to be recorded in history books.
Lord and Lady Armstrong's ingenuity in the early 20th century established Cragside as an extraordinary vision of a future world, although its innovations, such as electric lightbulbs, dishwashers and lifts, are now commonplace.
Visitor Experience Manager, Laura Knowles said: "Switched on! encapsulatesthe trial-and-error nature of Cragside, with experimentation at the forefront of each installation."
Switched On! will be on display at Cragside until 4 November. Visitors can collect a Switched On! guide and follow the trail around the house and gardens.
Discover more about Switched on! at www.nationaltrust.org.uk/cragside
Learn more about Women and Power at www.nationaltrust.org.uk/womenandpower
Press release adapted with thanks to National Trust Cragside.
Image credit: National Trust Images/Colin Davison
---
Latest News