The experience of refugees
Refugee tales highlight need for political action
Published on: 10 September 2018
Acclaimed author and Newcastle University Professor Jackie Kay, is helping to highlight the experiences of refugees indefinitely detained in the UK.
She has written a story for 28 Tales for 28 Days, a call to action for politicians to institute a time limit of 28 days on immigration detention.
Jackie's story is The Smuggled Person's Tale and will be read by actor Nima Taleghani on the last day of the campaign, 8 October.
"It is a writer's duty to bear witness," said Jackie. "These are hard times - stepping out of your own shoes and into somebody else's feels ever more important."
The campaign is made up of 28 videos of actors, including Maxine Peake, Christopher Eccleston and Jeremy Irons, reading stories by authors including Ali Smith, Neel Mukherjee and Kamila Shamsie. One video a day will be released online in the run up to parliament re-opening on 8 October. The UK is the only country in Europe which detains people indefinitely for administrative purposes without judicial oversight.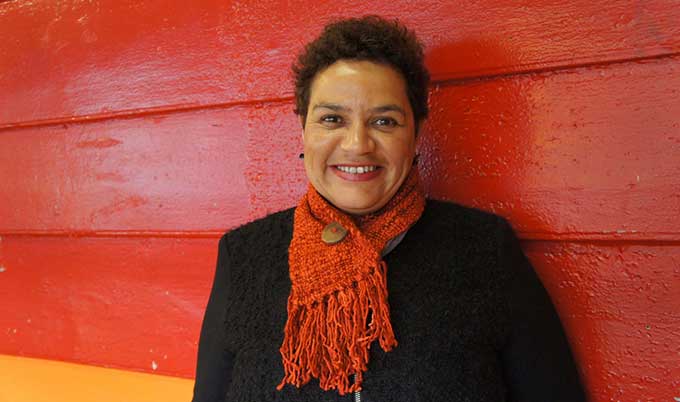 28 Tales for 28 Days
28 Tales for 28 Days has been organised by Refugee Tales and Comma Press. Refugee Tales is rooted in the work of the Gatwick Detainees Welfare Group and, using the model of The Canterbury Tales, shares the tales of those who have been indefinitely detained in immigration detention. To preserve anonymity, leading writers work with people who have experienced detention. Comma Press a not-for-profit publishing initiative dedicated to developing new writing, with an emphasis on short narrative forms.
More than £9,000 was crowd-funded in over a month to pay for the filming and distribution of the videos. The actors and authors volunteered their time and various organisations volunteered their venues to serve as a backdrop.
Jackie Kay is Professor of Creative Writing at Newcastle University and was appointed Scottish Makar in 2016. She was awarded an MBE in 2006 for her services to literature and is a Fellow of the Royal Society of Edinburgh. Her memoir, 'Red Dust Road' was awarded the prestigious Scottish Book of the Year in 2011 and was one of 20 books to be selected for World Book Night in 2013.
Except from Jackie Kay's tale
You can read an excerpt of The Smuggled Person's Tale below. To hear the story in full, visit the 28 Tales for 28 Days YouTube channel on 8th October:
And he had travelled some distance before he arrived at the house. He'd come all the way from the seventh area; he'd come from the Hazara people, Afghanistan. He'd a bad time in Turkey, had caught a boat to Greece, crossed the border to Italy, spent months in Rome. He'd slept under bridges, in train stations, under berths of trains, in the back of lorries. Austria, France. Calais – Christmas 2009. Cold. Very cold. Big snow. The road was near what they called the Jungle. He'd travelled for seven years and crossed countless borders. He'd taken on different names, and had often said he was from Pakistan. You could measure the distance in the look that crossed his face as he crossed the threshold into her house.
Moments before he'd been lost: the street had two houses with the same number at opposite ends. He had been down the other end. It was nothing to him compared to all his journeying, but still when he first arrived, with his story in his rucksack, he was out of breath. He was sweating a little. Tiny beads formed across his forehead. His eyes first searched hers for kindness. It was the thing he always looked for; he could tell right away if people were kind or not. She opened the front door. It was a simple enough thing for her – to open the front door to her home. But to him it was quite something. Over these years of travelling, he'd not often been invited into many homes. Detention rooms, prison cells, hostels, on the floor of various churches, yes, but he'd not been invited into people's houses. He stood in the hall as she went to make a pot of tea. He stood there with Anna, who was already there when he got there, who was the only person in the world who knew what he carried in his bag. Both he and Anna stood quietly, patiently, in the hall, waiting. Only this time the waiting was nice waiting; this was waiting for something quite simple: a cup of tea.
28 Tales for 28 Days can be seen here with new tales added daily until 9th October.
---
Latest News