Senior dental student crowned Newcastle's heat winner
Published on: 30 October 2018
A Newcastle University dental student has been crowned the region's heat winner in a prestigious national competition.
David Cobbett fought off competition from his peers to take the Royal College of Surgeons of Edinburgh Faculty of Dental Surgery heat winner title of its Dental Clinical Skills Competition.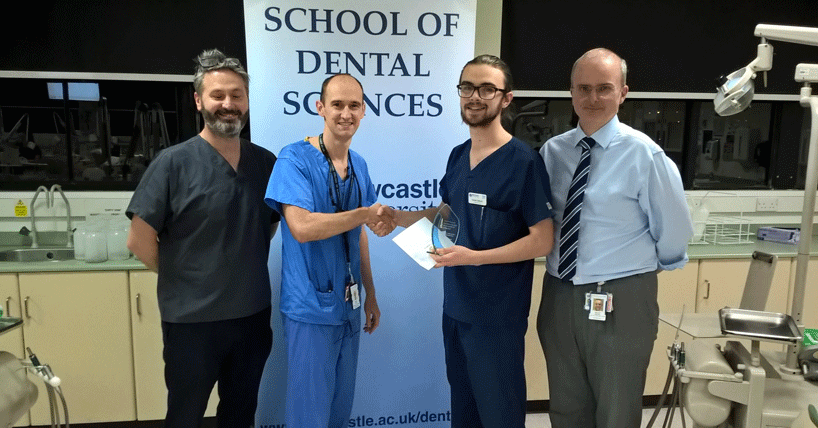 Exciting win
The year five dentistry student said: "I was very pleased to go through to the final.
"A large part of my motivation for entering the competition was just to practice some bits of dentistry that I don't get to do as often as I would like, so even to win this first stage is exciting.
"I am very interested in learning more advanced aspects of dentistry after I graduate and it's great that courses provided by the Royal College of Surgeons of Edinburgh Faculty of Dental Surgery could help me with that."
Aiming to discover the UK and Ireland's best undergraduate dentist, the competition heats will take place in 18 UK and Irish dental schools from October to December this year.
David reigned supreme in showcasing his dental skills, pipping Farnam Pourreza-Jorshari to the post, whom took the runner-up spot at Newcastle University.
During these heats, final year dental students will have the opportunity to pitch their clinical dental skills against their peers, with the best student from each heat winning a travel and accommodation package to compete in the Grand Final of the competition, taking place at The Royal College of Surgeons of Edinburgh on 28th February.
The Grand Final prizes include 'money can't buy' all expense-paid trips to Chicago and Switzerland, a digital SLR camera and more.
Unique competition
The Royal College of Surgeons of Edinburgh (RCSEd) hopes that the competition will complement the basic dental skills delivered at the undergraduate level in the UK and Ireland, and help develop self-improvement in post-graduation dentistry.
Dean of RCSEd's Faculty of Dental Surgery, Professor Fraser McDonald, said: "The Dental Clinical Skills Competition is a unique competition for aspiring young dentists to attempt practical evaluations in areas not often assessed in their normal environment.
"It allows access to the ambiance of the Royal College and its distinctive backdrop and buildings. Friendships forged in this arena are lifelong."
The Grand Final of the competition will be followed by a dinner in the 500-year-old Edinburgh College at which presentations will be made to the winner and two runners-up. All participants in the competition will receive a certificate of participation and two years' affiliation with The Royal College of Surgeons of Edinburgh.
To find out more about the Dental Clinical Skills Competition, visit www.rcsed.ac.uk/dentalskillscomp or follow on social media via #DentalSkillsComp
Press release adapted with thanks to The Royal College of Surgeons of Edinburgh
---
Latest News