Live music returns for new season
Published on: 3 October 2018
A new season of free live concerts will return to Newcastle University this month with an eclectic and engaging range of musical genres.
Lunchtime concerts
The new programme starts on Thursday 4 October with a performance by Joe McPhee, one of the most important and influential figures in the jazz era from the last years. He will be joined by free-jazz drummer Paul Hession and bassist John Pope, a Newcastle University alumnus.
The following week, on Thursday 11 October, Newcastle University music alumni Mike Parr Burman, Jamie Stockbridge and Adam Stapleford perform tightly-woven improvisation.
On Thursday 18 October, tenor Oliver Vincent will be giving a vocal recital including works by Vaughan Williams, Finzi, and Britten, accompanied by Venera Bojkova.
On 25 October award-winning songwriter Katie Doherty will be joined by renowned folk instrumentalists Shona Mooney, also an award-winning musician, and David Gray, to perform original and dynamic tunes, inspired by the folk tradition.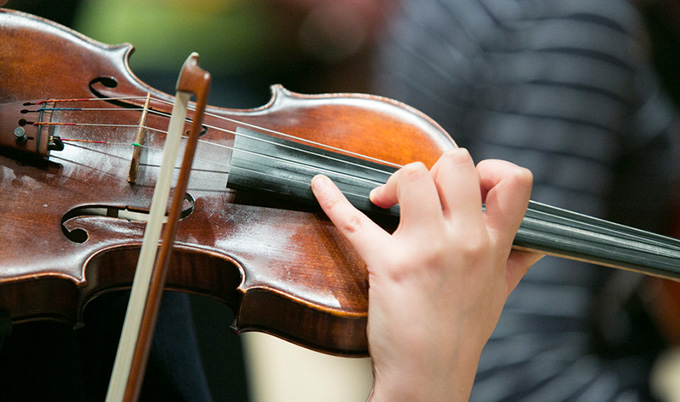 Student performances
The Autumn programme also includes performances by students from the International Centre for Music Studies (ICMuS). These take place every Thursday at 4.00pm in the King's Hall and offer an opportunity for the University's music students to showcase work in progress.
ICMuS students are also involved in the celebration of the diversity of European musical traditions on 1 November in Rivers of our Being, an original oratorio developed by the award-winning composer Professor Valdis Muktupāvels, conducted by Dr Simon McKerrell, as part of the Lunchtime Concert series.
Dr Kirsten Gibson, Head of Music, Newcastle University, said: "The LIVE in the King's Hall concerts offer an exciting range of performances by international musicians across diverse genres. It's also an opportunity to hear work by our music students and graduates. I would encourage people to come along and support these free concerts."
All events take place in the King's Hall, Newcastle University and are free and open to staff, students and members of the public. Places are allocated on a first-come first-served basis and capacity may be limited for some concerts. For the full programme visit www.ncl.ac.uk/events/live-music
---
Latest News