Paediatric musculoskeletal trial
Innovative paediatric musculoskeletal trial scoops prestigious award
Published on: 4 October 2018
An innovative new model of care supporting the management of children in the community with musculoskeletal conditions has scooped a Best Practice Award at the British Society for Rheumatology 2018.
The Rightpath model was recognised by the judges for its effectiveness in identifying the 'right care' for children presenting with musculoskeletal (MSK) symptoms, including foot pain, knee pain, limping or changes in daily activities such as play or sport.

The programme saw a quarter of children who would otherwise be referred to a specialist referral centre, seen locally in the community within three weeks, by paediatric physiotherapists and podiatrists.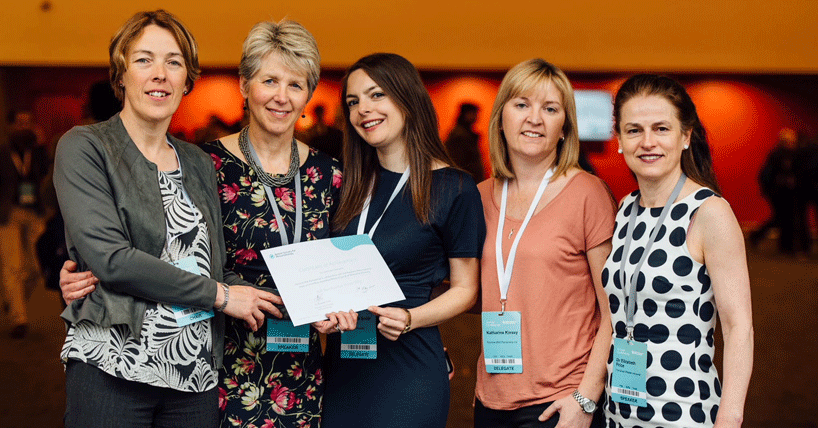 Rightpath was praised for its 'added value' including prompt assessments and managing conditions closer to home, with positive feedback highlighted from families and all the clinicians involved.

Helen Foster, Professor of Paediatric Rheumatology at Newcastle University, said: "We are delighted that Rightpath has been recognised by the British Society for Rheumatology with this award.

"With many different musculoskeletal presentations in children, the Rightpath model supports paediatric trained health professionals in the community to identify the most appropriate services for children's needs, referring them to specialist support when required and managing those who do not need specialist referral, effectively in the community.
"The most important benefit of Rightpath is ensuring children receive the right care, in the right place, at the right time.
"We worked closely as a team with primary care, allied health, musculoskeletal specialists and families to develop the model and tested its safety, feasibility and acceptability in the community.
"We found that the initiative was welcomed by staff and well-liked among the families involved."
The programme directs patients to either specialist hospital-based paediatric services - such as orthopaedics, rheumatology or general paediatrics - or local services, such as paediatric physiotherapy or podiatry, depending on the most effective form of treatment for their needs.
It involves triage guidance, targeted education and resources to support the triage team, and aims to significantly cut waiting times and improve patient outcomes by identifying the most appropriate course of action.
Collaborative scheme
This is a collaborative initiative between Newcastle University, primary care partners, Pennine MSK in Oldham, South Tyneside NHS Foundation Trust and Great North Children's Hospital. Supported by the NIHR Clinical Research Network North East and North Cumbria and Oldham Clinical Commissioning Group, the team is now looking to roll out the Rightpath model into clinical practice around the UK.
Rightpath was first piloted in Oldham and followed by implementation in South Tyneside to assess the transferability of the model. Professor Foster is now working at NUMed Malaysia and is aiming to build on this work in different health care settings.

Claire Livingstone, Research Lead at South Tyneside NHS Foundation Trust, added: "Rightpath was a fantastic study involving services that had not been involved with NIHR research before and more importantly improving the care pathway for children."

Steven Pratt, Research Delivery Manager at CRN North East and North Cumbria, said: "We're proud to support this award winning study which is shown to make a difference to children affected by musculoskeletal conditions.

"Rightpath is a fine example of collaborative working in action and we are excited by its potential to be rolled out across the country."

For more information, visit http://www.pmmonline.org/
---
Latest News