From Newcastle. For the World.
Published on: 22 January 2019
Newcastle University to lead two Global Research Hubs set up to tackle world's toughest challenges.
UK Research and Innovation (UKRI) is pioneering an ambitious new approach to tackle some of the world's most pressing challenges through a £200M investment across 12 global research Hubs.
Over the next five years, the 12 interdisciplinary Hubs will work across 85 countries with governments, international agencies, partners and NGOs on the ground in developing countries and around the globe, to develop creative and sustainable solutions which help make the world, and the UK, safer, healthier and more prosperous.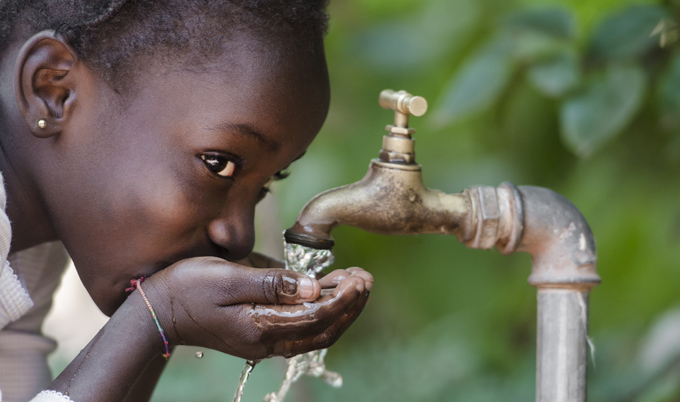 Two of the 12 Hubs led by Newcastle
Two of the 12 hubs will be led by experts at Newcastle University – addressing the most pressing issues around future water security and the safeguarding of our river deltas and their communities.
Led by Dr Andy Large and Professor Richard Dawson, the UKRI GCRF Living Deltas and Water Security and Sustainable Development Hubs will bring together 94 organisations from 25 countries and draw on the expertise of scientists, engineers, geographers, architects and social scientists.
Newcastle University's two GCRF Hub awards demonstrate our commitment to working in partnership across national borders and academic disciplines via our Global Challenges Academy to help deliver the UN Sustainable Development Goals.
<Find out more about our other world-leading research>
UKRI GCRF Living Deltas Hub
River deltas comprise just one per cent of global landscapes yet support over half a billion people. Deltas are vital social-ecological systems and global food-baskets, but the landscapes and the livelihoods of those who rely on them are under threat from human exploitation, environmental degradation and climate change.
Focusing on three deltas in Asia, this Hub will operate on a model of equitable partnership with the delta-dwellers and the research community in Vietnam, Bangladesh and India, working together with UK and global partners to develop new knowledge and policies. The aim is to safeguard delta futures through more resilient communities and sustainable development.
"The urgent need for the Hub is clear," says Dr Andy Large, Reader in River Science at Newcastle University and academic lead for the new Living Deltas Hub, "as human impacts increase, the necessity of sustainable development strategies underpinned by locally-rooted knowledge becomes ever greater."
Even median levels of sea level rise predicted by the IPCC could displace between three and 13 million people in Bangladesh by 2100. According to Professor Mashfiqus Salehin of BUET in Dhaka, "inundation and saline intrusion would have serious consequences for the most vulnerable people in the region."
"Reduced coastal resilience because of mangrove loss in the Red River delta has had dramatic cultural effects on the lives of local communities, especially women and girls" said Dr Hue Le of Vietnam National University, Hanoi.
According to Dr Kien van Nguyen of An Giang University, Vietnam, "In the past, the Mekong delta was considered a beautiful place to live, but now all that has changed as a result of loss of heritage, environmental degradation and the growing threat of climate change."

The GCRF Living Deltas Hub will work with delta-dwellers and policymakers to develop solutions that can help better realise the UN Sustainable Development Goals (SDGs) in delta-specific contexts.
"The Hub is novel as no other existing or previous international delta initiative has specifically addressed the SDGs by co-creating new natural-cultural heritage understandings of deltas", said Dr Large. "By addressing the crucial challenges of South and SE Asian delta degradation early in the lifespan of the SDGs, the aim is to contribute to the development of SDG monitoring and planning, globally and regionally, as well as in country contexts."
UKRI GCRF Water Security and Sustainable Development Hub
Eighty per cent of the world's population live in areas threatened by water security yet efforts to resolve this are repeatedly thwarted by pressures such as pollution, extreme weather, urbanisation, over-abstraction of groundwater and land degradation.
This Hub takes a broad view of water systems to explore the challenges and barriers to water security from the impact of different social, cultural and environmental values of water through to the consequences of fragmented water governance. It will tackle these barriers by providing a forum, open to all stakeholders, to jointly question, discuss, and construct new ideas to resolve water security issues.
Starting in March, the Newcastle University-led GCRF Water Security Hub will run for five years and also brings together leading research partners from Colombia (Universidad del Valle and Universidad del Cauca), Ethiopia (University of Addis Ababa), India (Indian Institute of Technology Delhi and School of Planning and Architecture Delhi), Malaysia (University Teknologi Malaysia), the UK (University of Leeds and University of Oxford), and the International Water Management Institute.
Professor Richard Dawson, from the School of Engineering at Newcastle University and academic lead for the new Water Security and Sustainable Development Hub, says:
"The enormity of the problem means we can only solve it if we work together, by bringing researchers together with local communities, local and national governments, water providers, business and industry and global organisations.
"I am delighted by the quality of our partnership which has a truly global presence. The key will be to learn from each other, to share examples of good practice and look at how these can be transferred and translated to ensure water security around the world.
"2019 marks 70 years of water research at Newcastle University, and this new Hub will further build on our expertise, marking a new era in our research programme, as we work with partners around the world to develop and apply interdisciplinary systems approaches to water security, explicitly acknowledging the interplay between the physical world and the people that live in it."
"Ensuring water security at scale is of primary importance for Ethiopia's development agenda," adds Dr Tena Agumassie, from the Water and Land Research Centre, University of Addis Ababa in Ethiopia.
"This hub will generate and collate vital scientific evidence and engage with local communities, catchment managers and key government ministers to guide the national development policy and practice."
UN Sustainable Development Goals
The new Hubs being announced in detail today are funded through the Global Challenges Research Fund (GCRF) - which is a key component in delivering the UK AID strategy and puts UK-led research at the heart of efforts to tackle the United Nations Sustainable Development Goals (SDGs).
The Hubs focus on a wide range of global challenges from improving human health and promoting gender equality and social justice to fortifying ecological systems and biodiversity on land and sea, generating agricultural sustainability and fostering greater resilience to natural disasters. And each Hub aims to achieve tangible outcomes that will improve the lives and livelihoods of millions across the world.
Announcing the 12 UKRI GCRF Hubs alongside 16 other international research partnerships, Science and Universities Minister Chris Skidmore, said:
"The UK has a reputation for globally influential research and innovation, and is at the centre of a web of global collaboration – showing that science has no borders.
"We have a strong history of partnering with other countries – over 50% of UK authored research involves collaborations with international partners.
"The projects being announced today reinforce our commitment to enhance the UK's excellence in innovation at home and around the world, driving high-skilled jobs, economic growth and productivity as part of the modern Industrial Strategy."
Professor Andrew Thompson, UKRI Champion for International and Executive Chair of the Arts and Humanities Research Council (AHRC), said:
"The sheer scale and ambition of these Hubs is what makes them so exciting. They enable us to deliver a coordinated global response with UK researchers working in partnership with researchers, governments, NGOs, community groups and international agencies across developing countries. Each Hub has the potential to transform the quality of life for multitudes throughout the world and safeguard our planet for future generations."
---
Latest News