Newcastle University guarantees funding for the Erasmus exchange
Published on: 12 February 2019
Newcastle University has given its backing and investment to support a popular European student exchange programme in the event of a no deal Brexit.
The University has committed to cover the costs for students involved in the Erasmus+ scheme, a move that will ensure they take up exchange opportunities in Europe beyond Brexit, and in return will continue to receive students from partner EU institutions.
Newcastle is offering a guarantee to its 2019/20 outgoing students that they will receive the same level of funding as under Erasmus+. This will help minimise disruption to its exchange programmes and ensure that Newcastle students do not run into financial difficulties while they are abroad.
Professor Richard Davies, Pro-Vice-Chancellor, Global, Newcastle University, said: "Regardless of the outcome of Brexit, we are committed to Erasmus exchange. Newcastle University is a truly international university and the Erasmus exchange enriches the student experience and the cultural diversity of our campus.
"Following the outcome of the 2016 EU referendum, we remain committed to collaborations with European partners, international students and staff. We value our partnership and will do all we can to continue with it."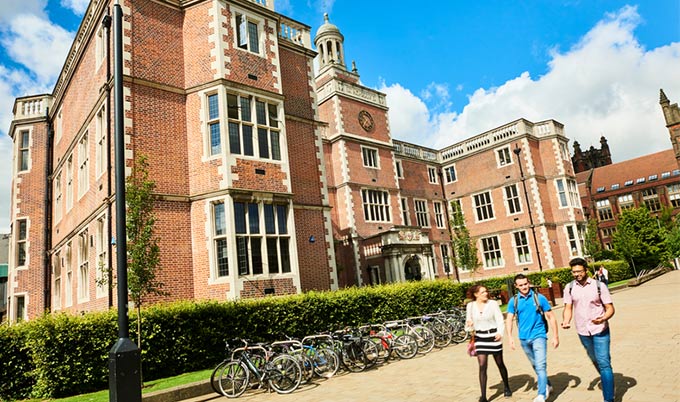 International support
Newcastle University has long-standing relationships with over 150 institutions across Europe. And a large number of international partners have signalled their support for Newcastle University's commitment to fund Erasmus exchanges.
One of these partner institutions is RWTH Aachen University in Germany. Dr Henriette Finsterbusch, Head of the International Office, RWTH Aachen University, said: "The clear position that Newcastle University has taken is of great importance for us. I would like to reassure Newcastle University on behalf of our rector and the International Office that RWTH Aachen University will be pleased to host Newcastle students regardless of the outcome of the ongoing political discussions.
"We are very proud of having partners like Newcastle University who obviously believe in Europe and will do their very best to continue with a long-standing tradition of exchanging students and ideas. We will be pleased to sign a bilateral agreement regardless of Brexit outcomes."
Enriching the student experience
Erasmus+ is the European Programme for education, training, youth and sport. Erasmus was first established in 1987 and has provided millions of Europeans with funded opportunities to study, train or volunteer abroad. In 2016/17, 16,561 British students studied on Erasmus+ placements abroad.
Around half of all UK HE students who go abroad during their studies choose to do so through the Erasmus scheme and the UK's participation in Erasmus+ has grown year-on-year.
In November 2017, UUKi launched a three-year campaign – Go International: Stand Out – to double the percentage of UK undergraduate students going abroad during their studies from 6.6% to 13.2% by 2020.
Newcastle University has signed up to this campaign and has pledged to help increase and diversify the number of UK students going abroad as part of their degree. In academic year 2018/19, 389 Newcastle University students have been or are currently abroad on an Erasmus+ placement and the university has in return welcomed 336 incoming exchange students from European partner institutions.
Newcastle University student Michalina Wrzalik spent a year abroad at the Coimbra University, Portugal and Staatliche Kunstsammlungen Dresden, Germany, during her undergraduate studies in Modern Languages with Linguistics studies at Newcastle University.
She said: "I spent my year abroad studying in Portugal and doing an internship in Germany. Both experiences were tough but I would still say it was one of the three most positively life-changing experiences in my life.
"I enjoyed experiencing different cultures – not only witnessing it but truly living it."
The Erasmus funding announcement coincides with the launch of Newcastle University's Global Strategy. This strategic vision places international ambition in the centre of the University's everyday activities, including engaging with its global alumni community, collaborating with a global network of partners, attracting and supporting top international students and working with partners to make a positive impact in low- and middle-income countries.
Universities UK International has launched an urgent #SupportStudyAbroad campaign last week to ask Government to commit to continuing to fund study abroad opportunities. Newcastle University supports the campaign and encourages staff and students can boost this initiative by tweeting their support.
---
Latest News