Is This Tomorrow? Visions of the future transform Whitechapel Gallery
Published on: 15 February 2019
Newcastle University academic and artist join forces to create an installation for a new exhibition.
Living bricks
The Whitechapel Gallery in London presents a new multidisciplinary installation by Professor Rachel Armstrong and artist Cécile B. Evans for an exhibition which opens this week.
Their collaboration is part of Is This Tomorrow? a major new show at London's renowned Whitechapel Gallery.
Ten new experimental multimedia projects between architects and artists, offering speculative visions of the future, are presented in the exhibition which takes its format from the Gallery's 1956 exhibition This Is Tomorrow.
Rachel, who is Professor of Experimental Architecture at Newcastle University, and Cécile are among 37 artists and architects asked to create pieces for the show.
Their installation incorporates microbes, a curtain of fog, and other traditionally uncooperative elements within a framework dictated by absurd units of measurement. This includes the 13sqm surface area deemed as the minimum "acceptable" space for human living and the 999 years designated as the maximum period of occupancy for land within the UK. They ask, what can be achieved in spite of, and beyond, the structures that attempt to rationalise or even contain humanity?
The installation's microbes come in the form of a 'Living Brick', which were developed as part of the €3.2m Living Architecture (LIAR) project for which Professor Armstrong is coordinator. Taking the form of a 'living' wall, which is made up of stacking 25 'brick-like' components, it has been developed by Professor Ioannis Ieropoulos at the University of the West of England. The Living Architecture prototype houses specific colonies of microbes that - in return for 'food' as liquid waste, specifically grey water and urine - produce domestically desirable metabolites namely, electricity, 'polished' water, biomass and inorganic phosphate.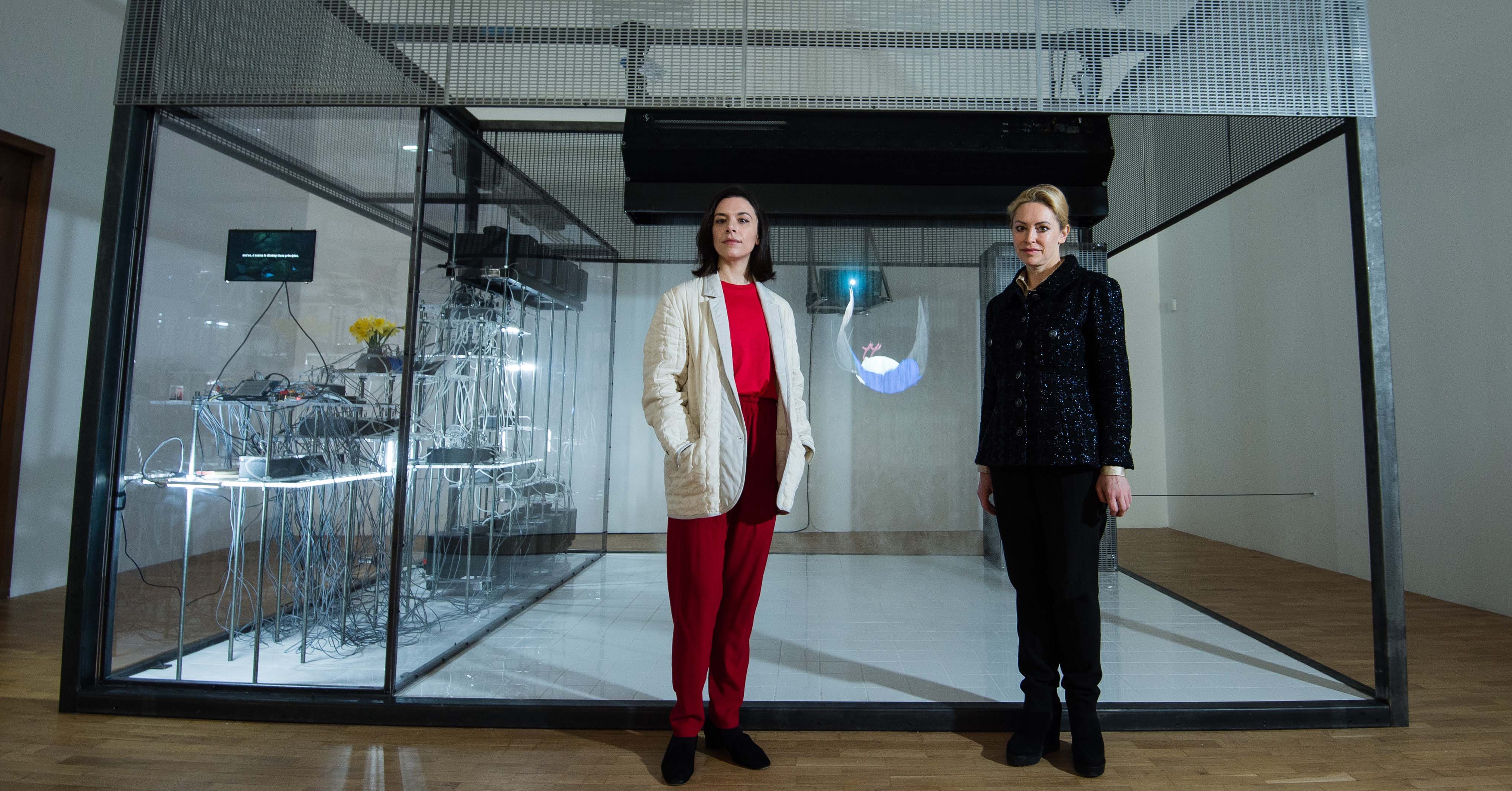 New systems
"The collaboration with Cécile prompted us to set new challenges for what architecture might be," said Professor Armstrong. "Working with Ioannis, whose pioneering work with microbial fuel cells took 'sustainable' technology to a new level, made it possible for us to start designing with metabolism.
"This is a new field and one that we are now pioneering. This is the most prominent setting in a cultural context for some of the ambitious thinking and technological practices in the EU funded Living Architecture project."
Is This Tomorrow? follows 60 years on from the gallery's seminal This is Tomorrow exhibition, which featured the influential artist Richard Hamilton, who exhibited while he was teaching at Newcastle University. The collage he created for This is Tomorrow, Just what is it that makes today's homes so different, so appealing?, is considered one of the earliest examples of pop art. Peter and Alison Smithson who are also Newcastle University alumni were also featured in the original exhibition, which is considered a watershed for post-war art.
"Collaborating with Rachel Armstrong provided invaluable support and inspiration for me as an artist- technically, theoretically, and ethically," said Cécile. "It gave me the confidence to imagine new systems and ways of being that could be more sympathetic to the vast range of lived experience on this planet."
Expanding the vision
The artists and architects invited to participate in Is This Tomorrow? were born after the original exhibition took place. Expanding the vision of the original exhibition and reflecting changes of the intervening years, they are based around the world and reflect an equal gender balance.
The Living Architecture project is funded by the Horizon 2020 Research and Innovation Programme under EU Grant Agreement no. 686585. It brings together experts from the universities of Newcastle, UK; the West of England (UWE Bristol); Trento, Italy; the Spanish National Research Council in Madrid; LIQUIFER Systems Group, Vienna, Austria; and Explora, Venice, Italy.

Is This Tomorrow? runs at the Whitechapel Gallery until 12 May 2019. Tickets are £12.50/£9.50 concessions.
---
Latest News