High scores for international student satisfaction at Newcastle
Published on: 11 March 2019
A leading student survey reveals that nine out of 10 international students are satisfied with Newcastle University.
Carried out by i-graduate, the International Student Barometer (ISB) Autumn 2018 results demonstrate a high level of satisfaction among students from around the world, with 92.5% of respondents stating they were satisfied and 95.6% saying they are happy at Newcastle University.
Satisfaction scores among international students are high across all the key areas of the international student experience: learning (91.5%), living (93.8%), support (93.2%) and arrival (92.2%).
Professor Suzanne Cholerton, Pro-Vice-Chancellor, Education, Newcastle University, said: "We are very pleased our overseas students continue to rank their experience and time at Newcastle University so highly. The positive feedback from our international students is a testament to the efforts of everyone at Newcastle University who helps deliver outstanding support and education for our students."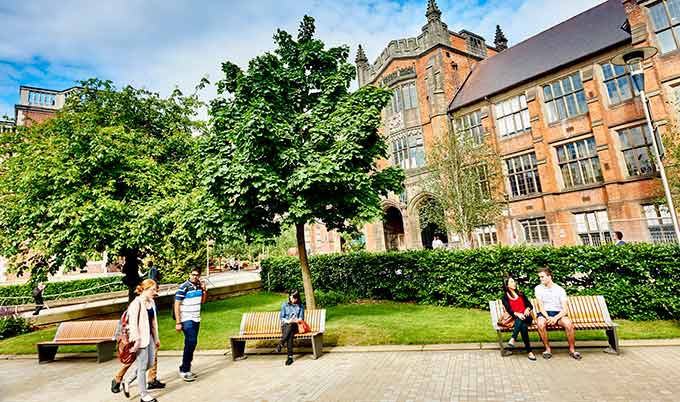 Newcastle is the place to be
Newcastle University Students' Union received a 97.4% satisfaction score.
Raff Marioni, President, Newcastle University Students' Union, said: "We are delighted to have such a high satisfaction score in the survey. We have consistently scored very highly over the past five years which I believe is a reflection of the value that our international students put on the various initiatives and programmes we offer in the Students' Union, many of which the students themselves have helped co-create."
Devanjali Shukla, postgraduate International Business Management student at Newcastle University Business School, said: "Choosing Newcastle University for my postgraduate studies has proven to be a good decision owing to the quality of education it offers.
"The lecturers are extremely helpful and resourceful. The library has an excellent collection of course books and e-Books and is also open 24*7 which makes it an exceptional resource.
"Being a student at this University, I've been exposed to opportunities like meeting professionals from my field of work, attend workshops, and participate in business challenges, which has immensely helped in improving and nurturing professional skills that will help me in my career.
"The city is scenic and the people are great, which makes it a fantastic place to live in. The student accommodations are spread across the city centre and mostly are not more than 15 minutes walks from the University making them convenient and home like."
The International Student Barometer Autumn 2018 compiled results from 200 participating institutions from all over the world. The annual survey asks European Union and international students about their course and learning experiences. With 3 million students worldwide across all student types, levels and years of study, the International Student Barometer is the leading benchmarking tool used to track the international student experience.
---
Latest News