Music could boost Scottish tourism say experts
Published on: 14 April 2019
A new study by Newcastle University academics concludes music tourism should become a key part of Scotland's national strategy to attract visitors.
Economic and cultural benefits
In a report, which was presented exclusively at the Wide Days music business convention in Edinburgh, Dr Adam Behr and Dr Matthew Ord from Newcastle University's International Centre for Music Studies, said that music tourism can provide widespread economic and cultural benefits for Scotland, but greater efforts are needed to realise its full potential.
They are calling on destination marketing organisations, policy-makers and the private sector to foster closer collaboration with the creative community to promote and protect the vibrant music scenes, as well as the country's rich musical heritage. The study, entitled Facilitating Music Tourism for Scotland's Creative Economy, makes a compelling case for the value of music tourism, which now attracts at least 1.3 million visitors to Scotland annually, spending an estimated £334 million.

Scotland has already led the way by hosting the world's first music tourism summit in 2016, and Scottish Enterprise has supported research into how music tourism can benefit cities such as Glasgow, where small venues contributed nearly £55 million to the economy in 2017. But the researchers warn that momentum could be lost as Scotland's musicians, venues and event promoters have suffered nationwide from a challenging regulatory environment and insufficient coordination with other nsectors.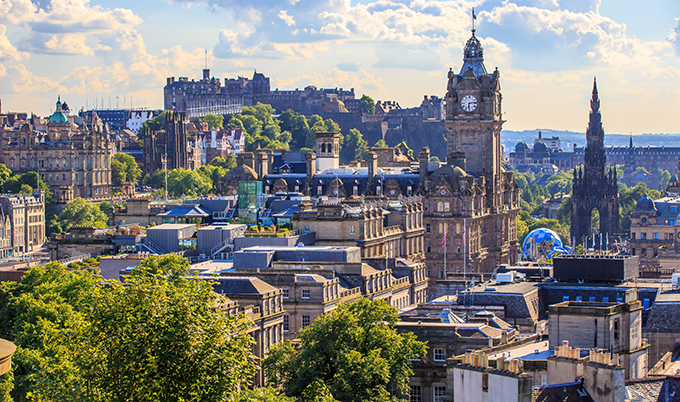 Recommendations
The report's authors Dr Adam Behr and Dr Matthew Ord presented their findings and discussed their recommendations at a at keynote session at Wide Days, which is supported by the National Lottery through Creative Scotland's Open Fund. They were joined by Dougal Perman, executive chair of the Scottish Music Industry Association, and Olaf Furniss, the founder of Wide Days and managing director of Music Tourist consultancy. Both made key contributions to the research, which was funded by the Arts and Humanities Research Council. Glasgow Music City Tour's co-founder, Fiona Shepherd, chaired the discussion.

Launching their study , which involved a comprehensive academic review and interviews with key stakeholders, the experts make a number of recommendations, including:
Tourism should form part of a future music export strategy, which should promote events, heritage and venues, as well as artists
Tourism bodies as well as local governments, should highlight their music scenes and music heritage as a key part of the visitor experience, with more promotions and public information on how to access Scottish music of all kinds
More opportunities – both informal and formal – are needed for representatives of the hotel, tourist, leisure and music industries to link up and work together to promote Scottish music ranging from high-profile artists to the grassroots (for example, as stand-alone events and as part of conventions and conferences)
Government and private sector should establish a team with specific resources and personnel to develop music tourism and facilitate closer collaboration between sectors. Comparable precedents include Night Mayors and Czars in London and Amsterdam, and Music Boards in cities including London, Sheffield and Liverpool
Policy-makers and funding bodies including the Scottish Government, local councils and enterprise bodies should prioritise a strategy that protects the music sector in the face of regulatory challenges and broader threats such as the potential negative effects of Brexit on tourism and the creative economy.
Cultural tourism
Lead author Dr Adam Behr, Lecturer in Contemporary and Popular Music at Newcastle University, says: "Scotland is ideally placed as an attractive destination for music tourism, with vibrant scenes across a wide range of genres. But the nation isn't fulfilling its potential and we want to demonstrate how policy-makers can support the music, retail, hospitality and tourism sectors to work together and develop closer ties."
Co-author Dr Matthew Ord, AHRC Creative Economy Engagement Fund Postdoctoral Research Fellow, says: "Music is a vital component of Scotland's appeal for many visitors, but there is scope for more effective integration across the music and tourism industries. Growing music tourism is not simply a matter of increasing the number of inbound tourists but of facilitating their access to Scotland's music by creating more effective links across the two sectors."
Dougal Perman, Executive Chair of the Scottish Music Industry Association, says: "This excellent report builds on previous work, extends the scope of the investigation and validates the vibrancy and vitality of what the Scottish music scene offers to music tourists worldwide. Cultural tourism is an important element of the Scottish economy and I believe that industry, public sector and policy makers should consider the recommendations made in this report so that we can take full advantage of the music tourism opportunity."
Olaf Furniss, Wide Days founder and Music Tourist managing director, says: "In 2012 we hosted several panels focusing on music tourism at Wide Days which four years later led to Music Tourist hosting the world's first conference to bring together the sectors. Awareness around the possibilities has grown significantly in recent years."
Press release adapted with thanks from Wide Days
---
Latest News