Bessie gives students time to paws for thought
Published on: 10 October 2019
Students at Newcastle University are getting a helping paw to manage their mental health, thanks to the University's newest recruit – Bessie, the Jack Russell.
Improving mental and physical health
As the new academic year gets underway, Bessie has joined the University's student wellbeing team and is available for students and staff throughout the day for walks or just for company.
The 'Borrow Bessie' scheme is one of a number of initiatives being introduced by Newcastle University to help students and staff improve their mental and physical health.
The three year old Jack Russell belongs to Sally Ingram, Director of Student Health and Wellbeing, who explained: "Research has shown that time spent with animals can alleviate worry, provide comfort and help people deal with feelings of isolation and loneliness – all issues that students can sometimes struggle with. Combining this with fresh air and physical exercise is a good recipe for positive physical and mental wellbeing."
Two students who have already benefitted from spending time with Bessie are Paige Coope and James Woods. Paige, a third year Philosophy student, said: "As someone who doesn't have pets at home but who is very fond of dogs, it was a perfect opportunity to enjoy the company of Bessie. I would recommend this service to anyone who may be stressed with exams or for those who simply want the company of a great dog and have a spare hour."
James, who is in his third year of a Combined Honours degree, studying Business, Media and Communication, added: "Exams can bring a lot of additional pressure, worry and stress, so we were ecstatic to find out that Bessie was available for walks. Bessie came with us on a stroll to Exhibition Park where we sat in the sun and watched the ducks swim. She's a very cheerful dog; in fact, so calm that we made her a daisy chain necklace to wear and she kept it on for the duration of our time together! I can't wait to spend more time with Bessie. She is sure to bring you some much-deserved downtime when you need it – especially if you miss your pets from home."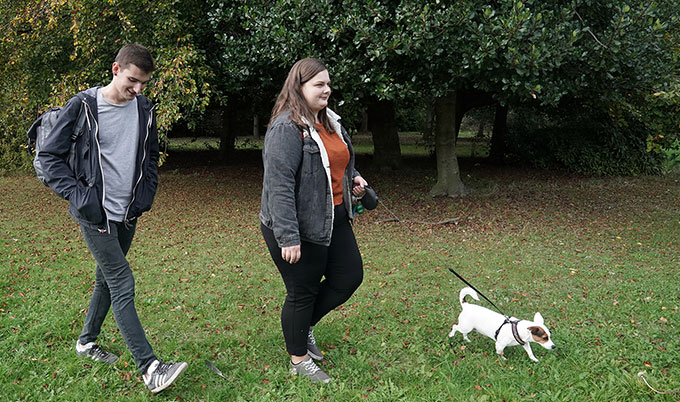 Dogs for welfare
It is not the first time that dogs have been enlisted to help students at the university. Last year, students at Newcastle University Business School received visits from Frankie, a retired greyhound who works with Therapy Dogs Nationwide and who was on hand during the exam period to help students de-stress and unwind.
The University is also currently trialling a dog-friendly workplace in the School of Psychology. The 'Dogs for Welfare' scheme allows staff to bring their dogs into work one day a week as a way to help staff and students manage stress and to promote more physical activity and social interaction.
Dogs who have successfully completed their 'pawbationary' period and demonstrated they are happy in an office environment are then given a 'PAWSport' to allow them to come to work with their owner.
Also launched this week is the University's free 'iNCLude' app which helps students take small, daily steps to improve and maintain their wellbeing. The app has been designed with specialists, using evidence-based methodology and looks at how to create positive habits to ensure students are focussing on more than just academic studies.
The iNCLude app is available for Android and Apple and can be downloaded using the following links
https://play.google.com/store/apps/details?id=com.uniwellbeing.newcastle or
http://itunes.apple.com/app/id1476808345
All pictures courtesy of PA Media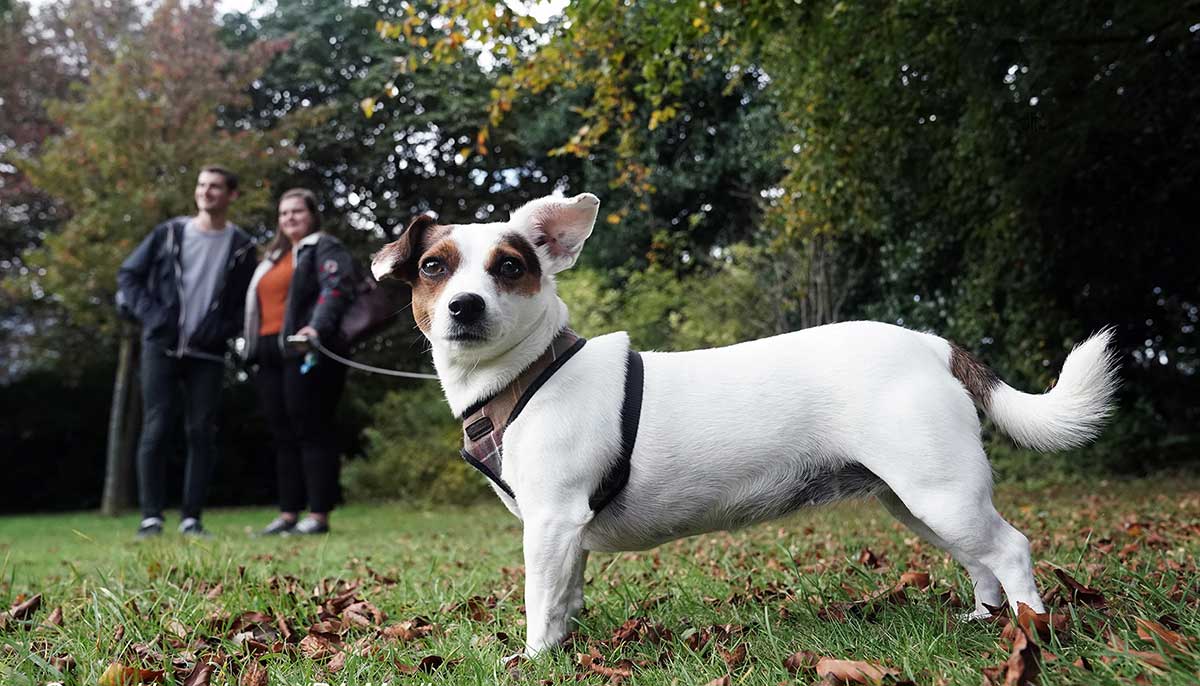 ---
Latest News